Last Friday, October 26, 2012, saw the release of Microsoft's massively redesigned operating system Windows 8. Along with the software, Microsoft launched their first-ever internally designed and branded tablet computer: Surface RT. In its first weekend, Surface received arguably more attention than the OS it's built to run. My own curiosity piqued, I set out to decide if the reality lives up to the rhetoric.
Microsoft Surface RT: First Look
I picked up my 32GB Surface RT with Touch Cover early on release day from the Microsoft Store. Although the device is inevitably compared to Apple's iPad, physically it has a number of noticeable differences. It's taller than but not quite as wide as the iPad. The two tablets are the same thickness, but the Surface feels thicker, possibly from its less rounded design. On the other hand, the Surface is a bit heavier than the iPad, at least on paper. Holding one in each hand, I sure couldn't tell. The screen on the Surface is almost an inch bigger, but it has a significantly lower resolution of 1366 x 768 than the iPad's 2048 x 1536. The biggest differences from my point of view are the expansion ports: The Surface RT has three you won't find on any iPad — a USB 2.0 port, a MicroSD port, and an HD video-out port. These could be game changers in the near future.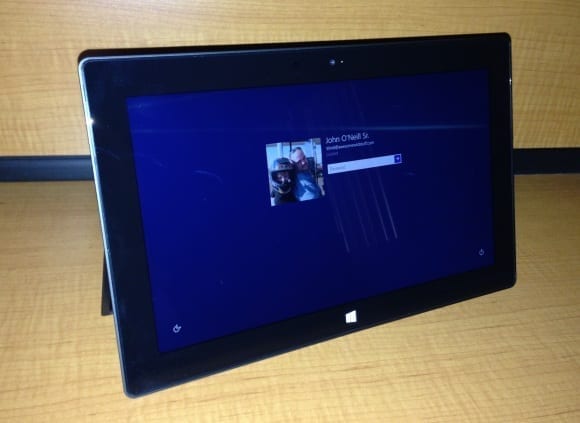 The Microsoft Surface with Windows RT
Hardware Features
The Surface RT is powered by an ARM-based NVidia Tegra 1.30 GHz Quad Core CPU with 2GB RAM. The device boasts two 720p cameras, Bluetooth 4.0, a Gorilla Glass 2 screen, and 802.11a/b/g/n wireless support. There's magnetic power connector, but unfortunately that fails to impress. It's not the no-brainer connection it should be, and it has to be well lined-up before it will snap in place. Of course, there's also a headphone jack and built-in microphone. As for buttons, the Surface has three: a Windows Home button, a power button, and a volume up/down button.
It didn't take long to realize the device is obviously intended to be used in the landscape orientation. The Windows Home Button and the front-facing camera are both on the long edges rather than on the short edges. The built-in kickstand (a great feature) only works in this orientation. The Windows 8 GUI, especially the Desktop, shows more real estate and feels more like Windows when running in landscape. This doesn't mean the device isn't usable in portrait. The native Windows 8 interface (formerly Metro) works just peachy in portrait mode, and the device actually feels most natural being used this way when hand held.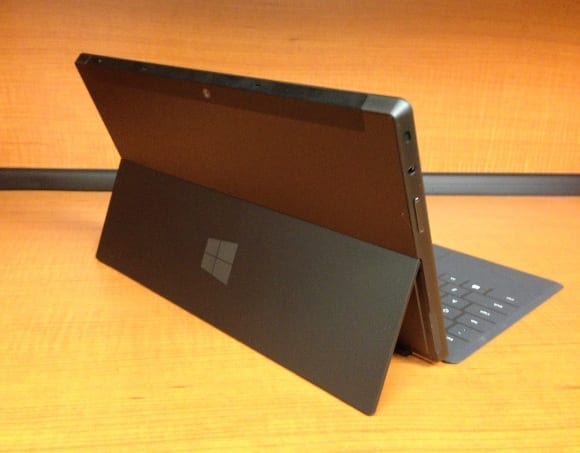 The Surface ships with an integrated kickstand.
I have a couple more points to mention about the device hardware. First, there's the Windows Home Button. Unlike other devices it has no discernible difference in feel than any other part of the screen. Luckily, I don't need to find it in the dark or I might just be in trouble. Second, there's the much-hyped magnetic dock connector. I'm happy to report that unlike the magnetic power connector, the dock connector works as advertised. Get the Surface RT close to the keyboard and it almost jumps securely in position. Once the keyboard is there it stays put until you pull it off. I'm both impressed and happy with Microsoft's job on the dock connector.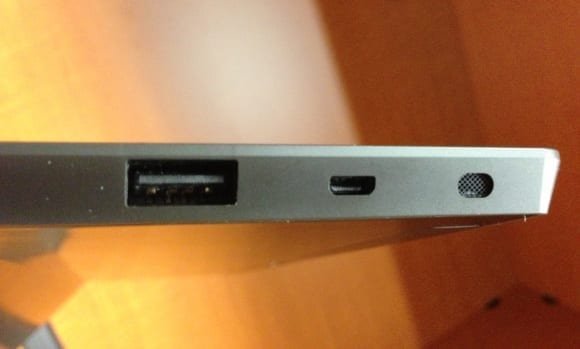 Close-up detail of the available ports on the Surface, showing (L to R) USB 2.0, HD video out, and speaker.
I purchased the Touch Cover with my Surface RT and I have exactly one word to describe it: AWESOME! This is what a cover should be: light and thin and it doesn't feel any thicker or heavier than the Apple Smart Cover. The difference with this baby is what it does. It really works well as a keyboard and a touchpad, being easily as usable as most netbook keyboards. Multi-touch scrolling works well on the cover's touchpad, which surprised me. The only minor snags are the touchpad buttons, which are pretty close to the edge of the cover and a little less natural to use. It's not as perfect as a laptop keyboard, but that said I can't use this cover enough! The proof is in the pudding, as I'm using my Surface with Touch Cover at this very moment to write this article — a feat I have not attempted with any of my iPads.
Setting Up the Surface RT
Completing the initial configuration, or out-of-box experience, of the Surface RT is straightforward albeit a bit more involved than other tablet devices. All told, the process took me about five minutes to complete, including answering the usual questions such as display language, accepting license terms, connecting to a wireless network, and associating the device with my Microsoft Account. If you don't already have a Microsoft Account such as a Live ID or Office365 account, then take a couple minutes to create one. Note that Microsoft has for some unholy reason changed the name of these accounts more times than my teenage daughter changes her hair style. It's not a big deal, although I expect the confusion will cause more than one person to create unnecessary duplicate accounts. It's possible, though I don't recommend it, to use a local account on the Surface RT, but by doing so you'll limit the device experience. For one thing, you will not be able to purchase, download, and install content from the Microsoft Store. The Surface RT is not able to be domain joined, and you cannot sign in with a domain account.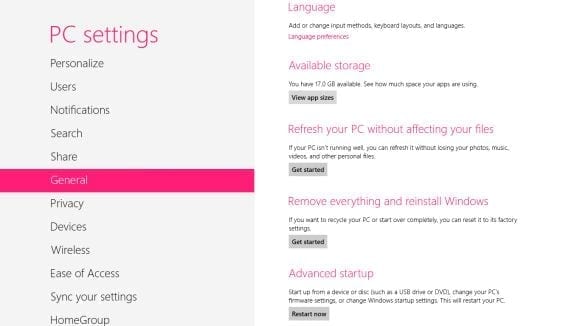 The Windows RT PC Settings Screen
Microsoft Accounts: Glitches and Tech Support
Microsoft still has a few bugs to work out in the Microsoft Account system. Sure, I was able to associate my device to my long standing Microsoft ID and get the Surface up and running. However — and this is a big however — I hit a wall as soon as I went to perform any of many functions such as installing an app from the App store and searching with Bing. Microsoft decided to prompt me to confirm my Microsoft ID's e-mail address and wouldn't let me do anything until I did. No big deal right? Unfortunately every time I tried to follow the verify link I was presented with "There is a temporary problem…" Try and get support from the Microsoft Account team and you'll find you need to post on a forum requiring you to logon using your Microsoft ID — which is not functional. Twenty-four hours into the problem and after almost two hours spent chatting with Surface support I decided to punt so I could move forward. In a nutshell, I ended up creating one of those duplicate accounts I warned you about earlier. But at least I was able to verify the new account without the "temporary problem" error and move forward with my review of the tablet itself.
Using the device is easy since Windows 8 is designed for touch. Swipe in from the right and the Charms Bar appears, swipe from the left and quickly switch between running apps. The Surface RT has a five-point digitizer and it works as advertised. Even when using the Touch Cover I find myself using touch on the screen for certain tasks since it works so well. Learning the new Windows 8 UI will be the bigger challenge for many people, but that is not a Surface RT unique issue.
The Surface detected resources on my network without any effort on my part. My NAS was there ready for me to use when I first opened File Explorer. My HP Photosmart C410 MFC was likewise detected and the driver automatically downloaded and installed. Pleasantly, the Surface RT driver supported advanced functions like duplexing and grayscale only printing.
Although I purchased a 32GB Surface RT, only 17GB was available after initial startup. Subtract from that the multiple Windows Updates and Microsoft Store App Updates, including a 586MB update to Office Home and Student 2013 RT that I had yet to install. On the upside, remember storage is expandable through MicroSD or USB. Great storage features are included such as BitLocker Drive Encryption and Disk Quotas limiting storage each user has access to. Yep, the Surface supports multiple user profiles!
The version of Office 2013 included works great! The SkyDrive integration is superb and every Word, Excel, and PowerPoint file I opened, edited, and saved without any issues. The apps even have a touch-optimized view, putting more space between commands — and making it easier on those of us with fat fingers. If you're using a keyboard and mouse, select that view for tighter spacing between commands. The big bummer is that this version of Office doesn't include Outlook. Even though it does work as expected, I'd really love to have my full Outlook client instead of just the built-in Mail app. The Mail app connects to Exchange and other systems without difficulty, but I still yearn for Outlook. Outlook Web Access from Exchange 2010 works from within Internet Explorer 10, but OWA from Exchange 2003 has a few difficulties.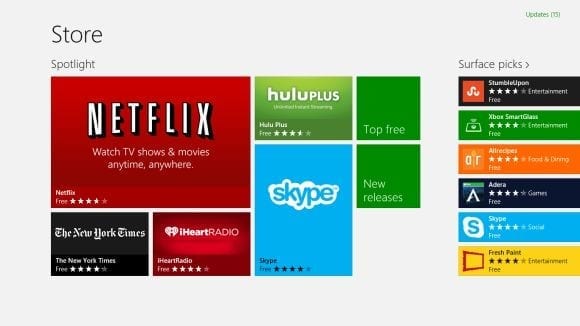 The Windows App Store on Microsoft Surface
Installing Applications and the Windows App Store
Installing apps from the Microsoft store is easy as long as you're signed in with a Microsoft Account. The Microsoft Windows App Store has a clean interface designed to be easy to navigate using touch. My biggest complaint with the Store doesn't come as much of a shock:  the Store is missing many high profile apps, but then again, I'm sure they'll show up sooner rather than later. There are still more apps than you can shake a stick at.
The Store also has integration with the Search Charm. The more common methods there are of doing something, the better, so this common search function is a welcome addition. Remember that the Windows Store is the only place to install apps to the Surface RT. You cannot install conventional apps from the Desktop. You'll also receive app updates through the Store in addition through normal Windows Updates. This may take a few cycles for some people to remember. Luckily most of the Windows Updates should arrive automatically.
It's clear from my first weekend with the Surface RT that Microsoft is not just dabbling in the tablet space — they have entered the tablet wars with formidable force. The Surface RT is a robust device with clean lines, excellent features, and a comfortable feel. I don't expect droves of iPad loyalists to drop their devices and embrace the Surface with unabashed joy, but for long-time Windows users and IT admins that have held off being integrated into the Apple ecosystem, the Surface RT may be just the tablet they have been waiting for.
Microsoft Surface with Windows RT – 32GB, w/black touch cover ($599.99, Microsoft.com)
Pro: Stunning hardware design; colorful touch-based, Windows RT-powered GUI
Con: Won't pull the Apple faithful or mainstream users away from the iPad; Microsoft Account system isn't fully-baked.
Bottom Line: If you're a Windows-based IT admin who has been looking for a good tablet to at least stand on the same playing field as the Apple iPad, the Microsoft Surface tablet delivers. It's not perfect and bears the glitches of a first-generation product, but Microsoft is now — finally — a legitimate contender in the tablet space.