My adventure with the Microsoft Surface Pro began on the product's launch day. Right from the start, I was so enamored by my experience unboxing and getting a first look at the device that I decided to really check things out by swearing off my other devices and instead using just the Pro for at least a week. I've already used Microsoft's Surface RT, and I wanted to see how the Surface Pro stacked up. What better way to determine if the Surface Pro really has what it takes to become my single go-to device? To give you an idea of the challenge the Pro faced, just look at the devices I regularly use. I have a number of them, but I primarily rely on two: a fourth generation iPad and a Lenovo ThinkPad T430s laptop. I'll begin by talking about how well the Surface Pro did functioning as my tablet and then move on to how things turned out using it as my full-fledged laptop.
Surface Pro As a Tablet
Weight and Comfort
First of all, compared to the iPad the Surface Pro feels bulkier. I'm not talking about specifications here – I'm talking about how it feels when carrying it around tucked up under my arm all day. Specifications are universal, while feel is individual. For me, the Surface Pro falls short when it comes to comfortable feel. The general shape and hard edges just don't live up to my expectations. I think Microsoft can definitely make improvements in future generations of the product by taking cues from offerings such as the iPad and the HP ElitePad 900.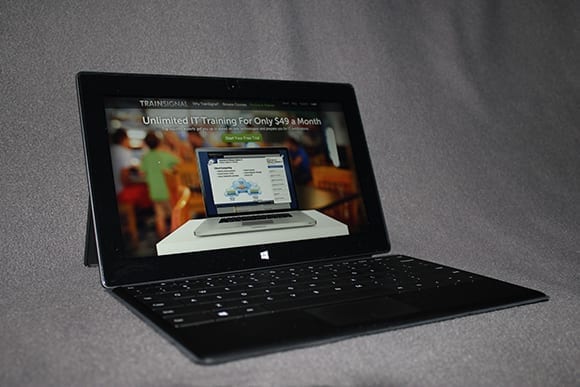 Apps
Apps are a tale of two worlds when it comes to comparing the Surface Pro to the iPad. Native Windows 8 apps are still very weak compared to the offering of iPad apps and certainly haven't grown at the rate anyone – especially Microsoft – hoped. Windows 8 was released more than six months ago, yet the development community still hasn't totally embraced the Windows Store app platform. It doesn't appear Windows 8 Store Apps will be in the same ballpark as iOS apps any time soon.
Hold on though, this isn't the end of the discussion! Surface Pro, unlike Surface RT, can also run virtually every standard Windows app. Windows 7 apps, Windows XP apps, custom apps, and boxed apps – Surface Pro can run them all! As I said, depending on which device your favorite apps live in, either one could have the edge. I rely heavily on Microsoft Office along with a number of Windows-based network management tools. This results in the Surface Pro being a great fit for my app needs.
Web Browsing and Email
On a tablet, two of the most ubiquitous functions are web browsing and email. Both the iPad and the Surface Pro have built-in web browsers that are quite capable with standard features users have come to rely on including tabs and bookmarks/favorites. Beyond that, both devices do offer alternative browsers such as Chrome if that's more to your liking. If you access Flash content, the Surface Pro has a significant edge since it runs the content without any extra effort or hoop jumping. The new native version of Internet Explorer 10 offers full-screen Chrome-less experiences. For a more conventional experience, including full add-on support, Internet Explorer 10 for the Desktop is the ticket. Surface Pro comes with both as standard issue.
I'll admit that I'm a fan of the iPad's email client. It's easy to use, supports multiple accounts, and does a good job with threaded conversations. If you have an older Exchange infrastructure running Exchange 2003, it will connect with no problem – something the Surface Pro Mail app doesn't excel at. Of course, that's not to say the iPad mail app isn't without failings, but overall it does what I need it to do. Yes, the Surface Pro's built-in Mail app leaves much to be desired; luckily, the its saving grace is that it can run full on Outlook. No compromise: This is the full desktop product with all the bells and whistles. Of course, it's a purchased product, but since I bought my Surface Pro complete with a year of Office 365, I have the necessary license in hand. As much as I like the iPad's email client, it's not even in the same league with Outlook. The Surface Pro with Outlook installed wins this competition hands down.
Surface Pro As a Laptop
The fun really begins when comparing the Surface Pro to my trusty Lenovo T430s laptop. Hooking the Pro up to my widescreen 27" monitor wasn't difficult using the built-in mini DisplayPort connector. Along with my Bluetooth mouse and keyboard, working with the Surface Pro at my desk was as comfortable and normal an experience as using my laptop. And I love the built-in kickstand!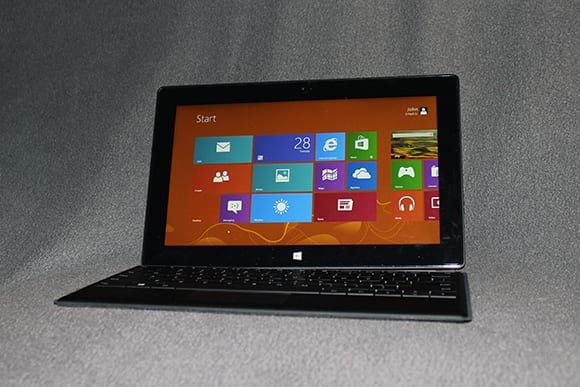 My laptop has Gigabit Ethernet, but the Surface Pro only has 802.11N wireless. This definitely slowed things up during large file transfers over the network. The only other issue I ran into was connecting up multiple USB devices, but that's nothing a USB hub didn't easily resolve.
I use my laptop more while on the go than while sitting at my desk. Unfortunately, the Surface Pro runs into a few significant drawbacks in this regard. Like many others, I often sit with my laptop on my lap as I work. But no matter what angle or position I tried, I just couldn't get the Pro to work well in this situation. With the Type Cover attached, finding a position in which the Pro would sit upright wasn't easy. Typing was even more difficult. Removing the Type Cover and using the on-screen keyboard in this scenario doesn't fly because productivity goes straight down the tubes. In this case, using the Surface Pro disappointed me considerably.
Possibly my biggest concern was whether or not the Surface Pro could run the software I use without compromise. Here, the Pro shines beautifully! It has no difficulty running any of the apps I threw at it, including Microsoft Office, multiple VPN clients, and even Adobe Photoshop CS6. That's right: The Pro can handle even the CPU-hungry latest generation of Photoshop! Most apps run without any significant difference in performance against my T430s, allowing the Surface Pro to really contend as a daily use PC. Installing apps to the built-in storage while placing my data on the Micro SDXC card worked out well. I primarily rely on network and cloud storage, and the Surface Pro connected to all these resources without a hitch.
Summing Things Up
After a few months spent in its company, I like the Surface Pro more for its potential than anything else. Frankly, Microsoft could have (and should have) done better with it. I hope they're just warming up and that v2 of the device knocks my socks off. In the meantime, the Surface Pro is a far better device than the Surface RT and one I can be productive with. With that said, the difficulty of using the device as productively as I do my Lenovo T430s laptop is a real bummer. As a tablet, I've found other products running Windows 8 Pro that I like better. One such device is the HP ElitePad 900, but that's a review for another day.
Microsoft Surface Pro – 64GB ($899.99, Microsoft.com)
Pros: Runs new Windows Store and existing Windows 7 apps, Active Directory support, i5 CPU, and built-in kickstand
Cons: Bulky feel, expensive compared to other options, laptop difficult to use on an actual lap
Bottom Line: The Surface Pro is worlds above the RT version of the tablet. IT admins will love the Active Directory and Group Policy support along with the ability to run most existing Windows apps. Unfortunately, other Windows 8 Pro-based tablets are hitting the market with a more refined feel and smaller price tag. I look forward to seeing how Microsoft evolves this version 1.0 effort into a product worthy of the Surface's potential.