Microsoft Announces Surface Laptop 5, Surface Studio 2+, and Surface Pro 9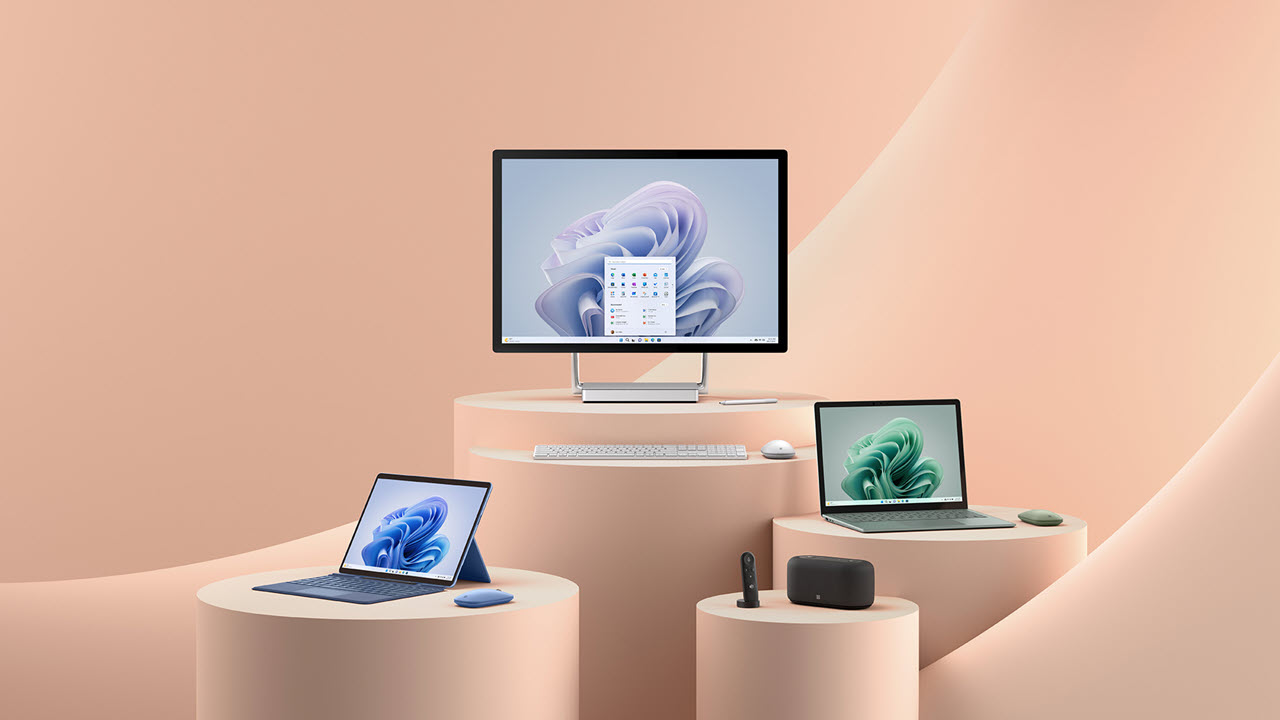 Microsoft has officially announced new Surface devices this morning, a new Surface Laptop 5, Surface Studio 2+ all-in-one PC, as well as a better version of Surface Pro with Thunderbolt 4 support and new AI-powered features. First off, Microsoft finally took the wraps off its new Surface Laptop 5, which is an iterative update over the Surface Laptop 4 that launched back in April 2021.
With the 13.5″ and 15″ Surface Laptop 5 configurations, Microsoft allows customers to choose between 12th gen Intel Core i5/i7 CPUs with Intel Iris Xe Graphics. Both Surface Laptop 5 models come with up to 32GB of RAM and 1TB of SSD storage. The design of the Surface Laptop 5 is identical to its predecessor, with the addition of a new "Sage" finish. Microsoft is promising up to 18 hours of battery life on a single charge on the 13.5″ Surface Laptop 5 model.
"From the effortless opening and fast log-in with Windows Hello, to the touchscreen, precision touchpad, and perfect typing experience, Surface Laptop 5 offers the craftsmanship, comfort, and capabilities to jump in and produce your best work," explained Microsoft's Chief Product Officer, Panos Panay. "It now offers Thunderbolt™ 4, and with the latest Intel® Evo™ platform, Surface Laptop 5 is over 50% more powerful than its predecessor."
Surface Pro 9
Microsoft is also extending the Surface Pro family with the Surface Pro 9, which is a minor iteration over the previous generation. The device ships with a 13" PixelSense Flow display, up to 32 GB of RAM, and 1TB of removable SSD storage. Customers can choose between 12th gen Intel Core i5/i7 CPUs with Iris Xe graphics or a Microsoft SQ 3 processor with 5G connectivity and Adreno 8CX Gen 3 graphics. Microsoft also touts 50 percent faster performance and Secured-core capabilities.
The 5G variant of the Surface Pro 9 brings enhanced AI-powered features through a new Neural Processing Unit (NPU) that can perform more than 15 trillion calculations per second. The list of new camera and audio features includes Eye Contact, Automatic Framing, Portrait Background Blur, and Voice Focus. The company claims that Surface Pro 9 delivers faster 5G connectivity and up to 19 hours of battery life.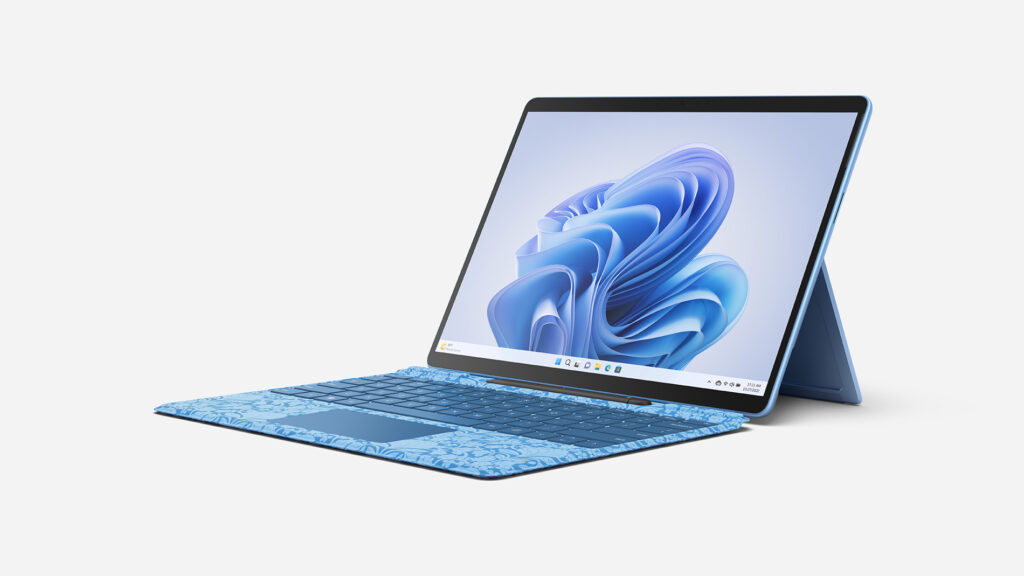 Microsoft has also teamed up with a London-based design house "Liberty" to celebrate 10 years of Surface. The company has created a "special-edition Surface Pro keyboard and laser-etched Surface Pro 9" with an exclusive Windows 11 Bloom-inspired floral pattern. The new type cover and the customized Surface Pro 9 are available for pre-order in select markets today at Liberty and Microsoft Stores.
Surface Studio 2+
Nearly four years after the initial launch of the second-generation Surface Studio, Microsoft has started shipping Surface Studio 2+ in select markets today. The new all-in-one PC is one of the highly anticipated devices that features NVIDIA Ge Force RTX 3060 discrete graphics and11th Gen Intel Core i7-11370H processors with a 50 percent faster CPU performance.
The Surface Studio 2+ still ships with a 28" PixelSense touchscreen display that keeps the same 4500 x 3000 resolution and 3:2 aspect ratio. 32GB (DDR4). It comes pre-installed with Windows 11 Pro, 32 GB RAM, and 1TB of SSD storage.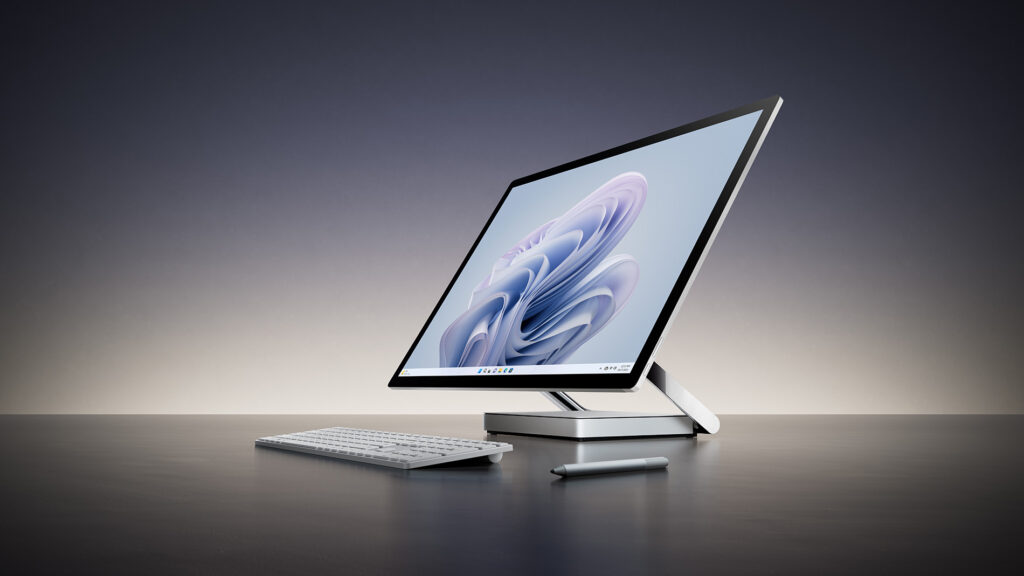 Microsoft Presenter+ and Microsoft Audio Dock
In addition to the new Surface Laptop 5, Surface Pro 9, and Surface Studio 2+, Microsoft also announced that the Microsoft Adaptive Accessories will be available in select markets on October 25. Microsoft has also announced two new Surface accessories to improve the hybrid meeting experience, including Microsoft Presenter+.
Microsoft Presenter+ is the first presentation control certified for Microsoft Teams. It lets users quickly join a meeting, switch between slides, mute/unmute the microphone, raise hands and highlight important content with the screen pointer.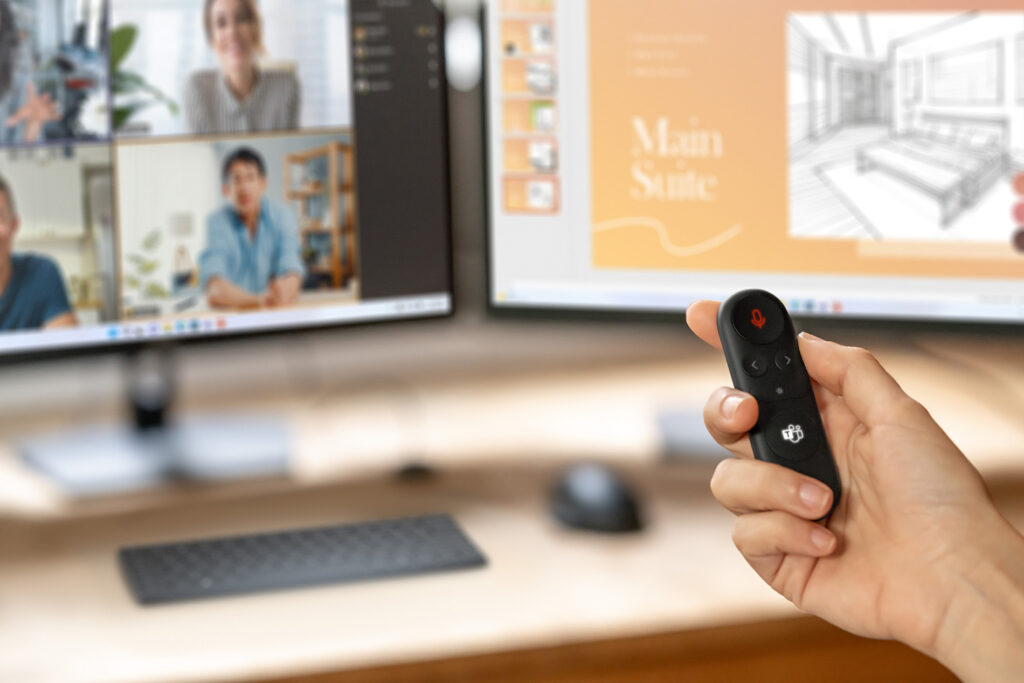 Microsoft Audio Dock is the second new Surface accessory that the company announced today, and it features built-in Omnisonic speakers, microphones, and integrated mute control. Microsoft Audio Dock comes with HDMI, USB-C x2, and USB-A ports, as well as a pass-through PC charger. For now, Microsoft has not revealed the price tag of its new Surface devices, and more details are expected to be announced in the coming months.