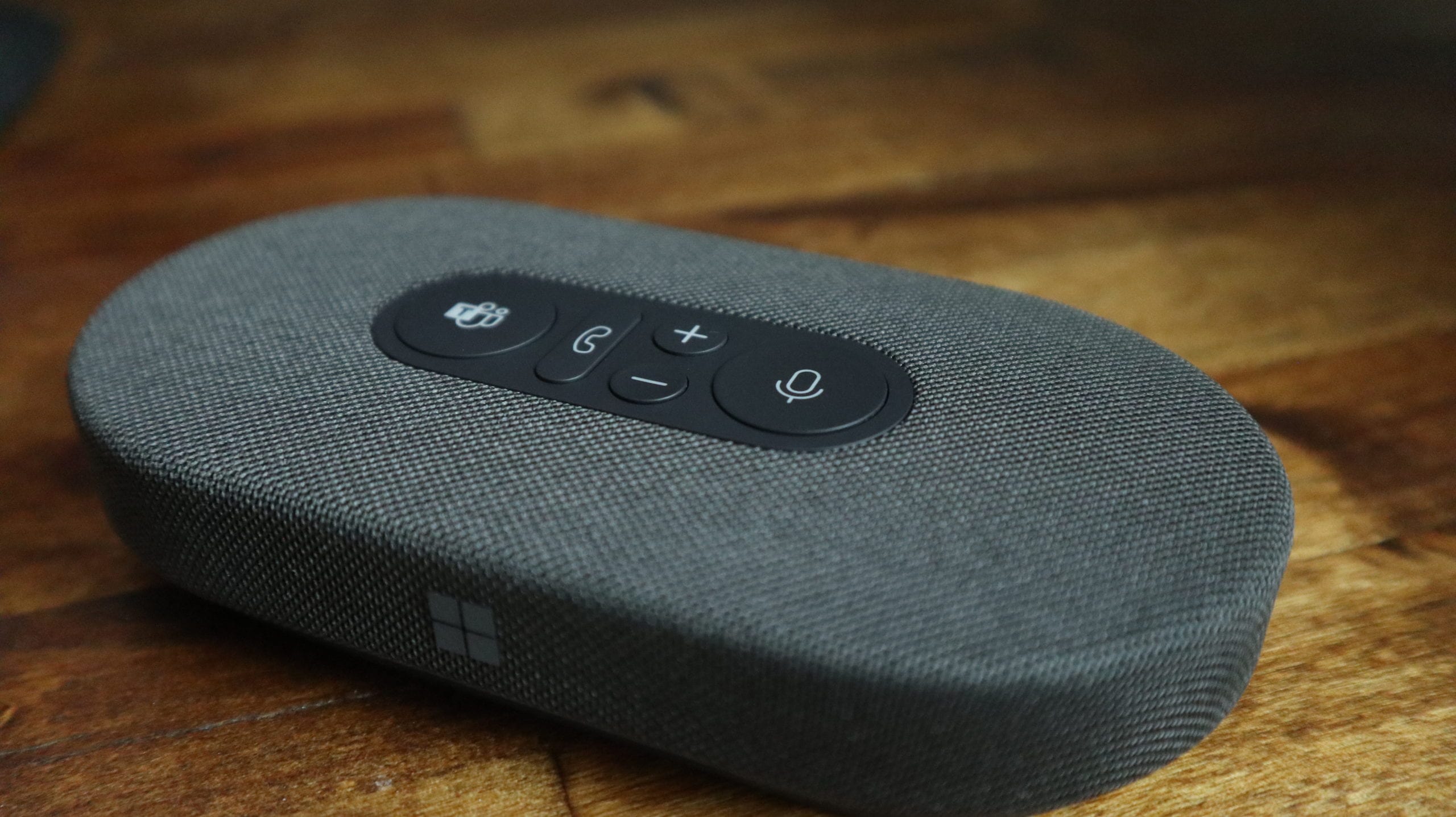 Earlier this year, Microsoft released a handful of new Teams peripherals that include a couple of headsets, a webcam, and the most interesting, a USB-C speaker. While headsets and webcams are common devices these days, a personal speakerphone for Teams is a bit more unique.
When it comes to a device like the Teams USB-C speaker, it only needs to do two things well: have a better microphone than most devices and provide clear audio that makes it easy to understand meeting participants. At a high level, the speaker does both of these things pretty well and if you are looking for a short version of this review, it's a quality peripheral that makes using Teams a bit easier but it's not perfect either.
The speaker is well constructed with buttons on the top that brings the Teams app into focus, answer calls, adjust the volume, and quickly mute your mic. When engaging the buttons, there is a click that is a bit soft but it lets you know the button has been successfully engaged – I would prefer something a bit snappier but this is a minor gripe.
The exterior of the speaker is covered in a charcoal-colored cloth that should look good on nearly any desk. It's a muted design but fits with the corporate theme where the device will be used.
But the best feature is that the bottom of the speaker acts as a cord-wrap. While I don't think many people will be moving these about all that much, if you do, it's easy to keep the cord nice and tidy in your bag but more importantly, you can route other cables on your desk into the speaker to hide wires. It's worth noting the USB-C speaker is not a USB hub, but the bottom makes it easier to organize cables on your desk.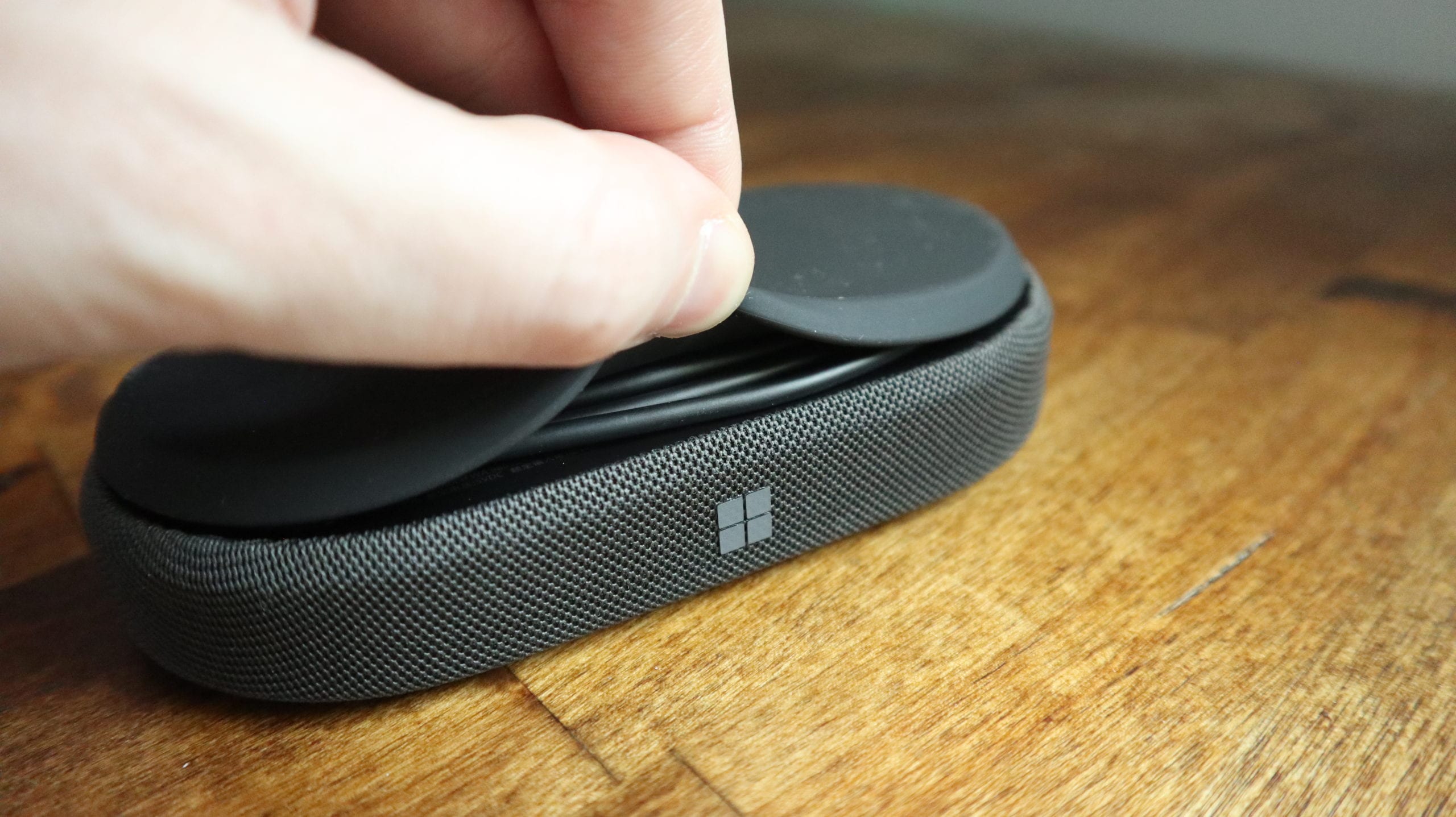 The sound quality out of the speaker is good for its size and expected use. It's not a robust stereo that you should use for listening to music in high fidelity but for conference calls and other work-related media content, the speaker should suffice. Think of it as a much better option than laptop speakers but not quite as good as dedicated stereo speakers.
One area that outperformed my expectations was the microphone quality. Below you can find a few audio samples from different devices with colleagues noticing a significant improvement in my audio quality when using the speaker vs my Sony XM3s.
Audio test samples
Teams USB-C Speaker
Sony XM3
Surface HeadPhones 2+
Audio-Technica ATR2100
There are a couple of minor gripes that you should know about. First is that while the mute button works well during a meeting, if you mute your mic before entering a meeting, when you join, your mic will be hot.
The biggest downside is that using the Teams speaker with other meeting apps lands you in a world of incompatibility issues. Without digging into every single chat platform, the general rule is that you should not buy a Teams speaker to use with Zoom or Google Hangouts – I know it seems obvious but cross-app compatibility results in either echo-canceling not working, mute buttons not functioning as expected and other hiccups that are best avoided.
At $100, it's not the cheapest peripheral but at the same time, if you are bouncing between calls all day long, it's a device I can happily recommend. It hits the mark for easy-to-use functionality, good-sounding microphone, and audio that is superior to most laptop or monitor speakers.