Two key trends kept popping up at the recent Microsoft SharePoint Conference 2014 (SPC 2014). First, the hybrid cloud, consisting of a mixture of Office 365 (O365) plus on-premises SharePoint solutions; and second, the beginnings of some innovative and practical uses for enterprise social technologies. These may have been the two largest trends I've noticed at the show, but they weren't the only ones. (See my previous SPC post about Microsoft's new approach towards multiple platforms and their efforts to recruit SharePoint developers.) Yet as I spoke with Microsoft and many of the 200 or so exhibitors at SPC, just about everyone had something to say about the hybrid cloud and the social enterprise. 
Hybrid Cloud: Office 365 and SharePoint On-Premises
On the SPC expo floor the emphasis on hybrid cloud was noticeable. Julie Auletta, a director at Bamboo Solutions, noted, "At the last SharePoint show, all the talk was Office 365 and the cloud. This year, I get the sense that Microsoft is [focusing on the hybrid cloud]. The keynote talked a lot about hybrid solutions, and Jared [Spataro, Microsoft general manager of Enterprise Social] made a point that a lot of feedback from the last show requested sessions other than O365."
This year, both Microsoft and its partners recognized that hybrid cloud solutions will be the business reality for several years. Every exhibitor I talked with was at least testing the waters with Office 365 solutions, but they also acknowledged that many customers are still looking for on-premises SharePoint tools and solutions, including help with migration to SharePoint Server 2013.
To address those customers' needs, Microsoft announced that it is building hybrid capabilities into SharePoint Server 2013 Service Pack 1 (SP1) on premises. (See the Microsoft SharePoint team blog for details.) With SP1, on-premises SharePoint 2013 now gains the ability to seamlessly use Microsoft OneDrive for Business and Yammer, bridging on-premises and cloud. Hybrid capabilities also include expanded search and line-of-business application access.
The Social Enterprise
The hybrid theme extended into Microsoft announcements about advances in enterprise social, which span all the Office applications and begin to unify the experience across them, both on-premises and in the cloud. For example, some cool new functionality extends Yammer's Group concept to unite Exchange, Lync, and SharePoint lists and groups.
Bringing together disparate sources of information about the business and its people is also reflected in the new Office Graph functionality, which was described as being like Power BI combined with Search focused on social connections and conversations. It lets you find people and content and make sense of what you find. The Office Graph is a new spin on Yammer's Enterprise Graph, which maps relationships among people in your network and what they share in social media. Office Graph applies that concept to business.
The first application based on the Office Graph is codenamed Oslo. This app helps you find people and information across your organization so that you can do useful things—like find that document you know you saw in email—or was it on SharePoint? And who was it that told you about it?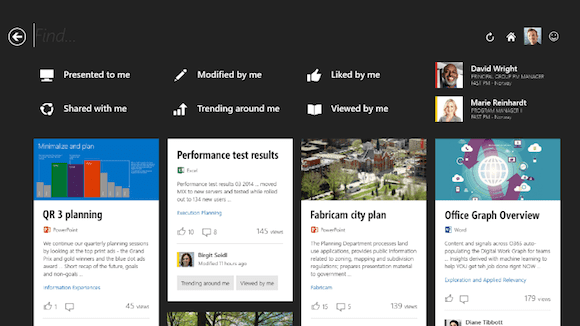 The Oslo app displaying enterprise social insights generated by Office Graph. (Image: Microsoft)
According to an educated estimate I heard at the conference, approximately 80 percent of enterprises are using some sort of enterprise social solution. A post on Jared Spataro's blog cites a figure of "more than 400,000 companies worldwide [that] are already using Yammer." I'm skeptical about what such figures really mean, because I can't imagine that many enterprises are actually taking great strategic business advantage of enterprise social—yet.
However, with Office Graph and Oslo, Microsoft is doing some impressive and truly innovative work in this space. I can really see how Oslo and future apps (by third-parties as well as Microsoft) could provide ways to make life at work easier. For example, take the problem of onboarding a new employee. You could build an app on Oslo that would map all the relationships a new person would need to know about, as well as the content that person would need in order to get up to speed on the team and the work.
In the past year, Microsoft has moved from pushing customers to the cloud and is now acknowledging that those customers can benefit from the innovation the cloud brings, even while they're still using on-premises software. For Microsoft, that change is pragmatic—the company can't afford to alienate its customers that are still using on-premises software. But acknowledging the reality of hybrid is also driving innovative thinking like that reflected in Office Graph and Oslo.
SharePoint is at the center of all these changes, and both Microsoft and its partners are focused on serving the SharePoint community. Watch for additional reports on the exhibitors at the SPC conference when www.ITUnity.com launches in the coming weeks. You can also reach out to me on Twitter at @karenforster.