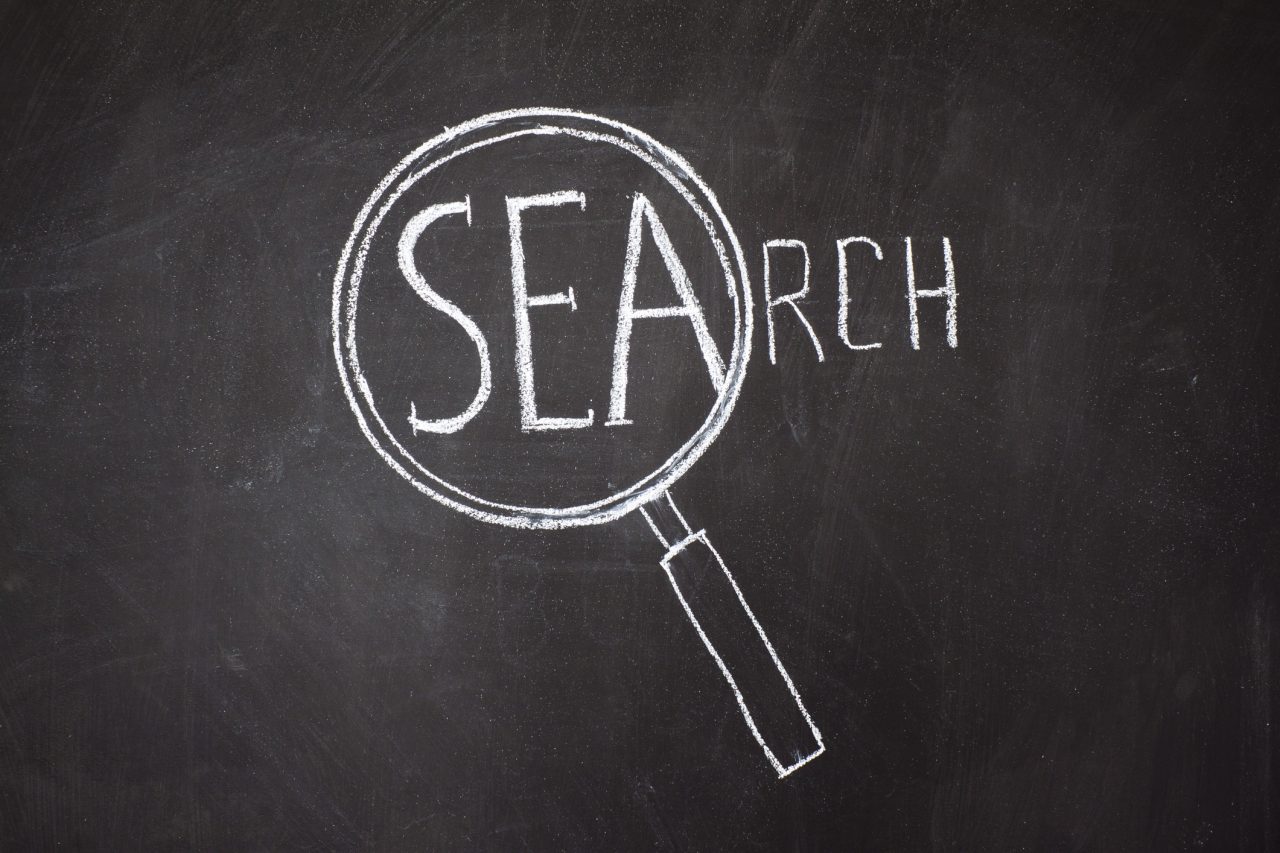 If you spend most of your time buried in apps like Microsoft Word, you might not know about Microsoft's search feature that was first available in preview last September. Enterprise Search isn't a separate app but rather a feature that will be built in to all Office apps, Bing, SharePoint, OneDrive, and Windows 10. Microsoft announced the general availability of Enterprise Search at Build 2019 and is aiming to make it available to all Office 365 customers by the end of May.
An Improved and More Consistent Search Experience
Office 365 users know that the search experience isn't consistent. For example, the OneNote app on Android only searches open notebooks. To search closed notebooks stored in your Office 365 tenant, you need to use Delve or search from the Office.com homepage. Delve doesn't search email, so for that you'd need to open Outlook. And the search box in Windows 10 only searches your OneDrive documents but not files that colleagues have shared with you.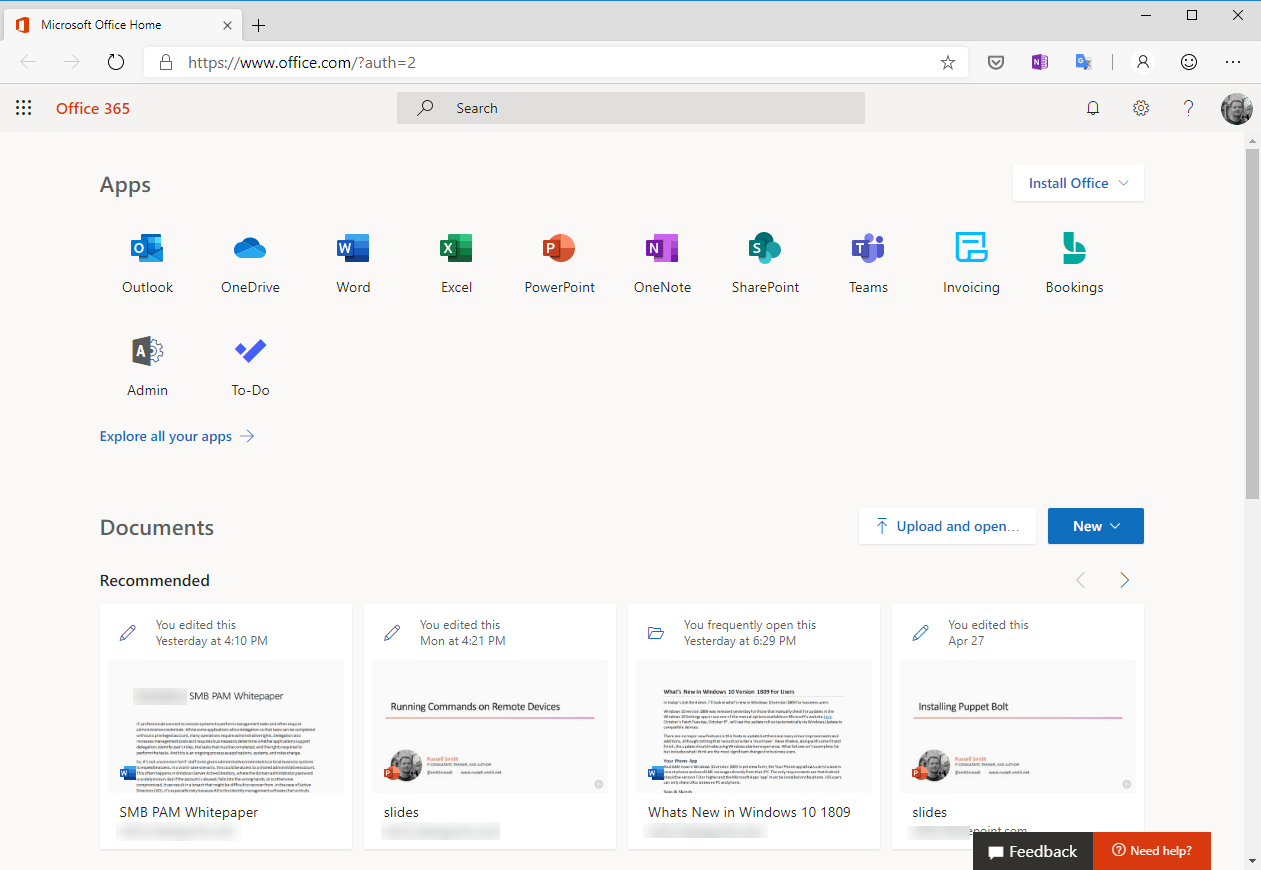 Looking for your 'stuff' can be frustrating. You need to know which application to search in to get the right results. Microsoft Enterprise Search helps to solve this problem by providing a more consistent search experience across apps and devices by surfacing people, files, and conversations within the context of your work. Conversations include those from Microsoft Teams and Yammer. Enterprise Search is designed to be people-centric, meaning that when you search for a contact, you see their information and any files, events, and conversations that you share.
Enterprise Search doesn't only help you find things. It can also help you to complete tasks. For example, in Teams you can type /files to show recent files or /unread to show all unread messages.
Zero-Typing Experience
As Brad Sams reported for Petri last week, Enterprise Search will provide instant personalized results before you even start typing. For example, it might display people who you regularly share documents with or files that you have been working on.
Other features include the ability to search across the entire organization, not just your own files. Like other search engines, key phrase suggestion, query history, and extensibility via third-party connectors will come later in 2019.
Bing and the Microsoft Graph
Microsoft is combining web and work searches by using the AI technology in Bing and information from the Microsoft Graph. The idea is to enable natural language questions in Bing, regardless of whether you are using the Bing website or browser address bar, to return results that are relevant for you and your organization. Ultimately, Microsoft hopes that you only need to search once to find the information that you need.
Microsoft Enterprise Search in Windows 10
Enterprise Search is rolling out first to Office and Bing. It won't come to Windows 10 until version 20H1 is released next year. But we can expect the same experience and results that are surfaced by Enterprise Search in other places. It's likely that the work Microsoft completed in the Windows 10 May 2019 Update, to separate Cortana and search on the taskbar, is part of the plan for bringing Enterprise Search to Windows.
Office.com versus Bing
You can probably get a good idea of what search will look like in Windows 10 by going to Bing.com and signing in with your Office 365 work or school account. Search for 'me' and you'll see information about your schedule, recent files, and conversations. You can also search for 'my documents' to return just a list of recent files.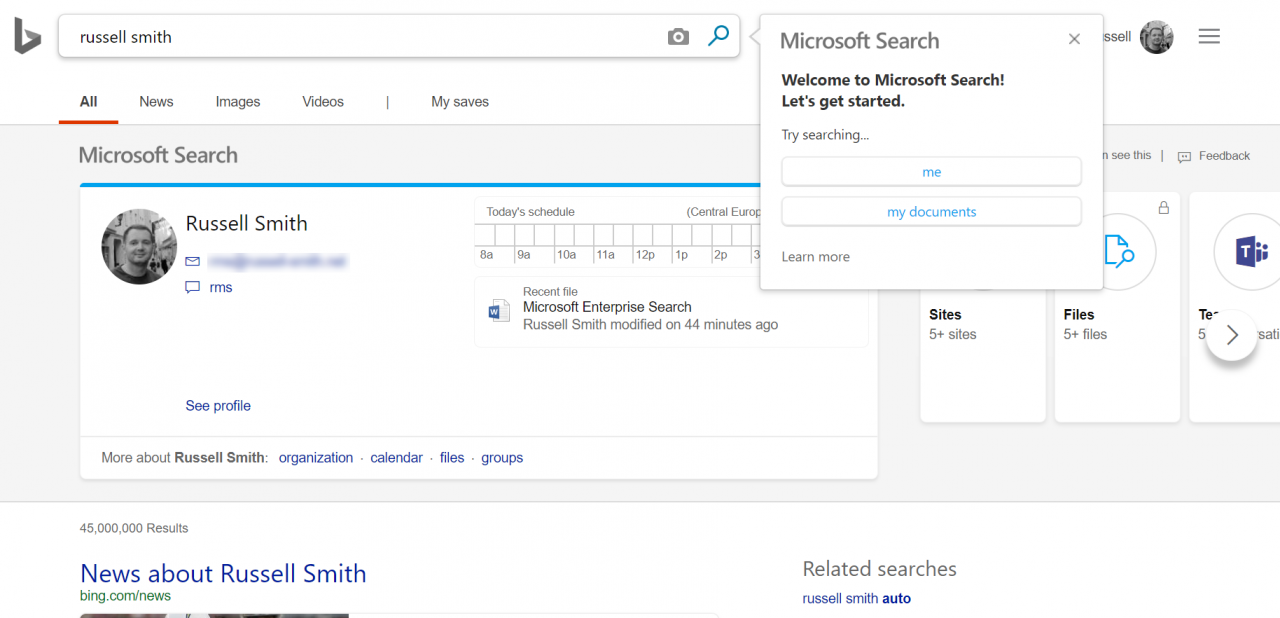 If you search for another user in your organization, you'll get similar results showing recent public documents or those that they've shared with you, and conversations. You can also search for 'things' not just people.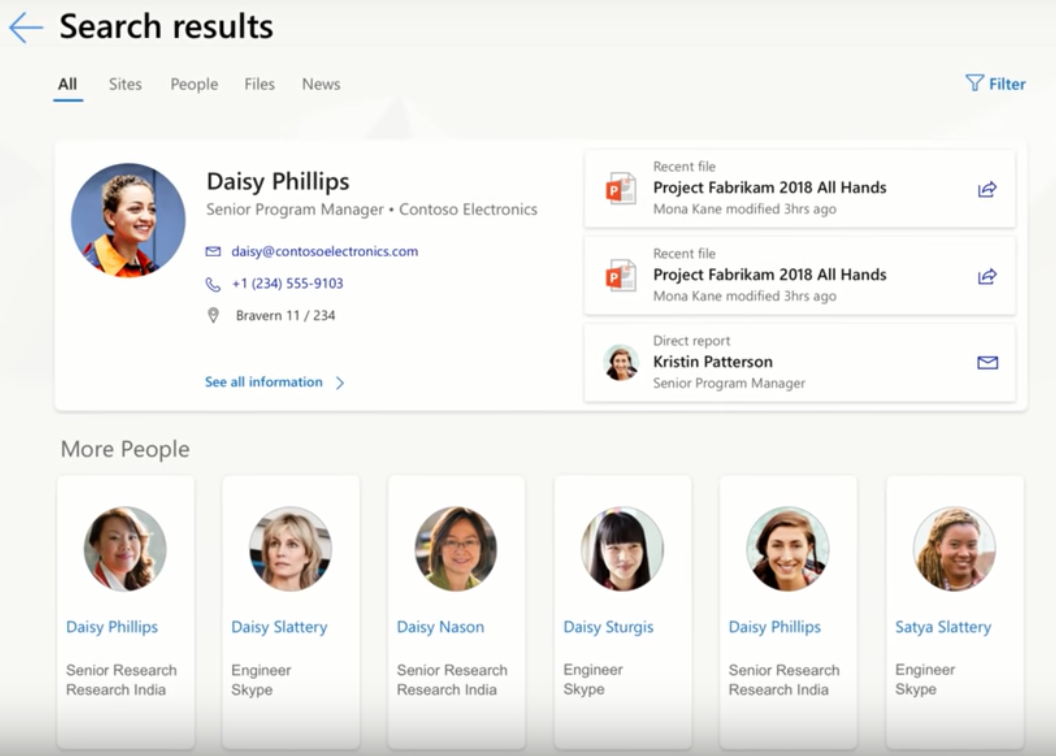 What's interesting is that the search experience in Bing differs from Office.com. At the time of writing, Bing surfaces Teams conversations but Office.com doesn't. Maybe I'm missing something, but I was under the impression that the experience should be the same. Email conversations are not surfaced directly in either Bing or Office.com. A list of recent mails and attachments is displayed when you search for a user in your organization and open their details in a separate window. Email conversations with external users don't get the same treatment unless you have set up a contact.
Privacy and Control
Microsoft is promising advanced controls and analytics so that you can get insights to how search is used and change settings to optimize the search experience. For example, you can provide answers to common questions people ask in your organization and target groups, like staff who are onboarding. I couldn't access these settings in my Office 365 tenant but do have the ability to disable Microsoft Search for Bing.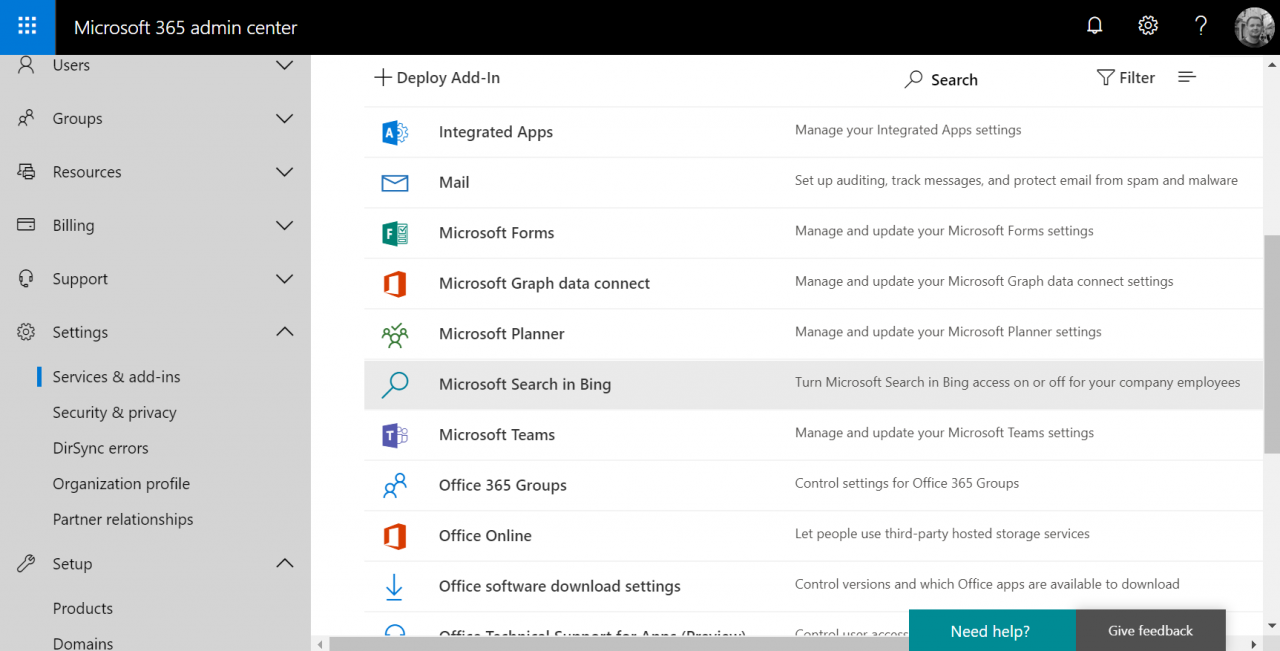 Best for Internal Users and Content
As it stands, Microsoft Enterprise Search works best for internal organizational users and content. I'd like to see improvements when searching for content from external users, whether it is email or shared files. But Microsoft is heading in the right direction and I look forward to seeing how this feature develops as it rolls out to all Office 365 users, apps, and Windows 10 next year.