Microsoft has announced a new custom virtualization solution called "Microsoft Dev Box" at its annual Build developer conference. The new cloud service enables developers to quickly access pre-configured cloud-powered workstations on any device via a web browser.
The Redmond giant emphasizes that setting up a new physical machine based on their specific requirements could be time-consuming for developers. With the new Dev Box service, IT administrators will be able to provide new developers with easier access to a standard development environment before working on any project.
Microsoft Dev Box is built on the Windows 365 Cloud PC service that was launched last year. It allows developers to access their Dev Boxes on any device (Windows, macOS, iOS, Android) with access to a web browser. This essentially means that developers will be able to set up images, assign team members, and begin coding their projects right away.
Microsoft has also launched a new developer portal that allows users to create new Dev Boxes and delete old ones as needed. Additionally, developers can also choose to run tasks in parallel across multiple virtual machines.
"Developers can create Dev Boxes to experiment on a proof-of-concept, keep their projects separate, or even parallelize tasks across multiple Dev Boxes to avoid bogging down their primary environment. For devs working on legacy apps, they can maintain Dev Boxes for older versions of an application to quickly create an environment that can reproduce and diagnose critical customer issues as they emerge," Microsoft explained.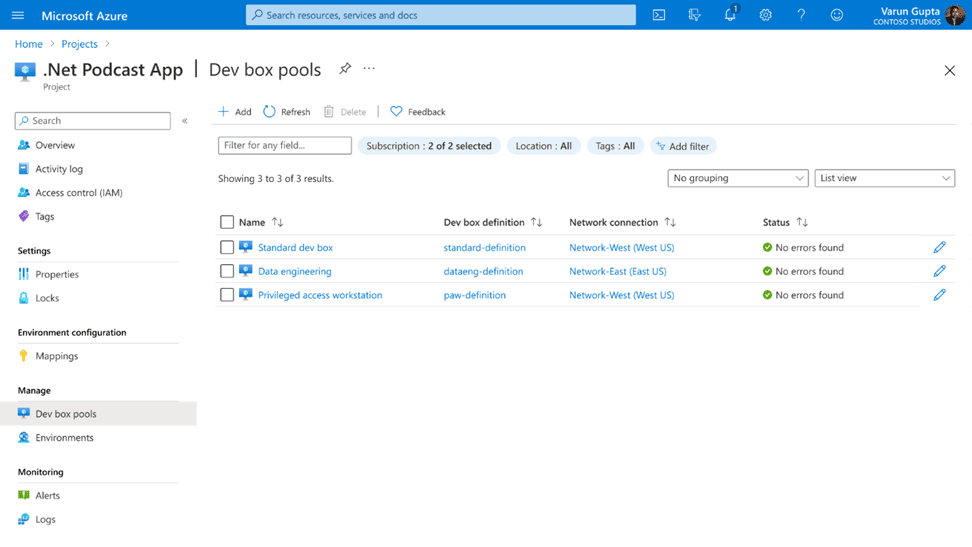 Microsoft Dev Box provides unified security, management & compliance for IT Pros
According to Microsoft, its Dev Box service is ideal for people interested in developing desktop, mobile, IoT, and gaming apps. Developers can also use Windows Subsystem for Linux to create cross-platform applications.
Meanwhile, IT teams can use the management tools such as Intune and the Microsoft Endpoint Manager to ensure the management, security, and compliance of Dev Boxes.
It is important to note that this isn't the first time Microsoft has launched a dedicated virtual development service. The latest announcement follows the release of Azure Development Virtual Machine in preview back in March 2022.
Microsoft Dev Box is currently available for select customers in private preview. The company plans to announce a public preview in the coming months, and you can sign up for the waitlist on this website.