Microsoft Azure Growing Faster than Amazon, IBM, and Google in Cloud Services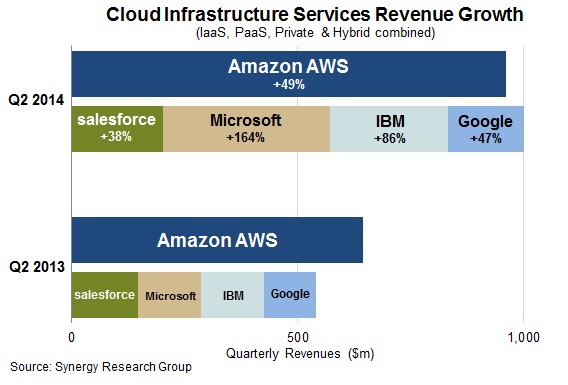 Amazon Web Services (AWS) might still be the leader when it comes to cloud services, but a new report by the Synergy Research Group suggests that this lead might not last for long. Microsoft Azure is growing fast, and Microsoft will likely see more Microsoft Azure growth when Microsoft Azure in Open Licensing launches on August 1st, 2014.

Synergy Research Group Report Points to Microsoft Azure Growth
New data for quarter 2 of 2014 that is presented by the Synergy Research Group shows that AWS is still the largest single IaaS public cloud on the market right now. However, Amazon's old claim that they are bigger than the four largest competitors combined no longer holds true.
This is because Microsoft Azure is now the fastest growing cloud infrastructure services offering. The diagram below compares the growth of IaaS clouds owned by Amazon, Salesforce, Microsoft, IBM, and Google in quarter 2 of 2013 and quarter 2 of 2014 (what Microsoft would call quarter 4 of 2014 in their July-June financial year).
AWS performed well, growing by 49%. I'm sure that executives were standing in circles patting each other on the back. But I think folks in Redmond might have broken out in a happy dance when they saw that Azure grew by a staggering 164% — at least until the news of 18,000 Microsoft layoffs was announced.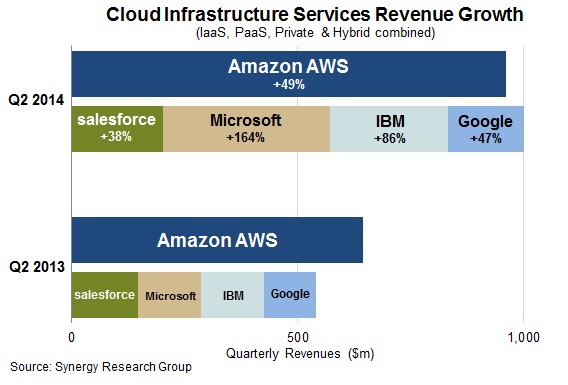 IaaS cloud growth in Q2 2013 and Q2 2014. (Image: Synergy Research Group)
Even IBM's cloud services outgrew AWS by 86%. This makes Microsoft and IBM the players to watch. In fact, Microsoft are probably have the hot hand, and they haven't even turned their final card yet.
Microsoft Azure Open Licensing Launches August 1
Up until now, Microsoft Azure was only on sale directly or via an Enterprise Agreement. Direct sales require you to register a credit card. You consume resources, and the credit card is billed on the monthly basis. This isn't exactly a system that financial controllers love; they like predictability, control, invoices, and audit trails.
On the other hand, you could pre-purchase a bunch of Azure annual credit for Azure via a number of means as a part of an Enterprise Agreement. That requires a rather large commitment, and this is not something that small businesses are able to do, and it might even be something that larger businesses might feel unsure about. A middle ground was required.

At the Worldwide Partner Conference, Microsoft always states that they live or die with their partners. Partners give Microsoft breadth — the ability to reach a wider market by marketing, selling, and implementing Microsoft technologies, solutions, and services. Microsoft obviously learned some lessons from Office 365. Sales of Office 365 were OK when Microsoft only offered a direct payment option, bypassing Microsoft partners. But sales exploded after Microsoft introduced a model where partners could resell Office 365; now the partner had skin in the game.
Microsoft recently announced that Microsoft Azure would be available for sale through the channel (distribution) starting on August 1st, 2014. The process is pretty simple:
Microsoft partners can purchase $100 credits at a discount from distributors. For example, a customer might request $500 in credit.
The partner sell the Azure credit on the customers at face value.
An email is sent to the registered customer informing them to retrieve an Online Services Activation (OSA) key from the Volume Licensing Service Center (VLSC).
The customer enters the OSA key into the Azure Account Portal.
For new services, they can configure low credit alerts for themselves and their partner of choice.
The partner can configure themselves as an administrator in the Azure Management Portal.
The customer can burn their credit by consuming services from Azure.
From the customer perspective, it's like using a pre-paid phone:
You get a bunch of credit.
Services are used and each service consumes your credit at different rates.
You top up your credit when it runs low.
When Azure in Open credit does run low the customer has two options:
Hopefully an alert has kicked off a purchasing process with time to spare so additional credit can be purchased from the partner.
If it's an emergency, the customer can top up credit online using a credit card – Microsoft stresses that this should be a "no other option available" method.
There are some notes on your credit:
Any credit you purchase will last for 12 months and then expire. So buy small to begin with so you can determine your burn rate.
When you top up, your old credit will be consumed first, allowing your new credit to last the full 12 months.

Azure in Open is a win for everyone:
Customer: Customers of all sizes can avail of Azure, with fixed and controlled spending.
Partners: Can resell Azure without financial risk (signing and reselling an EA) and provide new services for customers.
Distributors: Have a reason to care about Azure and can provide education services to a breadth partner audience.
Microsoft: A much bigger market will be in a position to purchase Azure services.
In other words, you've seen nothing yet if you think that 164% growth was impressive. Expect to hear terms like "hockey stick" and "inflection point" in the near future.