Free Tool to Manage Windows Server 2008 R2 Core with a GUI: Visual Core Configurator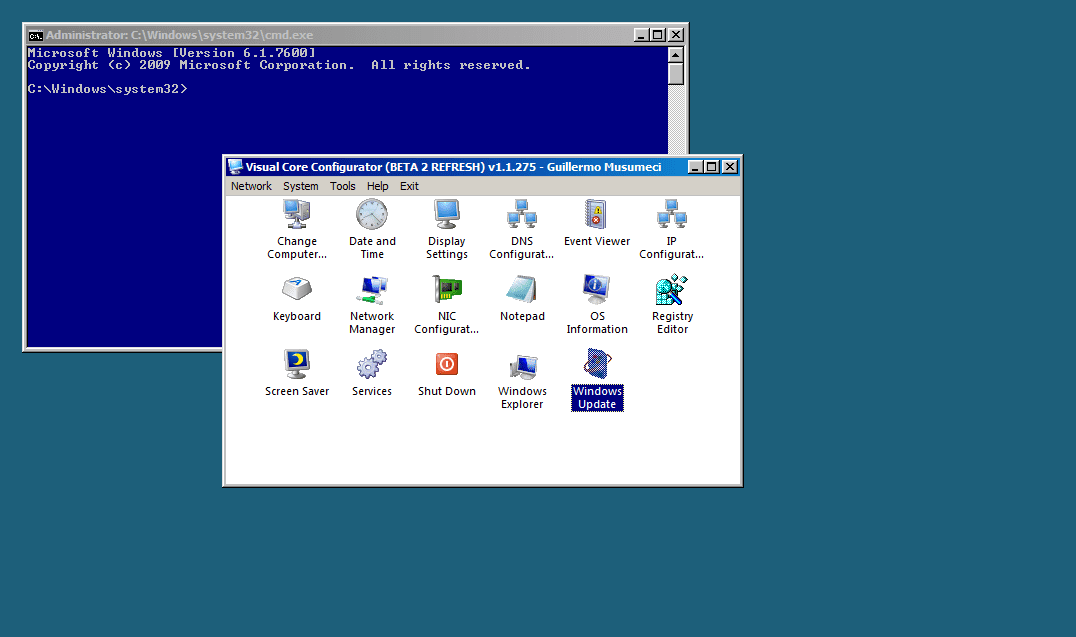 As you probably know by now, in Windows Server 2008, the Server Core installation provides a minimal environment for running specific server roles, which reduces the maintenance and management requirements and the attack surface for those server roles.

In Windows Server 2008 and Windows Server 2008 R2, Server Core installation does not include the traditional full graphical user interface (GUI). Therefore, once you have configured the server, you can only manage it locally at a command prompt or PowerShell (in R2). It is also possible to manage the server remotely using the Microsoft Management Console (MMC) Snap-Ins, command-line tools that support remote use, or the new PowerShell remote management capabilities.
SCONFIG is a built-in tool that is in fact a collection of scripts which can help you get the server up and running within moments. Read more about SCONFIG on my "Manage Windows Server 2008 R2 Core with SCONFIG" article. However, even SCONFIG cannot fully give you the entire set of tools that are needed to fully configure and manage Server Core. For example, tasks such as installing server roles or features, or running DCPROMO and so on. For those, you need to either know the command line tool, or use a script or 3rd-party tool. For example, read my "Installing Active Directory on Windows 2008 Server Core" article.
One of these tools is Visual Core Configurator 2008, created by Guillermo Musumeci. The tool is free to use, and can be obtained here:
CtxAdmTools – Visual Core Configurator 2008
http://ctxadmtools.musumeci.com.ar/VisualCore2008/VisualCore11_Beta2_Refresh.html
After downloading the tool, either copy the files to the Server Core machine, or if it's a virtual machine, use the ISO file download instead.
Run the tool.
The main screen should appear, allowing you to select from many options.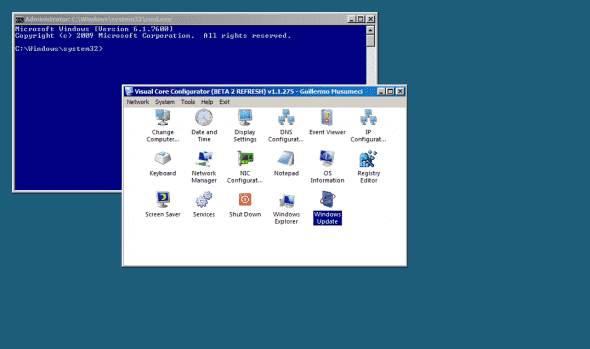 Some of these include:
Network menu
Network: Show Network Information: Show IP, DNS and NIC configuration
Network: Network Manager: View or change IP, DNS and WINS configuration
Network: Change Computer Name / Domain / Workgroup: Change Computer Name or Join to a Domain / Workgroup
System: Control Panel: Customize the Operating System (Time and Keyboard)
System: Event Viewer: Display monitoring and troubleshooting messages from Windows
System: Services: Manage Windows Services
System: Screen Saver: Change Screen Saver Configuration
System: Remote Desktop: Configure Remote Desktop (prev. Terminal Server Administration Mode)
System: Video: Configure Screen Resolution
System: Windows Update: Install Windows Updates and HotFixes
Tools: Windows Explorer: Show Files and Folders
Tools: Notepad: Tool to Edit Files
Tools: Registry Editor: Tool to Edit the Registry
Tools: OS Information: Show Operating System Information
Exit: Close Visual Core: Close the Application
Exit: Shutdown: Log Off, Restart or Shutdown the Computer
Pretty impressive!