The recently announced VMware Horizon Suite is all about end-user computing, or EUC. While the Horizon Suite is for end users, that doesn't mean that it has nothing to do with the datacenter. In fact, a large portion of the Horizon Suite is going to run in the datacenter as virtualized applications and desktops that are then presented to the end users over the network.
While VMware offers a number of different Horizon products (like the Horizon Mail Android app) what you should think of when you think of Horizon is the VMware Horizon Suite. The suite is made of up three different but related end-user computing solutions: Horizon View, Horizon Mirage, and Horizon Workspace.
Let's look at them, one at a time…
VMware Horizon View
VMware's popular VDI solution has been renamed from simply "VMware View" to "VMware Horizon View" to make it a core piece of the new Horizon Suite (nothing else has changed, however). If you are unfamiliar with Horizon View, it provides:
Pooled virtual desktops that run on VMware vSphere
The PCoIP remote display protocol for WAN-optimized, compressed display of virtual desktops
Application virtualization with ThinApp for packaging apps so that they don't have to be installed and can be easily updated
End users can access their virtual desktop — running in the data center — using Horizon view clients such as zero client hardware devices and Mac, Android, and iPad clients. While mass pools of identical desktops are used at some companies, more typically Horizon View virtual desktops are usually 1:1, VM to end user, but based on a "golden" template for the OS (and perhaps applications) with changes to the base image stored in a "linked clone" for each virtual machine. Users can access their desktops using Horizon View clients over the LAN securely over the Internet, or they may even take their desktops in an offline mode for traveling when off network (say, if they're on an airplane).
Horizon View requires a VMware vSphere virtual infrastructure and typically looks like this: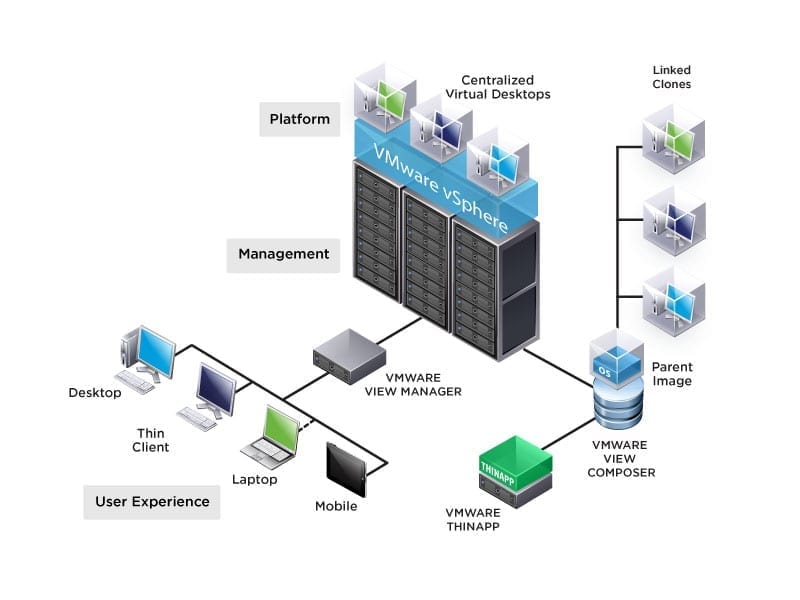 Figure 1 – Horizon View Infrastructure
Here's what it might look like to access your virtual desktop using an iPad with the iPad client for View: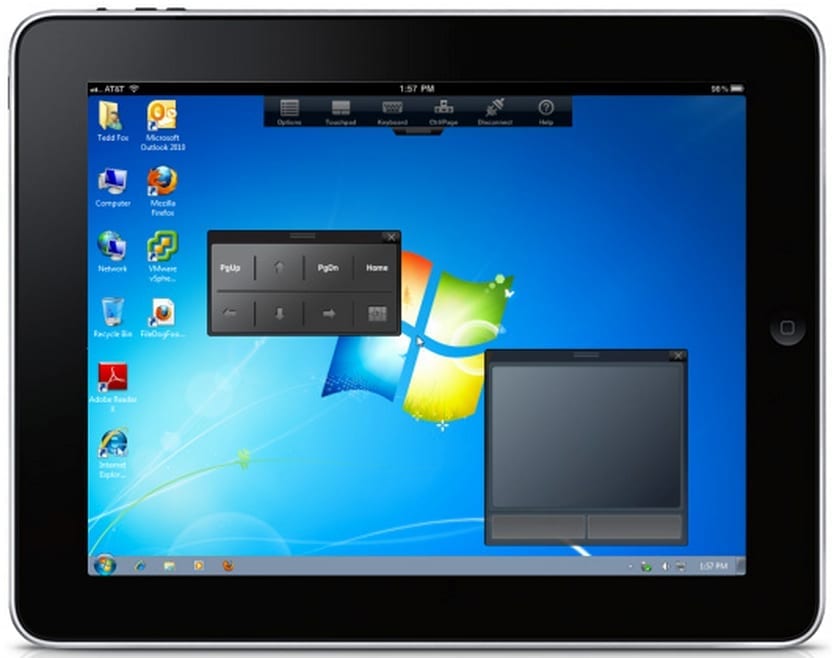 Figure 2 – Horizon View Client for iPad
VMware Horizon Mirage
The first of the two totally new pieces of the Horizon Suite is Horizon Mirage. VMware Horizon Mirage can be difficult to visualize as it isn't identical to another solution you have likely used in the past. In fact, once I realized what Mirage does and how it works, I was impressed at the innovation, and I think you will be too.
Mirage separates the layers of the typical desktop or laptop into layers — the OS, the applications, and the end users date. Mirage then sends a complete copy of that PC to the datacenter and keeps it synchronized. If an end user goes offline, Horizon Mirage will simply perform a synchronization the next time that user comes back online. That synchronization will include updates IT has made to the IT-managed layers as well as updates that the end user has made to their data, profile, or user-installed applications.
Horizon Mirage runs everything locally on the end user's PC so he or she is able to leverage native PC performance, persistent personalization, and user-installed applications regardless of whether the end user is online or offline.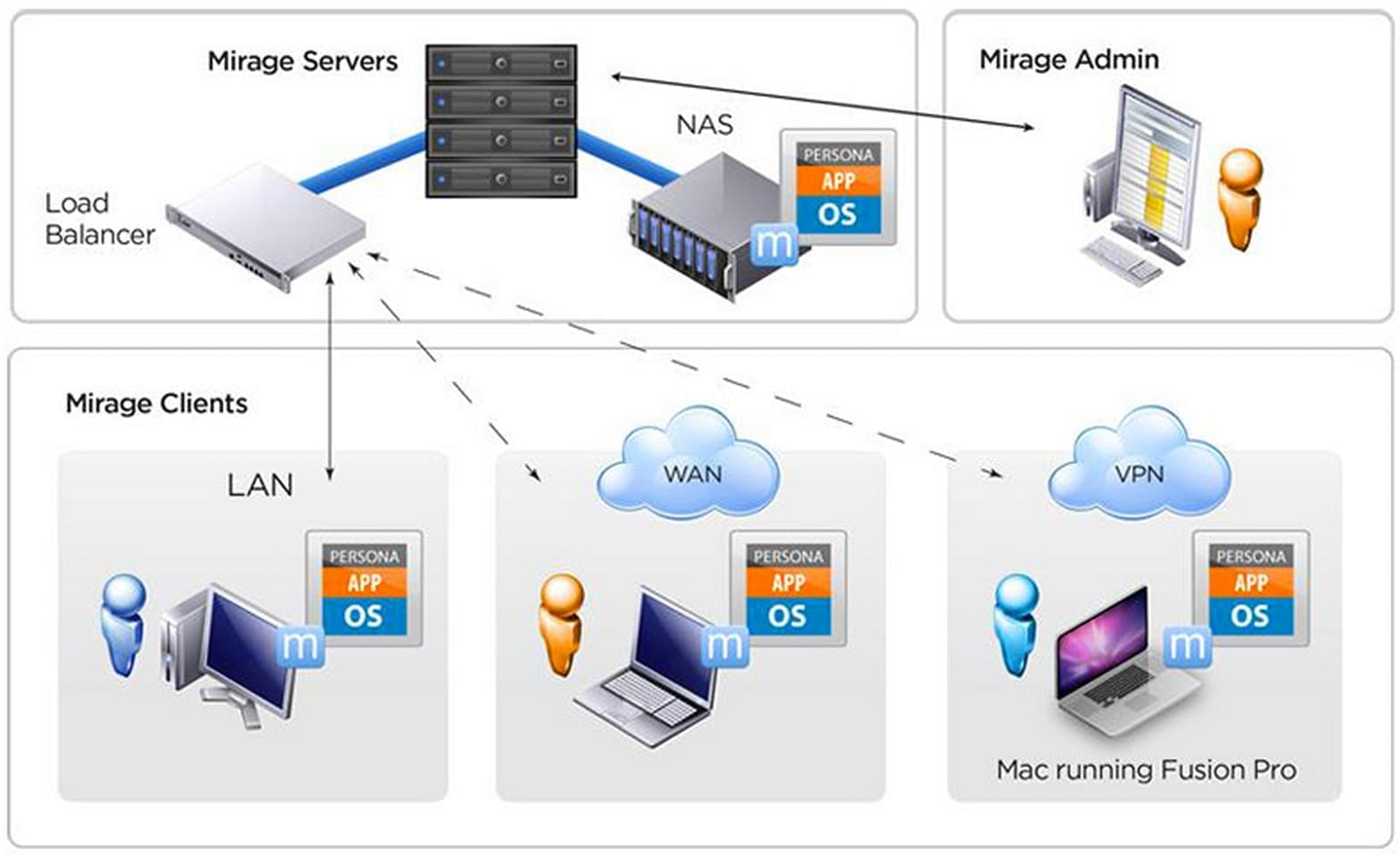 Figure 3 – Horizon Mirage Diagram
Horizon Mirage addresses a number of key IT business initiatives, including the following:
Streamline Windows 7 Migrations
Simplified Desktop Backup and Recovery
Easily Manage Remote and Branch Office PCs without additional infrastructure
With Mirage, VMware continues their strategic moves into the physical world, as Mirage is ideal for physical PCs and laptops. Since it can be tough to lay how how Mirage works in words, I'll share this entertaining video with you on how Mirage works. I think you'll be as intrigued as I was.
VMware Horizon Workspace
The second of the two totally new pieces of Horizon Suite is VMware Horizon Workspace. Once Workspace is implemented, you'll have a single aggregated workspace that all users can use to securely access their applications, no matter where they are or what device they are using. Workspace allows administrators to apply user-based policies to data and applications, reduce end-user complexity (and support calls), and enable BYOD (Bring Your Own Desktop). Not only are internal apps available but there are also remote applications. Additionally, Workspace provides local and centralized control of security.
Here's what the end user portal might look like: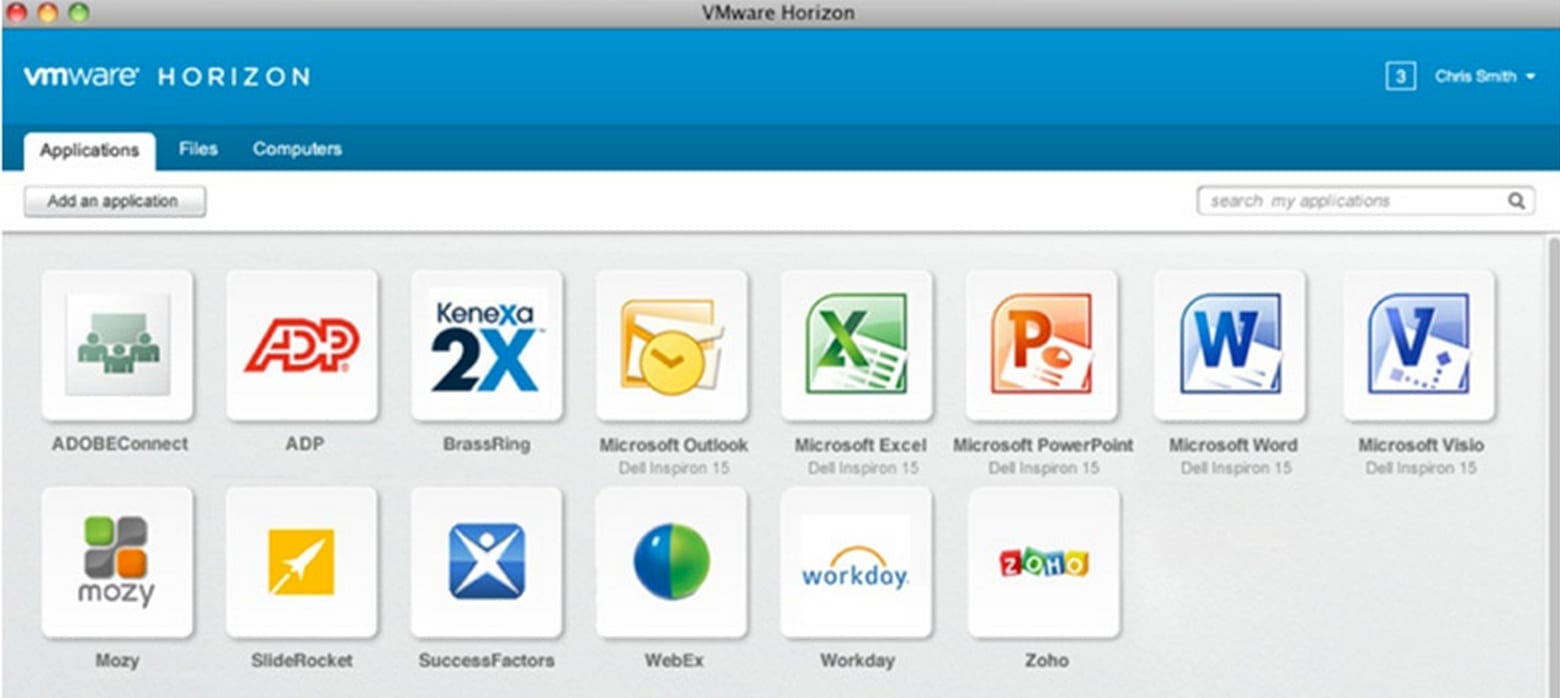 Figure 4 – Horizon Workspace
Horizon Workspace also includes VMware Horizon Mobile, which offers enterprises a dual persona solution for securing and managing Android devices and mobile applications.
Why You Should Consider VMware Horizon Suite
Traditionally, we would just be talking about VMware View desktop and application virtualization here. VDI offers benefits around IT and end-user productivity and, over time, a positive Total Cost of Ownership (use the TCO calculator for more info) for the company. However, the new Horizon Suite, with the addition of Mirage and Workspace, offers benefits for every type of end-user device at every company. By making the management and usability of physical desktops, laptops, and mobile devices more efficient, there are tremendous end-user and IT admin benefits. For example, with Mirage, VMware says that a single administrator could orchestrate over 100 upgrades to Windows 7 with each taking just 30 minutes per desktop and with only 30 minutes of downtime per user. Compare that to a traditional Windows 7 upgrade over the network, which could take 4 to 6 hours per desktop.
Anther beneficial use case would be that with Horizon Workspace. Using that, all employees (no matter where they are or what device they are on) can immediately see their core company applications and access those applications without delay. Compare that to many companies that still run local applications over a VPN for remote users. Those users experience unexpected delays, they typically don't have the latest version of the application, and they don't ever really know what applications to which they have access.
The benefits to using the Horizon Suite are real and impressive. The Horizon Suite is innovative and its value has been proven (at least with the View portion). The best way to see if a solution is right for you is to try it for yourself. Evaluate the Horizon Suite at no cost for 60 days from the VMware Horizon Suite homepage.