Intel Unveils its 13th Gen vPro CPUs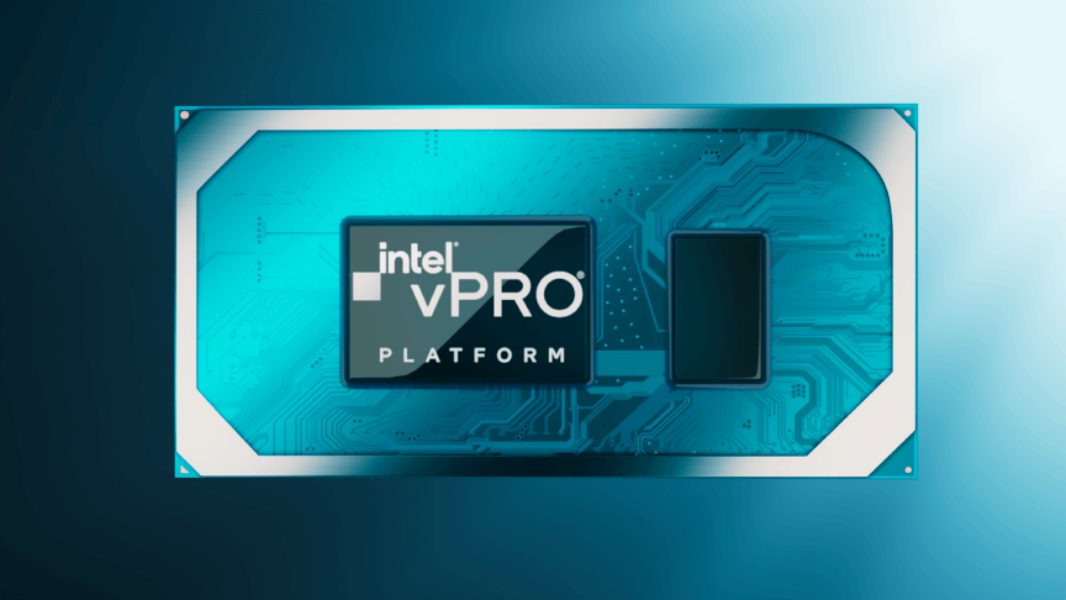 Intel introduced yesterday its 13th gen vPro CPUs for business PCs. Intel's vPro platform offers advanced security and management features for organizations, and the company's 13th gen Core CPUs bring an improved hybrid architecture with a combination of Performance and Efficient cores. 
"With our new 13th Gen Intel Core processors, the Intel vPro platform remains the premier business computing foundation, providing the best in security, business management and performance for organizations of all sizes," said Stephanie Hallford, Intel vice president and general manager of the Commercial Client Division.
Intel's 13th gen vPro CPUs: Performance updates
Intel's 13th Gen vPro CPUs use a new process technology with redesigned Performance cores and an increased number of Efficient cores on select models. As an example, the top-of-the-line Core i9-13900 CPU now comes with 8 Performance cores and 16 Efficient cores, while the 12th gen Core i9-12900 had 8 Performance Core and only 8 Efficient Cores. 
On the performance front, Intel's Thread Director technology also does a better job at assigning tasks to the right type of cores. The Intel Dynamic Tuning technology should also provide better energy efficiency. Overall, Intel promises up to 65% faster Windows application performance with its Core i9-13900 CPU compared to a PC with a 3-year-old Core i9-10900 CPU.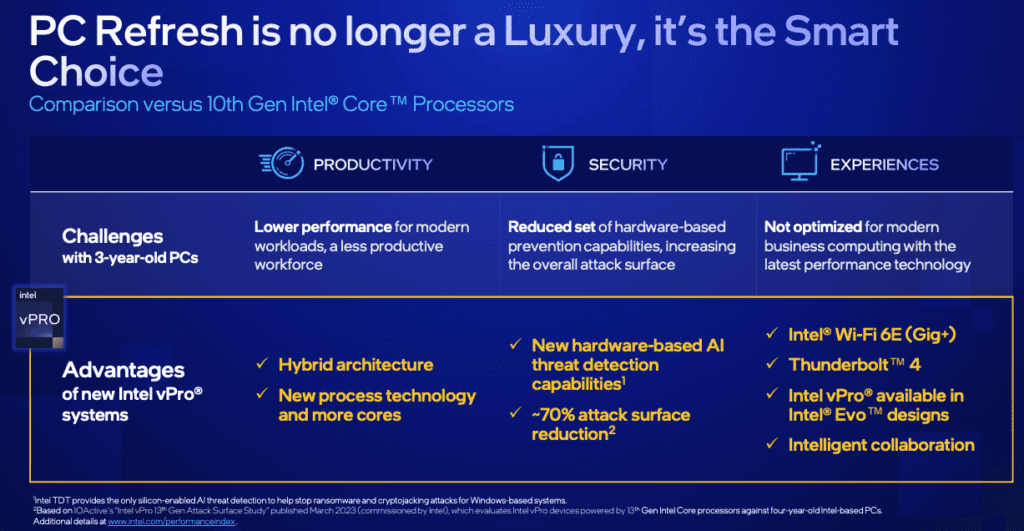 Intel's 13th Gen vPro CPUs also include the Intel Connectivy Performance suite, which can optimize wireless performance and improve video and sound quality on a busy network. These CPUs also support the latest connectivity standards including Wi-Fi 6E and Thunderbolt 4.
Intel's 13th gen vPro CPUs: Security and Management features
Intel's latest vPro CPUs offer better security features with silicon-based virtualization security on Windows 11. Moreover, security vendors are now enabled with Intel's Threat Detection technology. Overall, Intel promises an attack surface reduced by 70% compared to 4-year-old Intel-based PCs.
On the management front, the Intel Endpoint Management Assistant console allows organizations to efficiently maintain PCs with Intel vPro CPUs from deployment to retirement. The new Intel Platform Service Record also introduces tamper-resistant ledgers for collecting system wear and tear data reliably. 
Intel expects to see over 170 notebooks, desktops, and entry workstations use its latest 13th Gen vPro CPUs this year. Acer, ASUS, Dell, HP, Lenovo, Fujitsu, Panasonic, and Samsung will be among the first PC OEMs to use these new CPUs in their business PCs.