Possibly the most touted feature of Windows 8 is its capability as a mobile, or tablet, OS. The need for this is born from both the explosion of tablet computing and the monumental failures of previous Microsoft OSes to perform on a tablet. The promise of Windows 8 tablets piqued my interest after I loaded the original release candidate on an old Acer W700. Since then, I've put more than a few Windows 8 tablets through their paces including the Surface RT, the Surface Pro, and the subject of today's review: the HP ElitePad 900.
If you read my review of the Microsoft Surface Pro, you'll know one of my biggest complaints with that device is its bulky feel and hard edges. The tablet explosion began and is still driven by Apple's sleek iPad, so why Microsoft would ignore style cues from that wildly successful device still escapes me. The iPad didn't sell millions upon millions of units because people were playing musical chairs with their money and looking for a place to spend it before the music stopped. It sold because of its design. With the ElitePad 900, HP doesn't make the same mistake the team in Redmond did: The ElitePad 900 is every bit as svelte and refined as the iPad.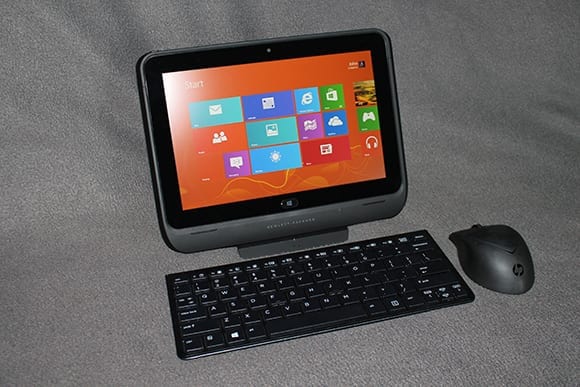 ElitePad 900: Design and Storage
The ElitePad 900 is only 9.2mm thick and weighs just 1.38 pounds. Compare that to the iPad at 9.4mm and 1.44 pounds, and the ElitePad 900 is actually thinner and lighter! Okay, albeit by a miniscule amount, but it does quite effectively make my point. The ElitePad gets the edge on screen size too, sporting 10.1" Gorilla Glass screen (compared to the iPad's 9.7" version).
The ElitePad has an 8MP rear camera and a 1080p front-facing one. Both do a great job with videos and pictures alike. Obviously, these cameras outperform the 5MP and 720p units on the iPad.
It's time for a TKO. The ElitePad 900 has expandable storage via a MicroSD slot out of the box. There's USB 2.0 ports, an HDMI port, SDHC slot, and battery life to 20 hours when you use the optional expansion jacket. With the expansion jacket in place, the ElitePad feels much more like the Surface Pro. The difference is that with the ElitePad using the jacket is a choice, not a requirement. It's nice to go thin and light most of the time, but have the expansion options whenever you need them. HP even offers a docking station. The ElitePad 900 has the beauty of the iPad and the expandability of the Surface. I think I might be falling in love.
Until now I've focused on the hardware specs because I truly like the ElitePad's design. It builds on the iPad's successful design, but it gives us all the things Apple has refused to offer. Its true superpower, though, is the Windows 8 Professional OS running on all that beautiful hardware. This tablet can do things no iPad has ever attempted.
Windows 8 Pro: The Tablet OS
The day it arrived, I joined the ElitePad 900 to my Active Directory domain. It applied Group Policy settings without difficulty and deployed software automatically just like any other PC on the network. Speaking of software, I installed Office 2013 Pro Plus, Adobe Photoshop CS6, Adobe Acrobat X Pro, and Watchguard's SSL VPN client without a single hiccup. Running full Outlook alongside Photoshop on a tablet lighter than my iPad made me almost giddy. A month later it still does. This is what tablet computers should do!
Windows 8 new from-the-ground-up v4 printer model makes printing from the ElitePad a treat. Sure, the iPad has AirPrint, which "just works," but Windows 8 v4 printing also just works. The kicker is that it just works to a far more robust and diverse group of printers. Oh, and it supports all the advanced printing features PC users enjoy such as collating, stapling, and scanning from devices that provide those functions. I regularly scan from my HP Photosmart 7250 right to the ElitePad without problems.
Before I go any further, allow me mention all the Windows 8 Pro features I'm describing are just that – Windows 8 Pro features. This means they are not big wins for the ElitePad, but instead they're big wins for all Windows 8 Pro tablets, including the Surface Pro.
ElitePad 900: The Downside
I'm sure by now I've sufficiently convinced you the ElitePad 900 is the best thing since night baseball or the invention of toilet paper. Well, it's time I share with you a couple of the less stellar attributes of the device. The ElitePad 900 uses an Intel Atom 1.80GHz Dual Core CPU. Unfortunately this CPU can grind to a halt by running even a few Windows applications side by side. Admittedly, applying a bunch of Photoshop filters to an image is probably outside of the use parameters the ElitePad's designers had in mind, but that isn't the only case in which I noticed the unit running slow.
My ElitePad 900 has one almost fatal flaw, an unforgivable issue that renders the unit almost unusable and could send me running back to my iPad to ask forgiveness for crossing over to the dark side. My ElitePad 900 frequently locks up tighter than a hatch on a space shuttle. I have no choice, but when performing a hard reset the unit loses whatever I happen to be working on. This can happen a few times a day. I won't accept this behavior from any device be it desktop, laptop, tablet, or phone. In comparison, I've had maybe one iPad lockup over the course of two years. HP promised me this isn't a design flaw and that a replacement ElitePad should resolve the issue and have me back on Windows 8 tablet cloud 9.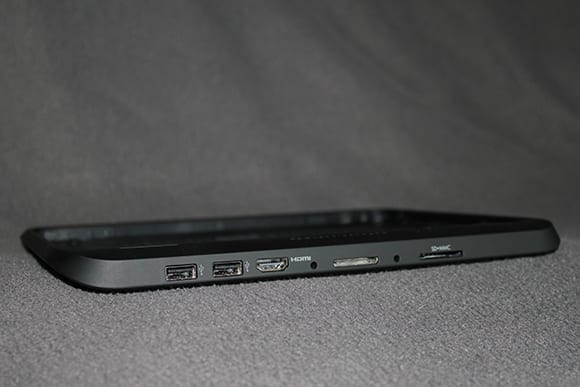 In summation, HP's ElitePad 900 is what I believe a tablet should be. Thin, light, easy to use, and capable of running all the applications I use on my laptop and desktop without compromise. It has a great screen and good battery life with plenty of expansion options available. In my opinion, the HP ElitePad 900 has the design to beat when it comes to Windows 8 tablets. I'm staying optimistic my lockup issue is just a defective unit and all will be right as soon as the replacement arrives. I certainly hope so, because I really, really, really want the ElitePad 900 to be my new favorite tablet.
HP ElitePad 900 – 64GB ($699.99, hp.com)
Pros: Gorilla Glass 16:10 display, runs new Windows Store and existing Windows 7 apps, Active Directory support, super thin and light, expansion jacket
Cons: Slow performance when multitasking, and lockups, lockups, lockups!
Bottom Line: The HP ElitePad 900 is the best Windows 8 tablet I've seen so far. It's the first tablet to leverage cues from the iPad's success instead of trying to reinvent the wheel. It's thinner and lighter than an iPad, yet runs all my Windows software and can be joined to an Active Directory domain. If the lockup problem turns out to be a one-off warranty issue, then the ElitePad 900 will have earned its place as my new favorite tablet!