Generating Site Survey Reports Using Cisco WCS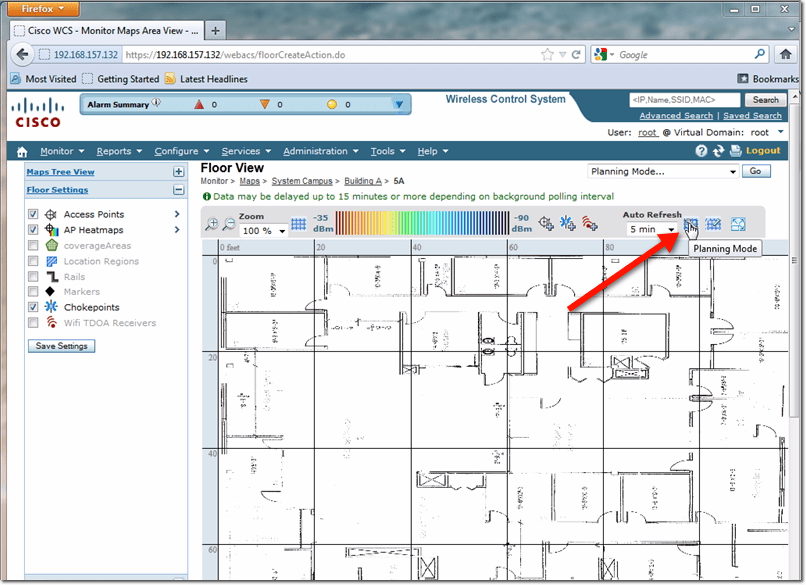 (Editor's note: This is a text transcript of the TrainSignal training video called Conducting a Cisco Unified Wireless Site Survey by Avril Salter.)
The Cisco Wireless Control System (WCS) allows you to generate very professional site survey reports, which can help you leave a good impression when you submit them to your customer.
What is in the Site Survey Report?
Let's begin by discussing what should be in the Site Survey Report.
I always start with a description of the facility where the site survey was conducted. I talk about the buildings, the floors, etc. You will want to list exactly where the sites you've been surveying (and where you would eventually be deploying equipment) are located. It's also always good to put in the survey report what the customers needs are.
You will also want to put in the recommended equipment, making sure you are as detailed as possible. You may want to talk about what your access point equipment are and where they should be located. In addition, you may want to talk about the antennas you'll be using and, if you'll be using external antennas, which direction they should be facing.
You should give a very detailed description of the network cabling that you'll be using to connect your access points. Don't forget to mention your mounting requirements, including whether you will be attaching to a ceiling or to a wall. Naturally, you will have to know what mounting equipment you'll need.
Last but not the least, you'll have to put in your infrastructure requirements and licensing upgrades. If you are expanding an existing network, you need to look at upgrading your licensing, potentially on your wireless LAN controllers, your CISCO appliances, etc.
Or, if you are doing a brand new installation, you have to look at licensing in general to make sure you have enough licenses to support all of the access points you want to deploy.
Personally, I always like to put in information about the tools used when conducting the site survey and a description of the methods employed. I think customers find this very informative. It also projects a very professional impression on the report itself.
Implementation details such as diagrams showing access point placement and coverage are going to be very useful from an implementation engineering perspective. Eventually, there will be technical personnel who will want to take out these diagrams to know how they should position the access points and antennas.
This typically contains, for instance, interference sources that you found during the course of your site survey. So, for example, if you found microwave ovens in certain locations, you can recommend that only certain channels should be used there.
Obviously, those findings and recommendations are going to be very site-specific. They may differ between different buildings and different floors.
I have observed that reports are much better received if they include a lot of diagrams and photos, as they can be very useful for the installation engineers who will be using them.
Generating the Site Survey Report
Let me now show you how I generate a site survey report. What I'm going to show you are the reports you can generate from the Cisco Wireless Control System. For this post, we're going to assume we've already gone through the process of creating a floor plan where we built walls and made predictions as to where the access points are going to be placed.
To get to that plan in the Wireless Control System, just click the Planning Mode button.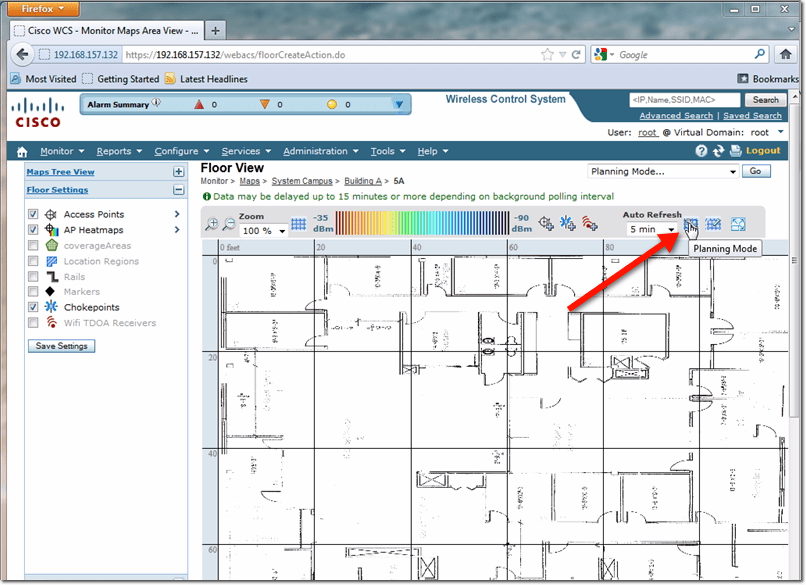 Here, I've clicked on one of the access points and you can see that I generated a coverage map using the 3500i access point. This access point comes with internal antennas.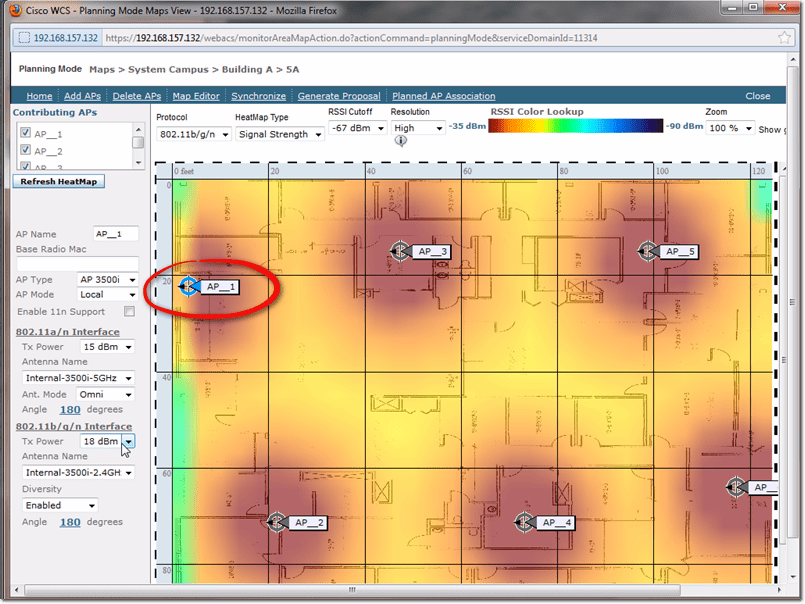 You'll also notice the power levels at which I have them generated.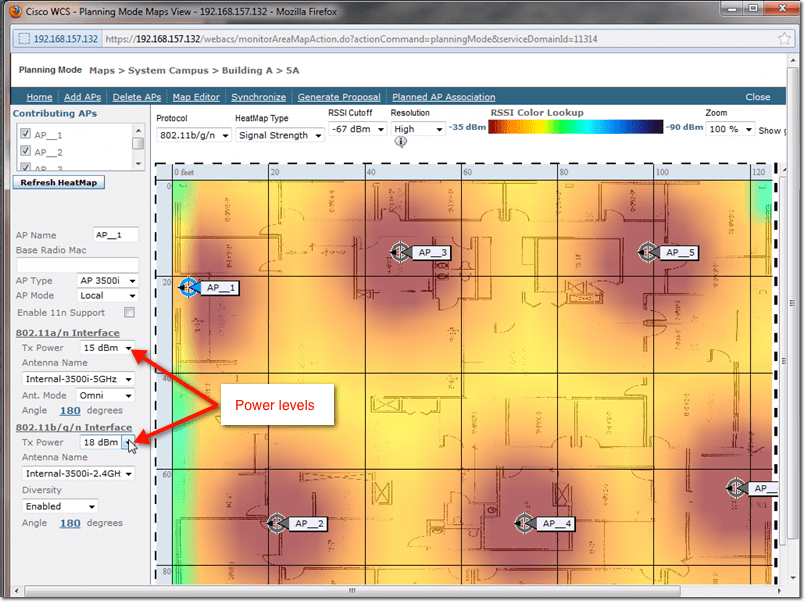 Personally, if I was doing a plan, I wouldn't have them on the maximum power because I always think that for a deployment, you would want them slightly below that level. So if you encounter an issue, you've always got the option to raise the power up a little bit.
For this particular example, I generated this in both the 2.4 GHz and 5 GHz band; covering both voice and data. There are six access points in this area.
How to Generate a Proposal
Let me now show you how to generate a proposal. To generate a proposal, you go to the top of the screen and click Generate Proposal.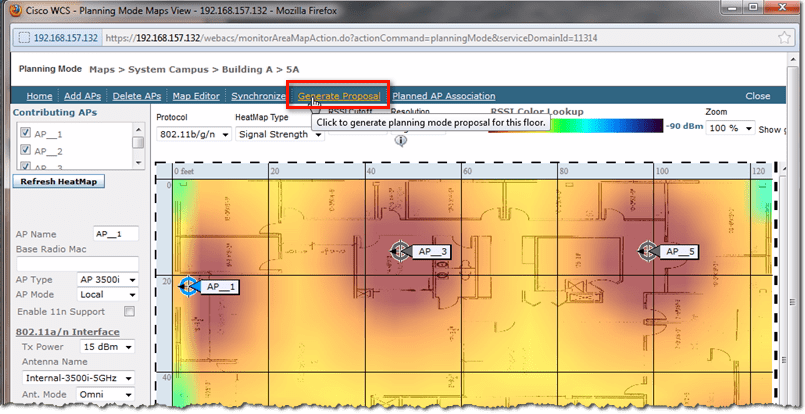 You will then be allowed to specify whether you want to generate a proposal for the 5 GHz band, the 2.4 GHz band, or both. In my case, I selected both.

The proposal I'm showing you here starts with certain details I entered earlier. In this example, this is a plan for the 5th floor in Building "A." Below, you can see the floor plan.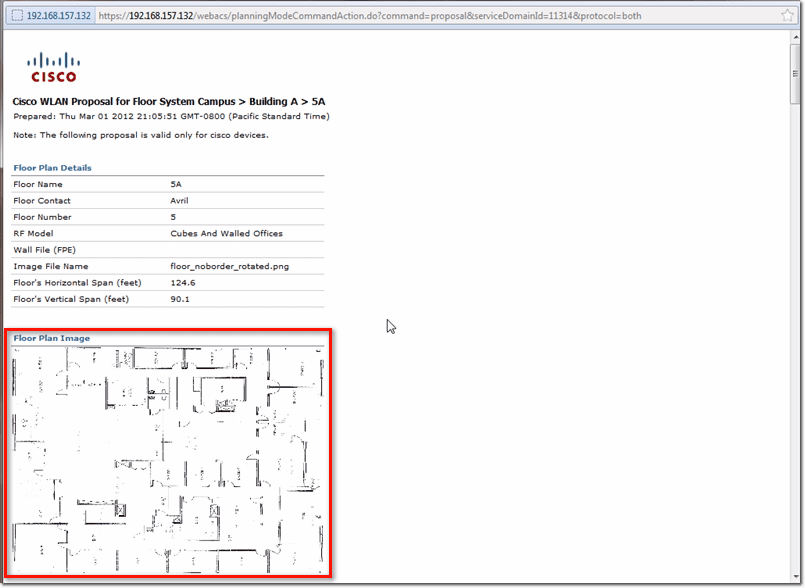 Right after that are some requirements and assumptions that I've made, which talks a little bit about VoIP phones, coverage, and client throughput. It contains explanations of building type options, guidelines on the gain of the antennas, client transmission power, receiver sensitivity, and so on.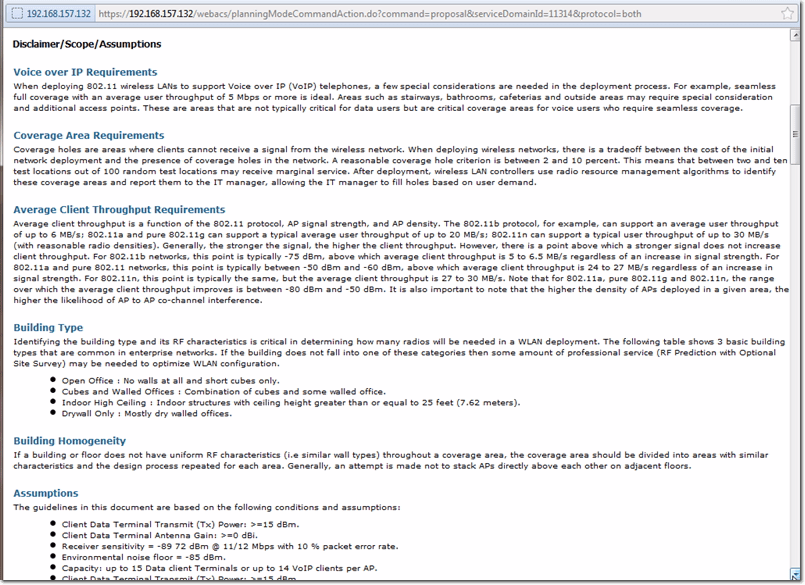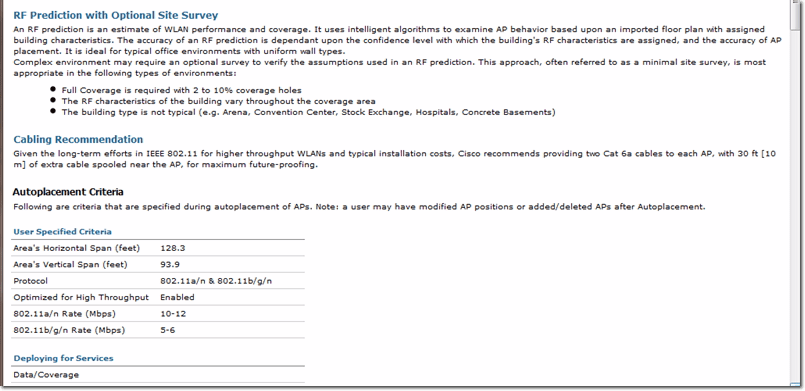 This will give your client some valuable information, so you can sit down with him and make him understand as to how this tool works and how it uses intelligent algorithms to help you come up with your predictions.
Scrolling down further, we see the criteria used in autoplacing the access points.

This is followed by a map recommending where we're supposed to place the access points.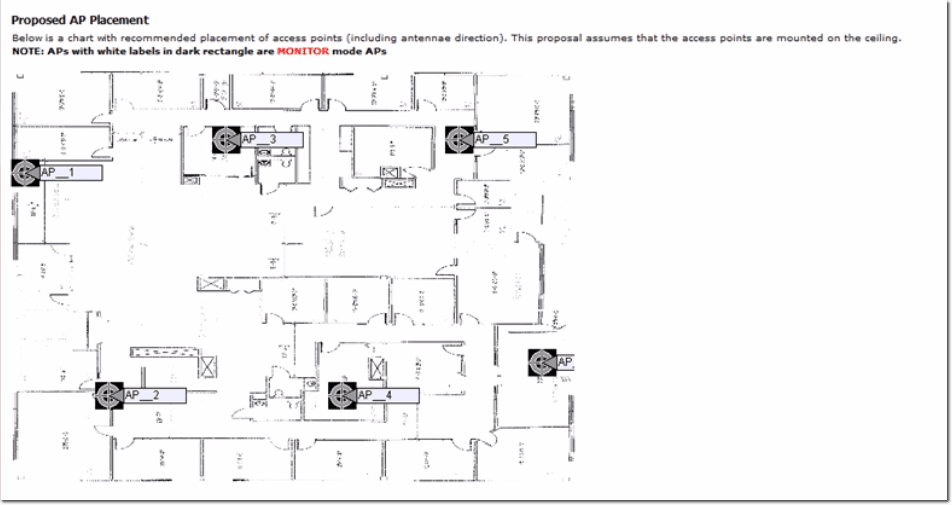 Now, the recommendation given to us doesn't have to be final. If, after going out to the site and doing some measurements, you decide to move your access points, you can go back to this tool, move those access points, and regenerate the heat map as well as the entire survey result.
Next, you'll see more information about the access points that you chose in this model. If you recall, in my case, that model was the 3500i with the internal antenna. Now, if you choose an access point with external antennas, those antennas would also be described. The descriptions would indicate whether those antennas are directive or omnidirectional in nature.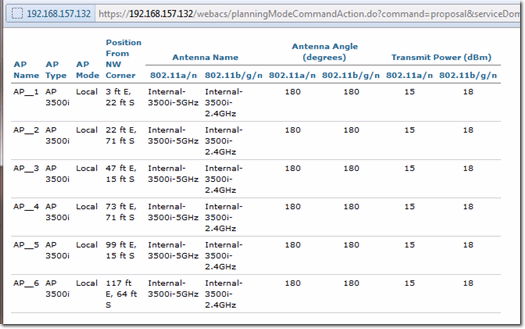 After that, you'll see some visually appealing heat maps. The first one you see here is for the 5GHz band. Above it, you can see some kind of spectrum indicating what those RSSI measurements amount to. So you can talk about the minimum measurement as required for voice. For instance, here, it's set at -67 dBm.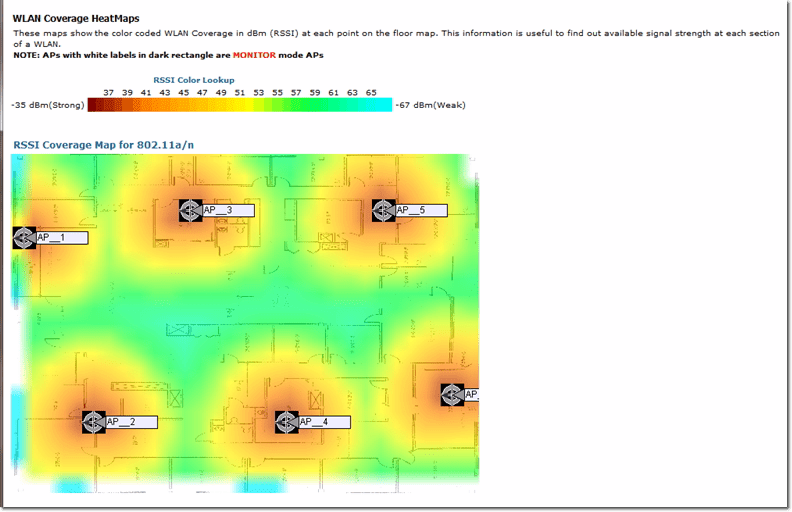 The next one is the coverage map for the 2.4 GHz band. As expected, it offers better coverage because the signal doesn't attenuate as much in this particular band as it does in the 5 GHz band.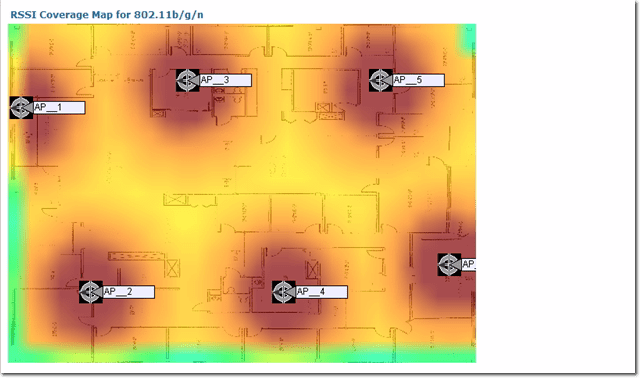 In addition to the coverage maps, this report will also contain data heat maps, which will show you the data rates you can expect to achieve across the deployment site. In this particular example, we can see some fairly high data rates for both the 5 GHz band and the 2.4 GHz band.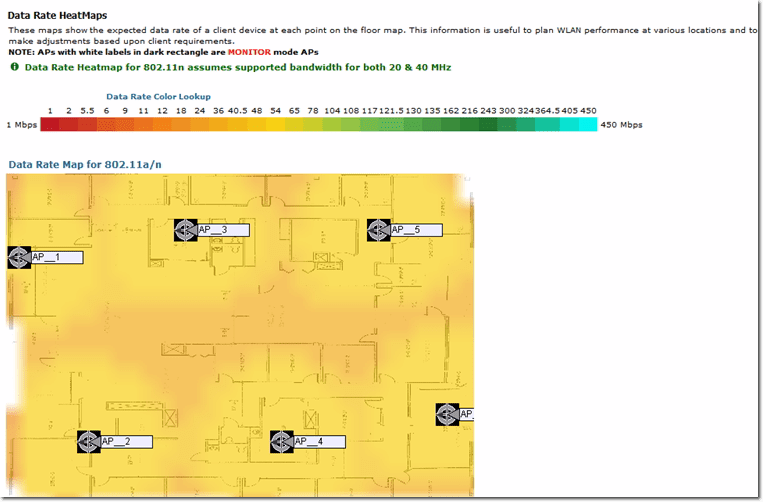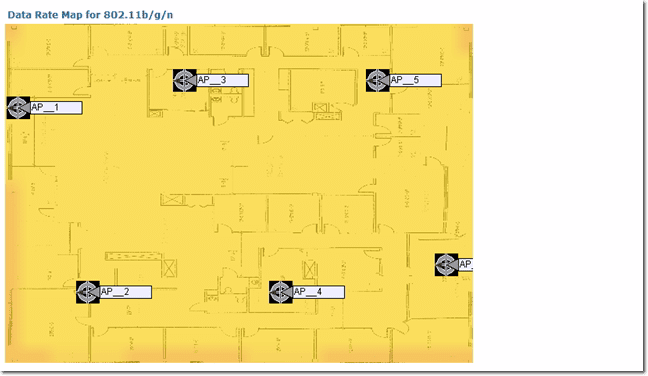 Lastly, the report will talk about the Coverage Analysis. And what's really nice here is that you can see signal strengths and the percentage of areas where the coverage isn't good enough.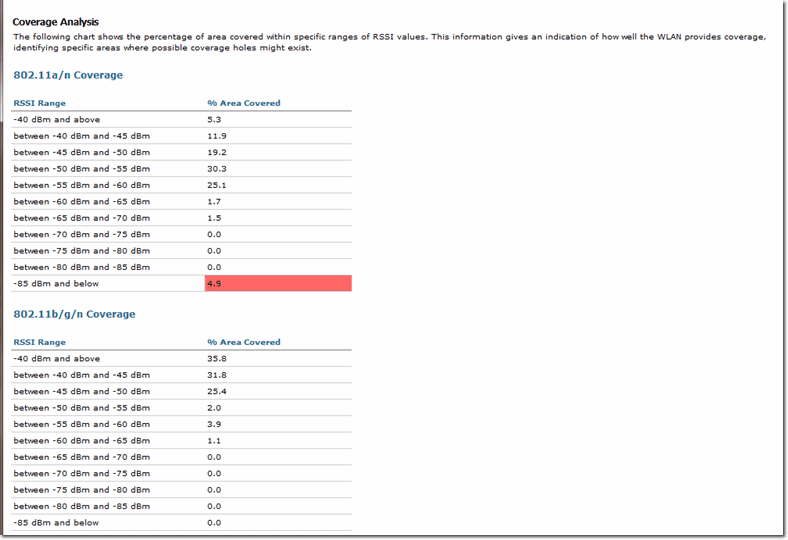 This is really important because then you would know when it's time to start moving access points, changing to an external antenna, focusing more energy to one direction, and performing other possible tweaks to improve those values.
There are several options that you can look at and this tool will point you in the direction where the problematic area might be. That's the area where you might want to go to and perform some measurements, especially if you think there are some interference sources there. If, in addition to the presence of interference, the signal in that area is weak, that's going to be a cause of some major problems.
So what you're seeing here is that the Cisco Wireless Control System is capable of generating some really nice reports that can be created based on your site survey and then handed over to your customer. They look very professional and they really illustrate a lot of the things that you will want to discuss with your customer as with regards to their Wireless LAN deployment.
There are a lot of tools like this out there in the market including the AirMagnet Survey Pro. But my main recommendation here is that you should choose a tool that not only gives you good, accurate predictions but is also able to create these types of reports. It will save you a lot of time and effort as you try to put all that information together before handing them over to your customer.