Exchange 2019 Server On-Premises Debuts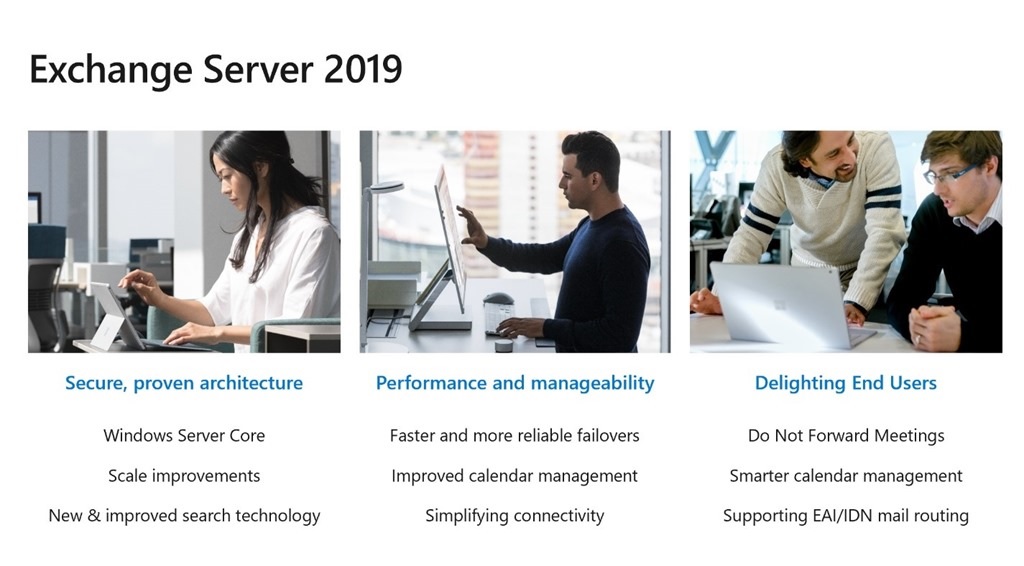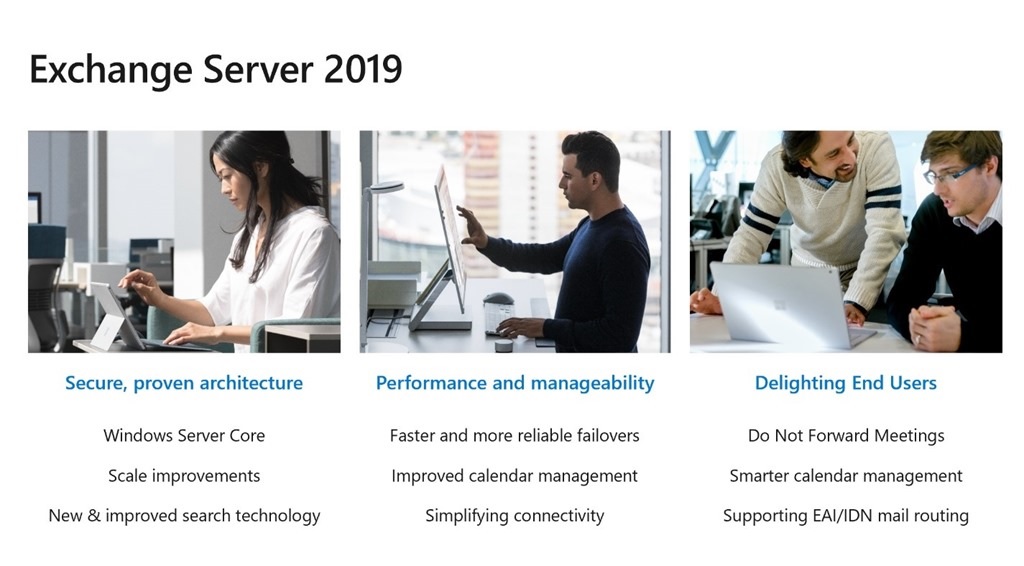 FYDIBOHF28SPDLT!
Following their normal three-year cycle of October releases, Exchange 2019 made its debut yesterday (will Exchange 2022 be the next release?). Although the on-premises installed base has reduced, evidence from the recent Ignite 2018 conference showed that strong customer demand still exists for on-premises software, especially for the best email server available today. After all, there are parts where the cloud can't reach.
Exchange 2019 is now available through the Microsoft Volume Licensing Center (VLC) and MSDN.
If you don't get what FYDIBOHF28SPDLT means, don't worry. I made it up based on the code used for Exchange 2007. Microsoft's internal version number for Exchange 2019 is 15.2 rather than 17, but that doesn't work as well when retrofitting to an old tradition.
Windows 2019
Moving back to the actual technology, some fuss resulted from Microsoft's decision to only support Exchange 2019 on Windows Server 2019 (and to prefer Server Core to boot), especially because Windows Server 2019 suffered from some of the same kind of problems as Windows 10. In any case, I doubt people will rush to introduce Exchange 2019 into production, so a small delay in the O/S isn't going to be a problem.
Proven Code
Of course, Exchange 2019 – or rather, a variant of the code base – has been running in production inside Exchange Online for several months now. Deploying new software early into the cloud is good for on-premises customers because it allows Microsoft to test features like the metacache at scale. Although Office 365 is an environment totally different to anything running in a customer environment, the fact is still that components need to be sized properly to work efficiently, they fail and need to be replaced, and tools need to be developed to assess their effectiveness.
The output of testing at scale is usually goodness in the form of better software and advice from Microsoft, even if my faith in that statement has been battered by some recent lapses in software quality seen inside Office 365, like the hole in Azure AD audit records.
No Common Base
What's changing from this release is the news that Microsoft is no longer keeping a common code base for the cloud and on-premises versions of Exchange. They will allow the two products to diverge and go their own way to serve what are now radically different missions: the on-premises server is a mail server, pure and simple, with no delusions of collaboration grandeur while Exchange Online delivers mailbox functionality and email services to users and other Office 365 applications.
Separate code bases do not mean that Exchange on-premises will not gain from future work Microsoft does for Exchange Online. Features like being able to deny public folder access to specific mailboxes and disabling basic authentication for connection protocols released in the cloud will be considered for on-premises release if they add value to the mail server. Other cloud work won't.
I rather like the simplicity of the new vision for Exchange on-premises. Let's face it, Exchange has never done well when trying to be a fulcrum for collaboration. All I need to say on this point is site mailboxes.
No Unified Messaging
Exchange 2019 does not have a Unified Messaging role. Microsoft flagged this some time ago, but the information was still hotly debated at Ignite 2018. Microsoft's preference is for customer to use the cloud for voice, but if you want to keep voice processing on-premises you'll have to look at third-party offerings.
Processing voice in the cloud offers two advantages. First, cloud infrastructures tend to have far more computing power available to process voice than on-premises servers do (in the past, the rule of thumb was one minute of CPU is needed to process one minute of voice). Second, the speed of innovation is much higher in the cloud, so you see new features faster. On the downside, it's in the cloud and some organizations don't want to put any workload there.
More Office 2019 Servers
It's not just Exchange 2019 that's now available in the VLC and MSDN. You can also get SharePoint Server 2019 and Skype for Business Server 2019 (Figure 1). It's a feast of 2019 servers…
Exchange Marches On
Twenty-two years after its original release, Exchange 2019 will be in production for the next ten years or more. Today's software is very different to Exchange 4.0, but the Information Store, ESE database, and some other artifacts persist. Not many software applications can boast the same longevity, flexibility, and adaptability.
Follow Tony on Twitter @12Knocksinna.
Want to know more about how to manage Office 365? Find what you need to know in "Office 365 for IT Pros", the most comprehensive eBook covering all aspects of Office 365. Available in PDF and EPUB formats (suitable for iBooks) or for Amazon Kindle.