Everything You Need to Know About Windows March 2020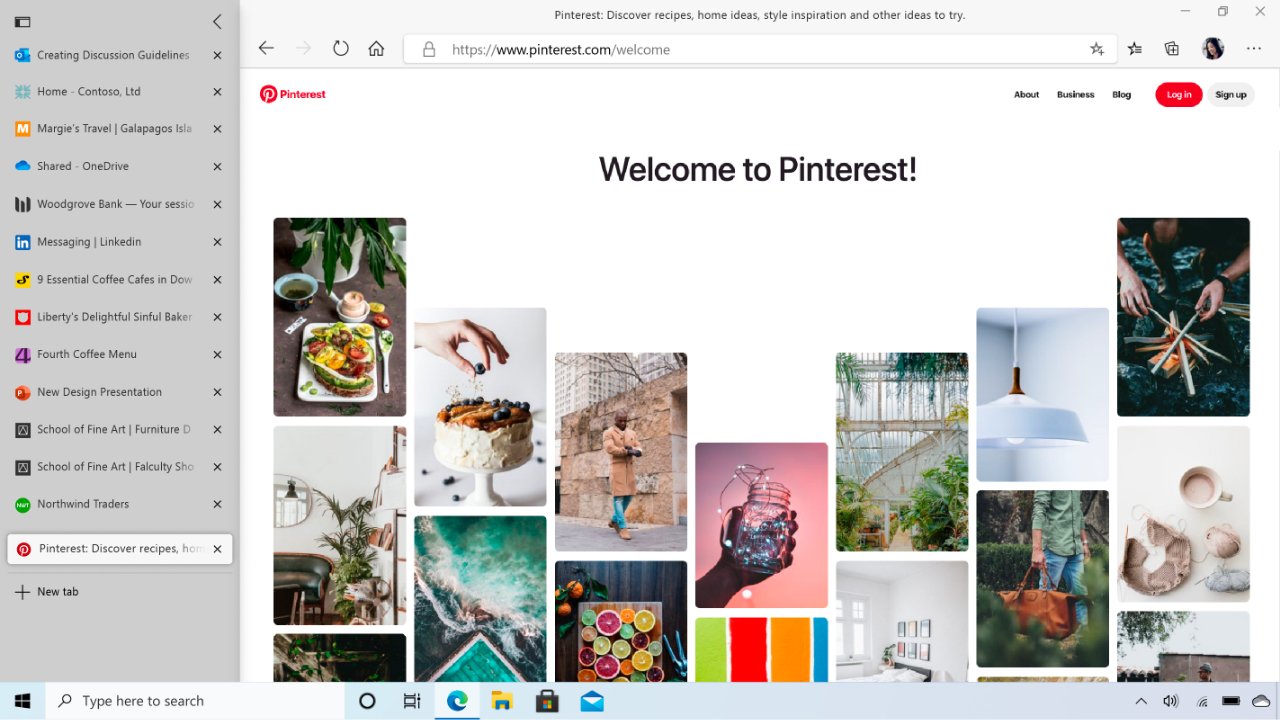 The world has changed since I wrote last month's Everything You Need to Know About Windows. A public health emergency in the U.S., and many other parts of the world, has seen a large increase in demand for cloud-based services, including Microsoft Azure and Office 365, as much of the workforce moves to work from home.
Because of Covid-19, there is a bumper edition of the column this month as Microsoft and others react to, for what at least for now, is the new 'normal'. So, let's get started.
Microsoft will pause Windows 10 optional updates starting in May
March 24th Microsoft announced that it would be pausing Windows 10 optional updates due to the current public health situation. Optional updates have been particularly problematic in the past few months for those who decided to install them. This change won't affect the security updates released on Patch Tuesday.
We have been evaluating the public health situation, and we understand this is impacting our customers. In response to these challenges we are prioritizing our focus on security updates. Starting in May 2020, we are pausing all optional non-security releases (C and D updates) for all supported versions of Windows client and server products (Windows 10, version 1909 down through Windows Server 2008 SP2).
There is no change to the monthly security updates (B release – Update Tuesday); these will continue as planned to ensure business continuity and to keep our customers protected and productive.
Windows 10 devices configured with a proxy might have limited or no Internet connection
On the subject of updates, Microsoft noted in the knowledgebase document (KB4541335) for an optional Windows 10 update released in March that "using a manual or auto-configured proxy, especially with a virtual private network (VPN), might show limited or no internet connection status in the Network Connectivity Status Indicator (NCSI) in the notification area."
Microsoft released a fix (KB4554364) March 30th to address the issue:
Updates an issue that might display the wrong internet connection status for certain VPN users or might prevent some applications from connecting to the internet.
My advice is not to install optional updates for Windows 10 unless they address a specific issue that you are having. The fixes included in optional updates get rolled into cumulative updates provided at a later stage after more thorough testing.
Microsoft extends end-of-life date for Windows 10 version 1709
Microsoft announced on its Windows IT Pro Blog that because of the public health situation, that it would delay the scheduled end-of-life date for Enterprise, Education, and IoT Enterprise editions of Windows 10 version 1709. Previously due to end in April, users of these SKUs will now receive security updates until October 2020 via the regular servicing channels. The final security update for qualifying SKUs will be released October 13th.
Microsoft Edge to get vertical tabs and other new features
Microsoft said this month that it would be delaying the release of the next Stable Channel version of Edge in line with Chromium's updated release schedule. But it did provide details on features coming in a future version of its Chromium-based Edge browser.
Vertical tabs
The most noticeable change will be an optional feature that allows users to have vertical tabs. If you choose to enable the feature, tabs will appear in a scrollable list on the left of the browser window. Vertical tabs should make it easier for users who have many tabs open at the same time to find content already open in the browser.
Image # Expand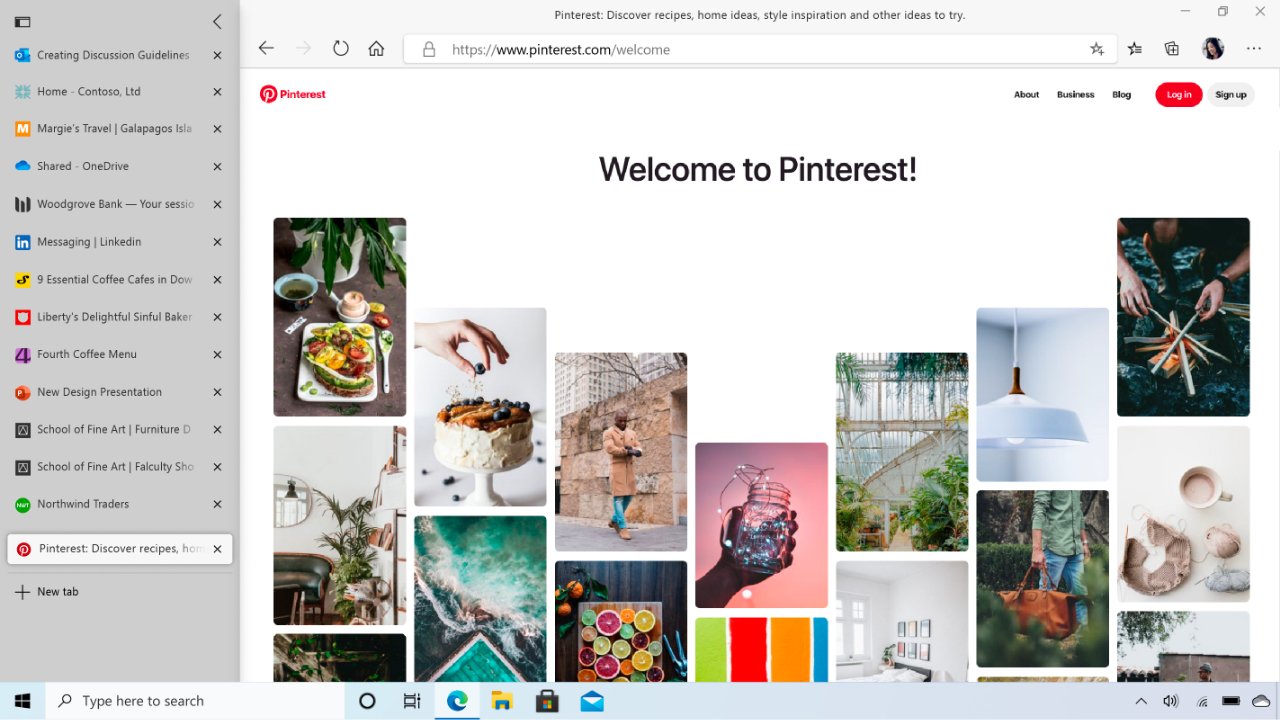 Smart Copy
Smart copy will allow users to retain the formatting of web content when copying and pasting. For example, if you wanted to copy and paste a table from a webpage.
Image # Expand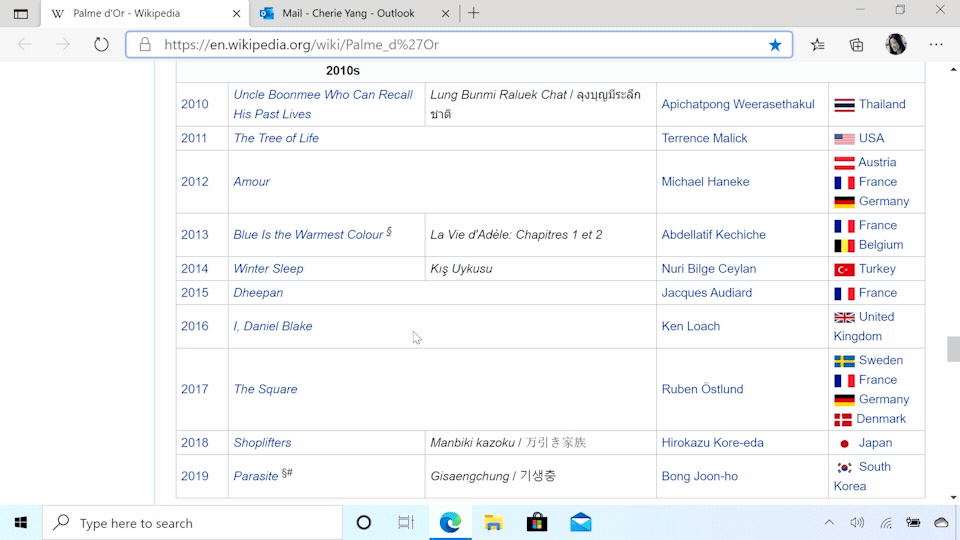 Password Monitor
Password Monitor scans the Internet to look for stolen credentials. If it finds your credentials have been reported as stolen, you will be notified and redirected to the site's page for changing passwords.
Image # Expand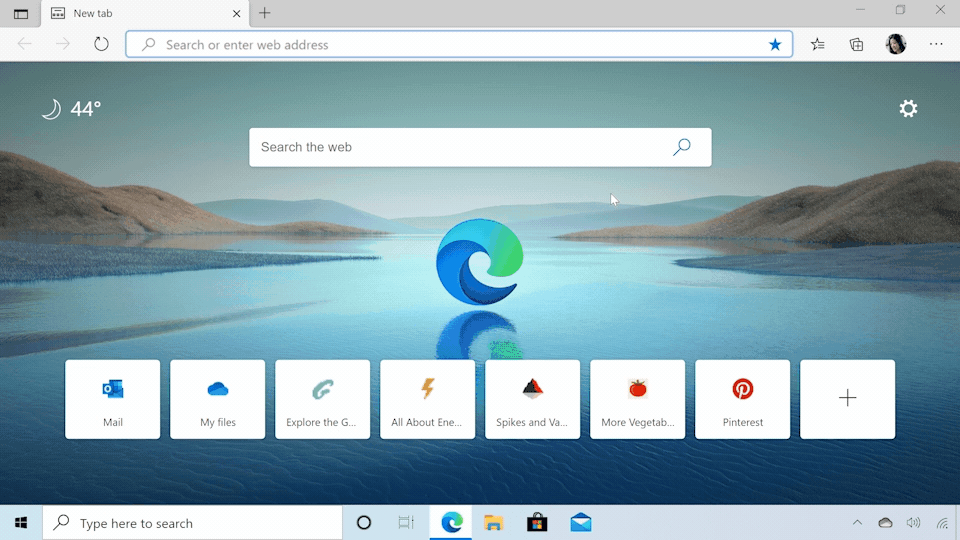 Collections coming to mobile Edge
And finally, Microsoft said that in the coming months that it would bring the Collections feature to mobile Edge. Collections will synchronize between all devices, including mobile handsets.
Microsoft Search integration with Windows 10 delayed until later in 2020
ZDNet and Petri's Mary Jo Foley reported that Microsoft has updated its roadmap and that Microsoft Search would now be released for Windows 10 in Q4 2020. As Foley writes, Microsoft Search integration for Windows 10 was first announced at Ignite in 2018. At the time, Microsoft said the feature would be coming to Windows 10 'in the coming months'. But since then, Microsoft has gone quiet about Microsoft Search in Windows 10.
Panos Panay posts new Start menu and refreshed UI for Windows 10 on Instagram
It's no secret that Windows 10X is getting a refreshed UI. On March 19th, Panos Panay, Chief Product Officer of Microsoft's Devices Group, posted a video on his personal Instagram account celebrating 1 billion installs of Windows 10.
The video reveals a streamlined Start menu with Fluent Design icons. And a brief glimpse of a new File Explorer. It's not known yet when or if these changes will make it a stable build of Windows 10.
You can read more about Windows 10X on Petri: Microsoft Announces Windows 10 X With New Features, UI, and More and Windows 10X Emulator Arriving in February.
Windows 10 version 2004 heads to Windows Server Update Services (WSUS)
In another sign that Windows 10 version 2004 is almost ready to be released, the update is now available for testing and delivery via Windows Server Update Services (WSUS). It has still yet to be released to users on the Insider Release Preview Ring, which is usually the last step before a feature update is made generally available. It is thought that Windows 10 version 2004 will reach general availability in April this year.
Windows 10 version 2004 gets Hosted App Model
In a post on the Windows Blog, Principal Program Manager Lead Adam Braden writes that Windows 10 version 2004 introduces the concept of Hosted Apps to the Windows App Model. Hosted Apps are those that are dependent on another process. For instance, a script might require Python to be installed before it can be executed. These kinds of apps are just files that don't appear to users as 'real apps' in Windows.
The new Hosted App Model in Windows 10 version 2004 lets these kinds of 'apps' declare themselves as host. When the 'app' is launched, the host is also launched but with the identity of the hosted app package instead of its own identity.
Microsoft Edge Progressive Web Apps can be independently registered in Windows 10
Braden writes that Microsoft is working with the new Edge browser to take advantage of the Hosted App Model for Progressive Web Apps (PWA). It will convert the web app manifest into an app manifest, package the content into an MSIX package, and register it. The idea is to let the PWA act as an independent app registered in Windows even though it is being hosted by Edge.
For more information on the Hosted App Model, check out Braden's post here.
Microsoft Emulator and Windows 10X Emulator Image updated
Microsoft released new versions of Microsoft Emulator and the Windows 10X Emulator Image at the beginning of March. New features include the ability to check for new images from within the emulator. The updated Windows 10X image has a new license agreement that no longer requires it to be installed on a Windows Insider build. It can now be used with Windows 10 version 10.0.17763 or later. The update also applies the windowing model for Windows 10X to Win32 applications running in the container.
Windows Insider builds
March 5th saw Windows 10 build 19577 released on the Fast Ring. It includes more updated icons and changes to diagnostic data settings in the Setting app and Group Policy settings.
Basic diagnostic data is now known as Required diagnostic data and Full diagnostic data is now Optional diagnostic data. If you're a commercial customer and choose to send Optional diagnostic data, we will also be providing more granular Group Policy settings to configure the data that's collected within your organization.
With this build, Microsoft also announced the release of PowerToys 0.15.1. There are no new toys but some improvements to the existing toolset.
Your Phone update for Samsung Galaxy S20 and Galaxy Z Flip owners
Windows 10 build 19582 gets improvements in eye control settings, which now span multiple pages to give the options more space. For Samsung Galaxy S20 and Galaxy Z Flip owners, Your Phone gets several new features, including the ability to copy and paste text and images between devices, the ability to turn off the smartphone display when using the Phone Screen feature, and support for send and receive for Rich Communication Service (RCS) messages.
Image # Expand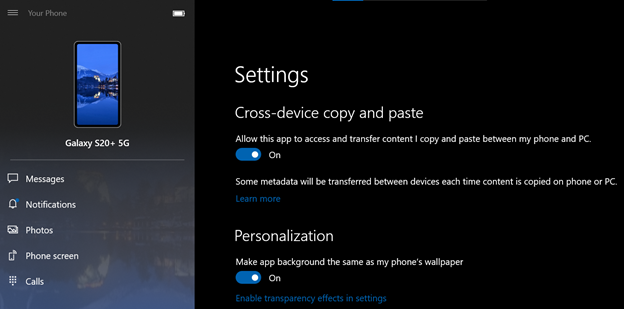 Tablet posture experience comes back for some Insiders
Windows 10 build 19592 saw some Insiders get the new tablet experience for 2-in1 convertible PCs. The new experience is separate from Tablet Mode, which is still included in the build. Microsoft says the new tablet mode lets users stay in the familiar desktop experience with a few minor differences:
Taskbar icons are spaced out
Search box on taskbar is collapsed into icon-only mode
Touch keyboard auto invokes when you tap a text field
File Explorer elements will have a little more padding, to make them comfortable to interact with using touch
Image # Expand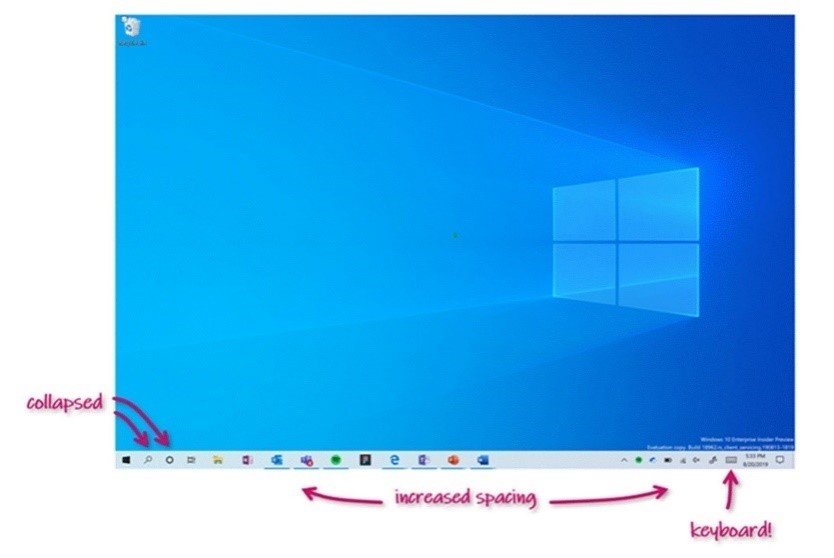 Fast Ring build 19587 brings a series of minor changes and fixes. There were two updates to the Slow Ring. Build 19041.153 and 19041.172 include fixes and security updates to Windows 10 version 2004.
Windows Insider Program gets new lead
In news that seems to have got buried, Panos Panay announced on the Windows Blog Amanda Langowski as new lead for the Windows Insider Program.
Amanda's passion for Windows is evident in her 20-year career at Microsoft, which began with coordinating beta programs for Windows.
Panay goes on to say:
More inspiring than the work she has done though is her vision for the future and her desire to help connect our engineers with customers, providing clarity on how their feedback transforms the way we build experiences for all our Windows 10 customers. All while driving the Windows Insider Program forward by enhancing our communication with legacy Insiders and growing the diversity of our community to ensure more customers are reflected in the products we're building together.
Working from home with Microsoft and Windows 10
Finally this month, I want to mention a few things that will hopefully make it easier for many of you to transition to working from home.
Online meetings
The first is about using video conferencing tools effectively. Microsoft Teams and Zoom have both seen large increases in usage over the past few weeks. While Teams generally offers better audio and video quality than Zoom, many prefer Zoom as it is a dedicated video conferencing app. It's worth remembering that free apps, like Skype, are not designed as business tools and don't always provide the reliability and quality needed to host online meetings.
As Tony Redmond noted on Petri recently, Microsoft has elevated the priority of work outstanding on increasing the number of participants shown in the main Teams meeting window. But no more details were given. Zoom has a gallery view that allows you to see the video of all meeting participants. Teams is currently limited to a 2×2 view. That said, Microsoft announced recently some important improvements to audio quality that should make meetings more productive, especially in cases where participants aren't wearing headsets.
For a complete look at how to work more effectively with products like Teams and Zoom, see Work From Home – 4 Tips for Productive Video Conferencing on Petri.
Sit properly
I know that this will easier said than done for many. Especially as there may not be much point investing in equipment that won't be used regularly. But a desk at the right height and a chair that provides proper support for your back are essential for long-term computer use. Other arrangements will quickly lead to fatigue and potential health issues.
Room lighting and monitor
Lastly, try to make sure that your work area is adequately lit and that you are using a high-quality display. The top of your screen should align with the level of your eyes. And the higher the resolution of your display, the easier it will be on your eyes in the long run. If you must use a notebook, try to elevate the screen and use a separate keyboard and mouse for greater comfort.
That is it for another month!