Everything You Need to Know About Windows June 2020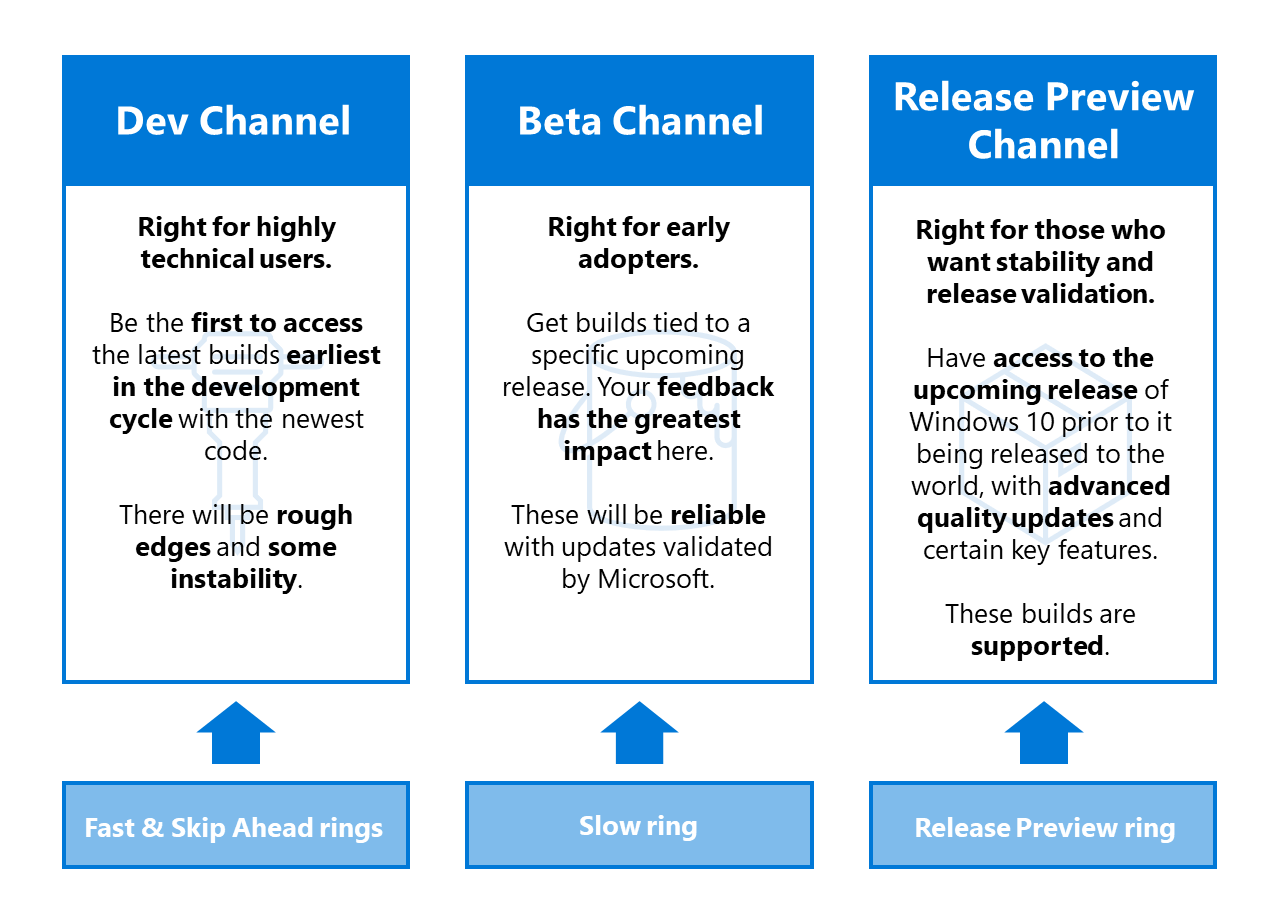 This month is relatively quiet as Microsoft deals with issues affecting the Windows 10 May 2020 Update. Microsoft's new Edge browser starts rolling out to Windows 7, 8.1, and 10 users via Windows Update. And the Windows 10 20H2 feature update is announced as a small update for those on the previous feature update.
Windows File Recovery Tool hits the Microsoft Store
Without much fanfare, Microsoft released the Windows File Recovery tool to the Store at the end of June. The tool is designed to help users restore accidentally deleted files. The tool supports many standard file types, like Office files, PDF, and JPEG; and it can recover from hard disks, solid-state disks (SSD), and memory cards. NTFS, FAT, exFAT and ReFS file systems are supported.
The tool is run from the command line and Brad Sams wrote a quick guide on how to use it here. As Brad points out, this tool isn't for recovering files that were deleted a long time ago. If you need to use it to recover data, the sooner you stop writing new data to the disk, the better.
Microsoft removes manual update deferral settings from Windows Update
Microsoft has removed the update deferral settings from Windows Update in the Windows 10 May 2020 Update Settings app. Microsoft says that since it stopped forcing feature updates on users that weren't on a version of Windows 10 approaching end of service, the update deferral settings have caused too much confusion for users.
In a blog post for Microsoft, Aria Carley explains that users who set a feature update deferral of 365 days received a new feature update every 6 months because that's how often feature updates are released. And that ends up being twice as often than for users who had not configured any deferral settings. Carley continues to explain that this change to Windows Update in the Settings app doesn't affect organizations using configuration tools like Group Policy or mobile device management (MDM).
Microsoft 365 Business Premium users now get Edge enterprise sync
Edge enterprise sync is now available for Microsoft 365 Business Premium users. Microsoft says that users who were signed up to Business Premium before April 30th may need to sign out of Edge and sign back in again to get synchronization working. Those who subscribed in May or later should be able to sync without making any changes in Edge.
For more information on how synchronization works in the new Microsoft Edge, check out Understanding User Settings and Data Synchronization in Chromium-Based Microsoft Edge on Petri.
Edge browser rolling out to Windows 7, 8.1 and 10 via Windows Update
At the beginning of June, Microsoft started rolling out the new version of its Edge browser to Windows 10 users. Then later in the month, Microsoft flipped the switch to start pushing the browser to Windows 7 Service Pack 1 and Windows 8.1 devices. The browser doesn't replace Internet Explorer in Windows 7 or Windows 8.1. Additionally, if you want to set the new Edge to be your default browser, you'll need to make the change manually.
Organizations using Windows Server Update Services (WSUS) or Microsoft Endpoint Manager will be able to block the update. Those using Windows Update or Windows Update for Business (WUfB) can use the Blocker Toolkit to disable automatic delivery of Edge.
For details on using the toolkit, see How to Block Automatic Delivery of Microsoft Edge on Petri.
Edge will be included with the Windows 10 20H2 feature update
In more Edge news, Microsoft confirmed that the new browser will be included out-of-the-box in the forthcoming Windows 10 20H2 update, due sometime in September or October this year.
Microsoft acknowledges Windows 10 May 2020 Update issues and releases fix for printing bug
In June, Microsoft acknowledged the well-publicized issue some users are having upgrading to devices to the May 2020 Update where Parity Storage Spaces are used. After the update, users cannot access Storage Spaces. And some configurations might result in a Storage Spaces partition displaying as 'Raw' in Disk Management.
There have also been widespread reports about printing problems in Windows 10. June's cumulative update caused issues with certain printers and some users are additionally seeing a problem where the Local Security Authority Subsystem Service (LSASS) file fails with the error message:
"A critical system process, C:\WINDOWS\system32\lsass.exe, failed with status code c0000008. The machine must now be restarted."
The printing issues, at least, have been fixed. Microsoft issued update KB4567512 for Windows 10 1903 and 1909, and KB4567513 and KB4567514 for Windows 10 1809 and 1803 respectively.
Windows 10 20H2 will be a delivered like a cumulative update
In a post on the Windows Blog, Director of Program Management for Windows Servicing and Delivery, John Cable, announced that the next feature update for Windows 10, version 20H2, will be delivered in an 'optimized way' for those running the Windows 10 May 2020 Update. 'Optimized way' means like a monthly cumulate update. As expected, Cable says that Windows 10 20H2 will "offer a scoped set of features to improve performance and enhance quality."
For users on versions of Windows 10 before the May 2020 Update, the feature update to version 20H2 will involve a full operating system install. Delivery of Windows 10 20H2 will follow the same path as that used for Windows 10 19H2.
Windows optional updates to resume next month
In March, Microsoft announced that it would suspend distribution of optional non-security C and D release updates for Windows to improve stability during the global health pandemic. C & D release updates come after Patch Tuesday every month and aren't installed automatically. But in July, optional updates will be restarted. Microsoft's Chris Morrissey says:
To simplify update management for IT, these "Preview" releases will be delivered in the "C" week only. There is no change to the cumulative monthly security updates (also referred to as the "B" release or Update Tuesday release). These releases will continue to contain all previous updates to keep your users protected and productive.
If you use Windows Server Update Services (WSUS) to manage updates, you will no longer see "Preview" (or "C") releases for Windows 10 or Windows Server in the WSUS channel. This ensures a consistent update management experience across all supported versions of Windows in your environment.
Windows Insider Program
Finally this month, I'd like to briefly summarize what's new for users running Windows Insider builds. Before I address the releases, Microsoft has moved from the previous release Rings to Channels. In short, the Fast and Skip Ahead rings become the Dev channel, the Slow ring the Beta channel, and the Release Preview ring the Release Preview channel. The name changes come with a new focus on build quality over release frequency.
Image # Expand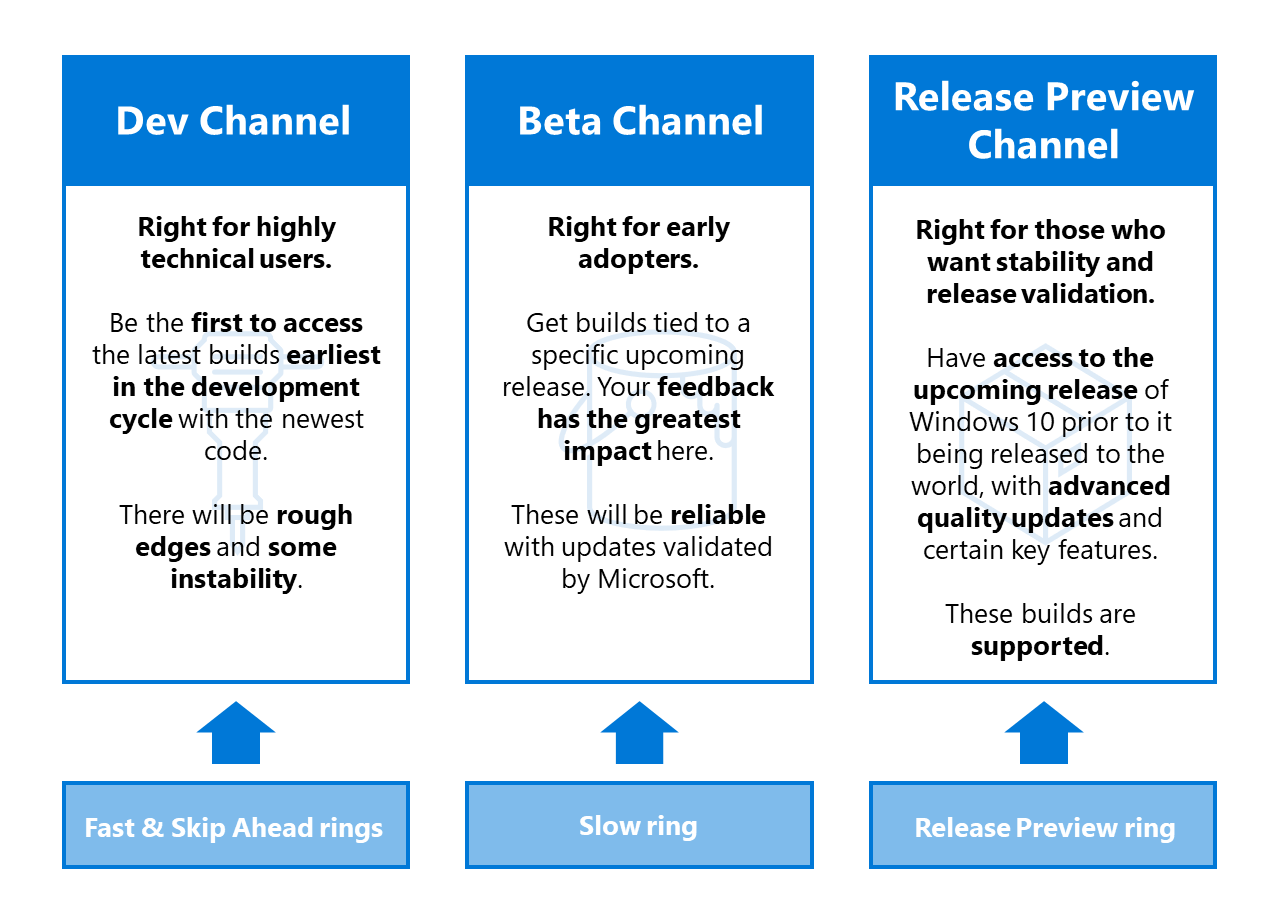 Build 20150 was released to users on the Dev Channel (previously Fast ring), and it includes three new features for the Windows Subsystem for Linux (WSL) 2 that Microsoft first talked about at Build in May. The features are GPU compute, WSL install, and WSL update.
GPU compute lets WSL access a device's GPU to boost machine learning and data science workflows. WSL install lets users install WSL using a single command, and WSL update let's users manage the Linux kernel version used by WSL 2 distributions. You can find more detailed information about these new features on Microsoft's site here.
Users on the Beta channel (previously Slow ring), got the first build of Windows 10 20H2 (Build 19042.330).
Lastly, Microsoft said that audio control features in Your Phone, which were first announced in April, are now rolling out to the general public. The controls let users control music and audio apps directly from Your Phone on Windows 10.
And that is it for another month!