July and August are usually a quiet time at Microsoft. But this year, there's a little more buzz than usual as Microsoft continues to prepare Windows 11 for a fall release.
Microsoft Store in Windows 11 will not automatically update all Win32 apps
In a support document for developers, Microsoft revealed that Win32 apps using the legacy Microsoft Installer (MSI) technology, will not be able to automatically update when distributed through the new Microsoft Store. And there's been some outrage about it. Microsoft says that Win32 apps will need to use its new MSIX installer technology if developers want automatic update capability.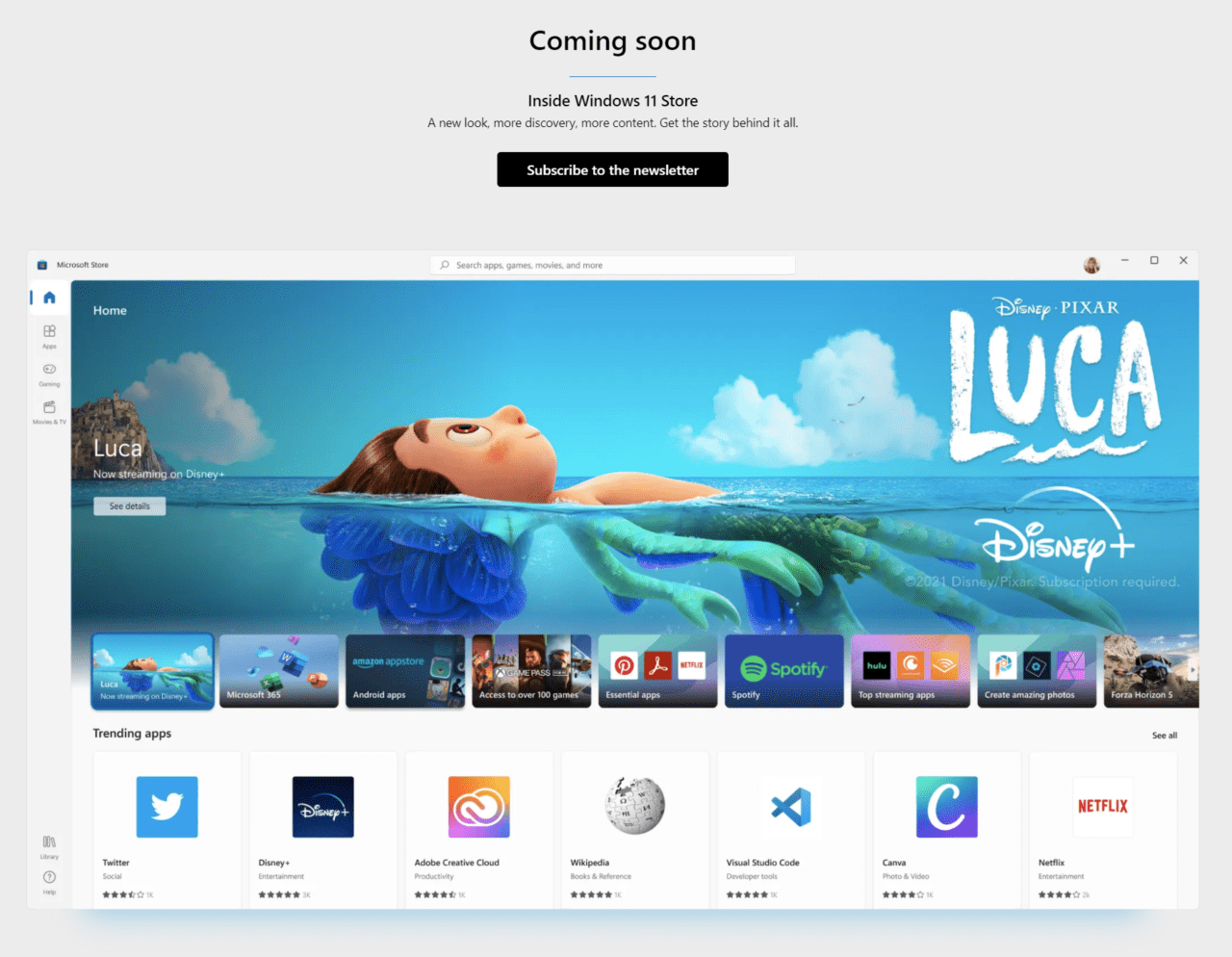 And while it might be confusing for users, it must be this way; at least initially. The first goal is to get developers offering as many apps as possible through the Store. It must become a one-stop shop for users, where they know they can get the apps they need. If Microsoft limits the number of apps from the get-go, the Store isn't going to take off. As users start to rely on the Store and it becomes the go-to location for app downloads, Microsoft can give developers a couple of years to move their apps to MSIX, before changing Store policy to restrict use of MSI.
Microsoft announces end of the line for Windows Server Semi-Annual Channel releases
Microsoft revealed an updated servicing model for Windows Server this month. Starting with the release of Windows Server 2022, which is currently out to OEMs for testing, there will be just one release on the Long-Term Servicing Channel (LTSC). Semi-Annual Channel (SAC) releases for previous versions of Windows Server, which were intended to help innovation in containers and microservices, will continue to receive support for a limited time. For more information, check out Microsoft's website here.
Windows 365 Cloud PC due to launch August 2nd
Microsoft announced the availability of Windows 365 Cloud PC at its Inspire conference this month. Windows 365 is the long-awaited 'hybrid Windows for a hybrid world' cloud experience. It lets users stream a Windows 10, and a Windows 11 in the future, desktop for a fixed monthly fee.
Unlike Azure Virtual Desktop, previously Windows Virtual Desktop, where you pay for what you use and there's some behind-the-scenes setup, Windows 365 aims to simplify the experience for users, IT admins, and from a licensing perspective. While full pricing details are not yet known, we do know that the Windows 365 Business (2vCPU, 4GB RAM, 128GB storage) SKU will cost $31/month.
Windows 365 is due to launch August 2nd. And it will be available to organizations with the following plans/configurations:
Users with Windows Pro endpoints: Windows 10 E3 + EMS E3 or Microsoft 365 F3/E3/E5/BP
Users w/non-Windows Pro endpoints: Windows VDA E3 + EMS E3 or Microsoft 365 F3/E3/F5/BP
Azure subscription
Windows 10 21H2 Feature Update to be released in the second half of 2021
Microsoft announced the next feature update for Windows 10, version 21H2. Microsoft will support Windows 10 through to 2025, and the new feature update is available to users on the Release Preview Channel. The update won't contain any major new features. Instead, Microsoft is concentrating on productivity and security enhancements, including:
Adding WPA3 H2E standards support for enhanced Wi-Fi security
Windows Hello for Business introduces a new deployment method called cloud trust to support simplified passwordless deployments and achieve a deploy-to-run state within a few minutes
GPU compute support in the Windows Subsystem for Linux (WSL) and Azure IoT Edge for Linux on Windows (EFLOW) deployments for machine learning and other compute-intensive workflows
Microsoft releases Edge version 92
Microsoft released version 92 of its Edge browser this month. There's not much to say about this release, other than that it includes a few minor improvements, including automatic switching to HTTPS and natural language search for browser history on the address bar.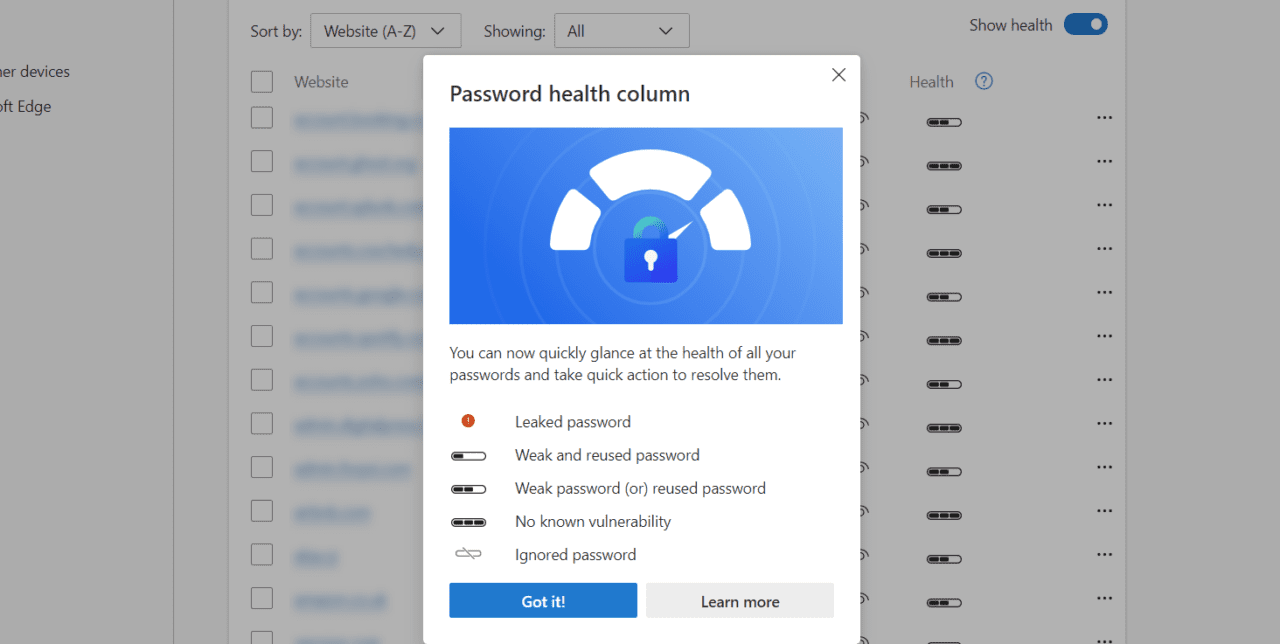 The only significant update is the new password health dashboard in Settings under Profiles > Passwords > Saved passwords. The dashboard shows you the strength of your saved passwords and a red icon is displayed if a password has been leaked and needs to be changed right away.
Group Policy setting will let organizations opt into Microsoft Edge Extended Stable Channel
Staying on the topic of Edge for a moment, organizations will be able to use a Group Policy setting to opt into the new Extended Stable Channel as Edge moves from a 6-week to a 4-week development cycle starting in Edge 94. The Extended Stable Channel will update Edge on an 8-week cycle. Microsoft says:
The 8-week "Extended Stable" release cycle option for Microsoft Edge Stable will deliver cumulative feature updates aligned with even-numbered releases beginning with Microsoft Edge 94; any feature updates from odd-numbered releases will be packaged up and delivered as part of the subsequent even-numbered release.
The updated Group Policy template for Edge will be available at the Microsoft Edge Business website. For more information on this change, check out Microsoft's blog post here.
Windows Insider builds
Microsoft released a couple of updates to Windows 11 this month. And Windows 11 got its first release on the Beta Channel, with build 22000.100. The Beta Channel build has some minor updates, including the ability to jump to search from the Start menu, and Chat from Microsoft Teams is now available in preview form for some Insiders on the Dev Channel. The Chat preview requires a consumer Microsoft Account (MSA) and it currently doesn't support voice or video calls, although that functionality is coming in a future update.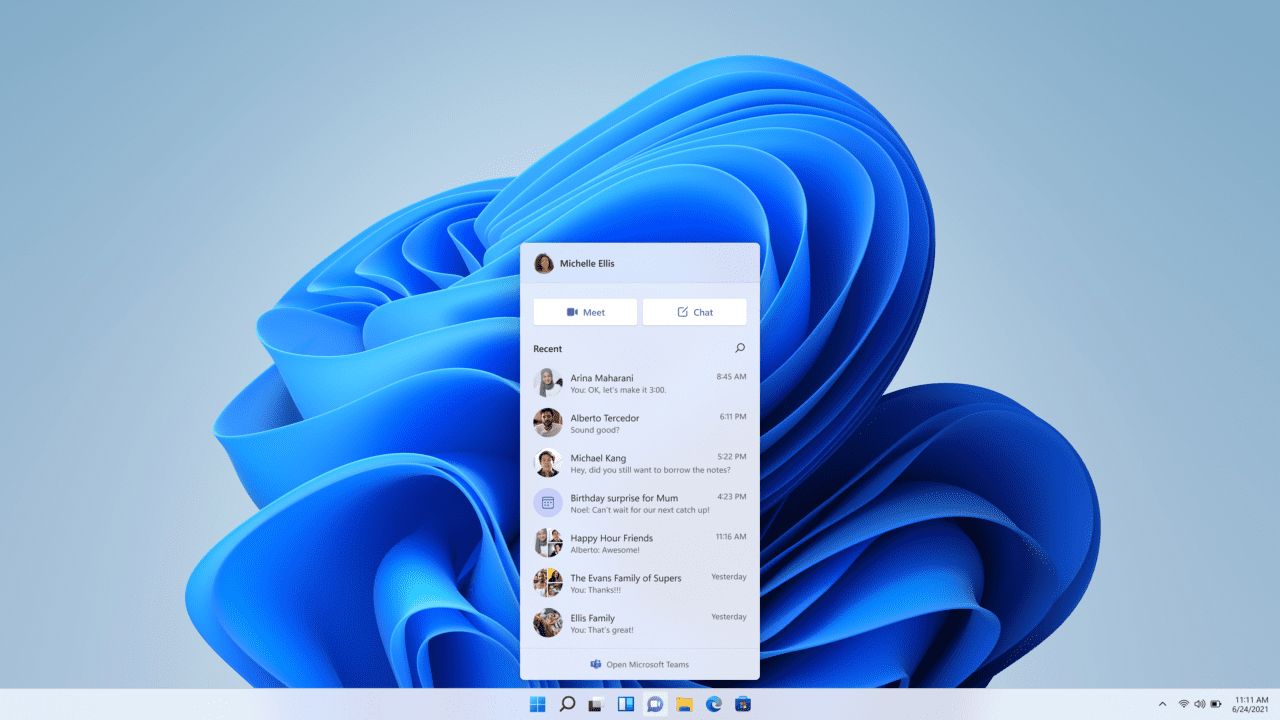 There's also a new entertainment widget, first seen in Insider Preview Build 22000.71. And Microsoft is testing the usability of a SplitButton for making new folders and files in the File Explorer command bar. Most of the other improvements in Windows 11 this month have been bug fixes and minor tweaks to the UI.
And that is it for another month!