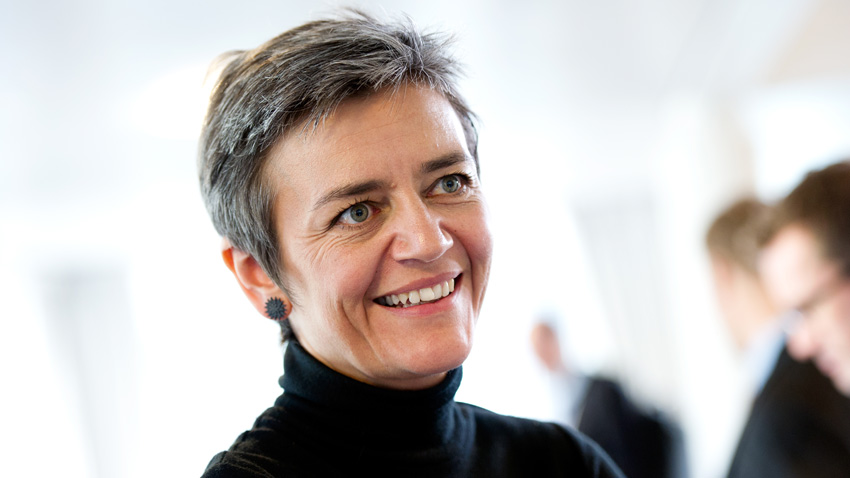 Regulators from the European Commission are requiring Google to make sweeping changes to its Search service due to ongoing violations of EU antitrust laws. The Commission is also prepared to levy fines against Google that would be high enough to deter the search giant's illegal behavior going forward.
Google was alerted to these demands in April, but the EC has still not publicly issued its full charge sheet, presumably because it is prepared to let Google settle the case by meeting its demands. But according to several reports, including one in The Wall Street Journal, the EU's demands go well beyond the abandoned settlement Google almost wrestled from the previous EC administration.
Put simply, Google has been found to be violating EU antitrust laws by abusing its monopoly power in Internet search to hobble competitors and harm consumers, many of whom use Google as their gateway to the Internet. Google has over 90 percent usage share in most of the EU.
"[Our] preliminary conclusion [is] that Google's practice of positioning and displaying more favorably, in its general search result pages, its own comparison shopping service compared to competing comparison shipping services constitutes an abuse by Google in the relevant markets for general search services," a redacted version of the EU charge sheet notes.
According to the charge sheet, Google has abused its market power in 12 European countries dating back to at least 2008. It does so by artificially manipulating search results to point consumers towards Google services for so-called vertical searches related to shopping and travel instead of more useful or popular competing services. Google's oversight of the Internet is so vast that it has a deeper understanding of what people are searching for, so it can build or buy new businesses to compete in emerging digital markets it earmarks as both popular and lucrative. And in doing so, Google unlawfully hinders competition and limits consumer choice.
Last year, Google proposed a solution: rather than promote its own services over those of the competition, it would instead place competing services next to Google's services in the search results. The previous EC administration, led by Joaquin Almunia, agreed to these terms so that Mr. Almunia could claim a final success before leaving his post. But the complaints about this lackluster settlement from EU politicians, competitors, and consumer watchdogs was so vocal, that Mr. Almunia had to back down. And his successor, Margrethe Vestager has pledged to hold Google accountable for its actions.
Vestagar filed formal charges against Google in April. These charges are related only to shopping comparison services, but the EC is still investigating Google's business practices related to travel and local services, and other vertical searches.
"Based on the facts described in this statement of objections, Google committed the infringement intentionally or, at the very least, negligently," the EC complaint notes.
Still, Vestagar says that Google could simply do the right thing and put this all behind them. "We will have an open mind to hear what Google will come back with, which means it could go different ways and a settlement is of course also a possibility," she said in April.
Google has repeatedly denied that it has done anything wrong, and in an incredulous blog posted titled The Search for Harm, it argued that it is always one click away from irrelevance. This is the same type of argument Microsoft used in its antitrust battles from 10-15 years ago, but it took the combined might of the US and EU governments to halt the software giant's abusive behavior towards competitors. And today, Microsoft competes in markets in which it no longer artificially commands an unfair advantage. Tellingly, things aren't going so well.
My expectation, as before, is that Google will settle with the EC while admitting no wrong-doing. And in doing so will agree to some behavioral changes that will soften its stance towards competing services. If there is a lesson to be learned from Microsoft's antitrust woes—and there is—it's that belligerently defying the laws of the countries in which you do business is not a good strategy.
And there is some evidence of such an outcome.
In his first public interview earlier this month, new Google UK boss Matt Brittin admitted that Google had made mistakes.
"As far as Europe is concerned, we get it," he said. "We understand that people here are not the same in their attitudes to everything as people in America … We just didn't have the people on the ground to be able to have some of those conversations as we grew."