How to Estimate VMware vSphere Replication Traffic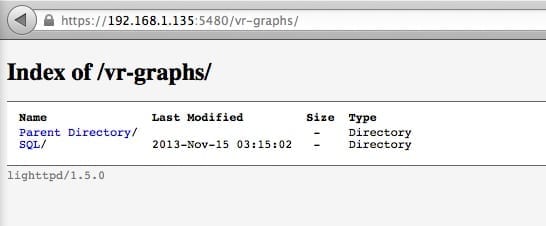 Since its initial announcement, vSphere Replication has been an item of interest with customers. The idea of being able to replicate on a per-VM basis to your disaster recovery site. This flexibility is very appealing to VMware customers. The replication feature was very basic at in its initial release and just received a few new features in the latest vSphere 5.5 release. But one of the most common questions I still get is how do I know how much data I need to copy? Today I'll talk you through how to anticipate and estimate vSphere Replication traffic.
Estimating vSphere Replication Traffic
This is something that has been lacking since the initial release and still is. Officially VMware does not have a feature for this and I'm not sure when they will. So this leaves admins looking for ways that they can try and come up with this data. The real question is two parts: First, how much data is there, and how long will it take to copy the VM the first time. The second part is trying to figure out the rate of change, how much data that is, and what the network traffic might be.
Without any native tools for this, users are left looking for creative methods. One of the possible solutions is to try and gather this data from manual discovery and from your backup tool. It is easy to find out the size of the VM. This will apply for the initial copy since it must copy the full VM when initial replication is turned on.
Then you must find out the average amount of changed data on a daily basis. This will help estimate the amount of data that would be copied each hour and each day to keep the VM in sync on the other side. Once you have this for all the VMs you are protecting, then you can work on estimating the traffic, taking into consideration the seed of your network links.
vSphere Replication Capacity Planning Appliance
Enter a VMware fling from the VMware Labs team that can help with this issue. The vSphere Replication Capacity Planning Appliance fling is a nonsupported tool released from the engineering team.
Download the fling appliance. It is easy to install by deploying it from the downloaded OVF file. All that needs to be done is to provide an IP address for the setup. Once the appliance is setup and running you just need to run the following command from either a console or SSH session. This must be done on a per-VM basis to enable the collection of data for each VM. The command is shown below.
cd /opt/vmware/hbrtraffic/
./bin/configureReplication –vc –vcuser Administrator –vcpass –lwd <IP_of_the_Appliance> –vmname <VM_name>
Once this is done you need to wait about a minimum of 15 minutes before the first set of data is collected. You can view the data from the following address.
https://IP_of_the_Appliance:5480/vr-graphs/
When you visit that web link in a browser you will see a basic folder structure like the one shown below. I ran my test data collection on a VM named SQL as shown in the example. To view the data for a particular VM just click the Name to be taken to the data.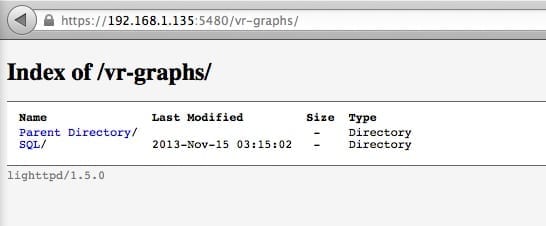 After clicking on the VM name (shown above), we're taken to the next screen, shown the image shown below. This view gives us the specific data about the selected VM over different periods of time. The stats are presented in periods of four Hours, one day, one week, and one month. These help to fill in the blanks for replication data for this VM.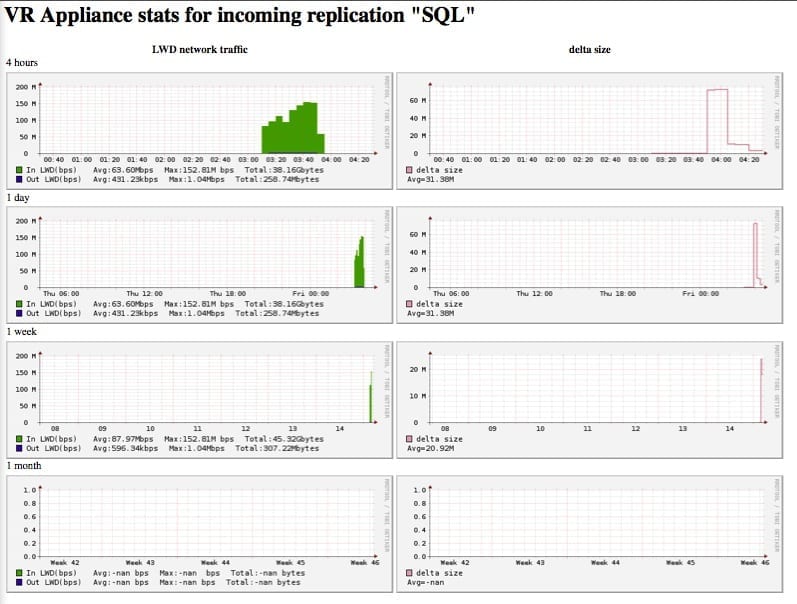 As of now this is the only tool readily available to help you collect the data and build a picture of what your vSphere replication traffic might look like. This tool is just an unsupported lab offering today, but I hope that this adds new features and is some how incorporated into the real shipping product.
If this tool can help you out, give it a test and be sure to provide feedback to VMware on how helpful it was to you.