How to Create a New Server Group in Server Manager on Windows Server 2012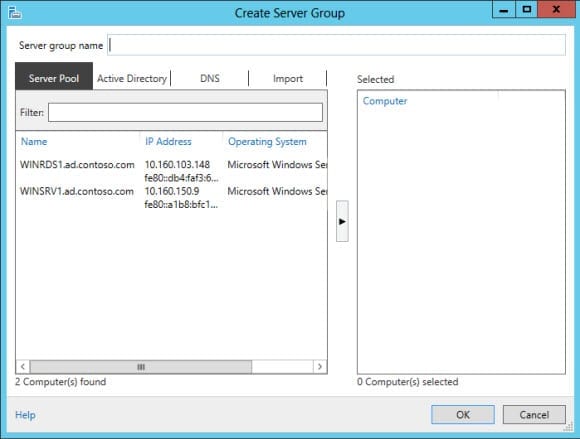 How do I create a new server group in Server Manager on Windows Server 2012?
Server Manager is a great tool for performing tasks across multiple servers in your environment. By default, there is an All Servers group, but you can create your own groups and add servers manually to make management tasks easier. For example, you might want to create a group of servers that run a line-of-business application so that management tasks can be initiated simultaneously. Servers can be a member of more than one group.
Log on to Windows Server 2012 as a domain administrator and open Server Manager from the icon on the desktop Task Bar or from the Start screen.
Click Manage in the top-right of Server Manager and select Create Server Group from the menu.
In the Create Server Group window, give the new group a name in the Server group name box.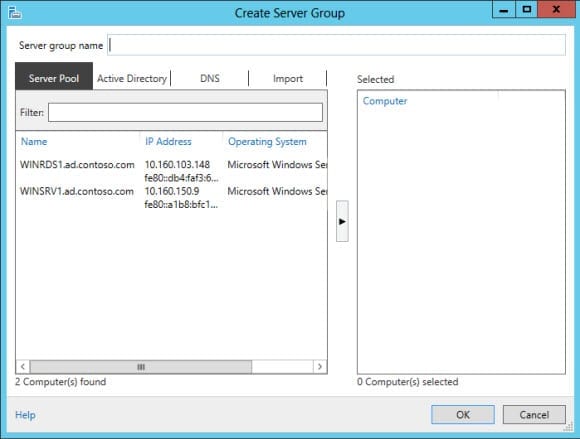 On the Server Pool tab, select one or more of the available servers, and then click the arrow in the center of the window to add the servers to the Selected box on the right. Alternatively, you can search Active Directory, search by IP address or DNS name on the DNS tab, or load servers from a file on the Import tab.
Once the Selected box is populated with the servers you want added to this group, click OK. The new group will now appear in the left pane of Server Manager.
If you select the new server group in the left pane of Server Manager, you will see the servers, events, and other important operational information displayed on the right of Server Manager for all servers in the group.
If you go back to the Server Manager Dashboard, you will also see an entry for the new server group that shows a summary of issues for servers in the group.