We are about two weeks away from Microsoft's second iteration of Ignite. Or is it the first for 2021? Either way, this is the promised second-installment of Ignite 2020 and it looks like the company is going to announce a new developer framework called Microsoft Mesh.
How do we know this? WalkingCat has once again surfaced information ahead of the conference and has found a session called "A developer's introduction to Microsoft Mesh".
Based on the image you see below, it looks like Microsoft Mesh is a developer platform targeting mixed reality applications. The key to this platform appears to be the enablement of "presence and shared experiences from anywhere – on any device- through mixed reality applications".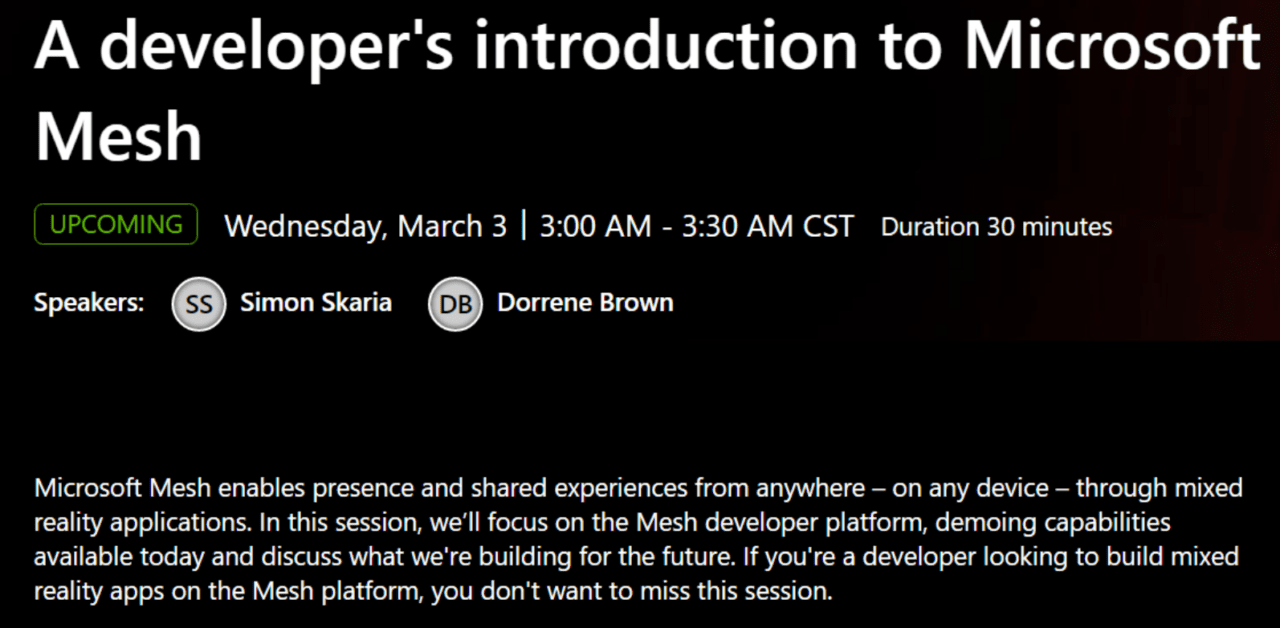 Breaking this down, I interpret it to mean that Microsoft has a new development platform that is not explicitly tied to any single device and allows you to create AR/VR experiences for multiple platforms. Potentially, this could enable a scenario where you have someone with a mixed reality headset, HoloLens, an iPhone, and Android device all collaborating on the same mixed reality experience at the same time.
If that's truly what Microsoft is going to announce at Ignite in March, this will be a step forward towards breaking down the silos that exist today with AR/VR applications that typically require the users to all be operating the same underlying hardware – meaning everyone has the same device.
Microsoft has been pushing its VR/AR apps and services to all corners of its own tools, even SharePoint has a VR iteration, but creating a cohesive platform for all endpoints is an entirely different objective. If Microsoft is successful with implementing easy-to-use tooling for these types of apps, the end-goal would be to become the preferred framework for the industry.