With the release of VMware vSphere 5.1, VMware dropped their complementary backup product, VMware Data Recovery (VDR) (included with vSphere essentials and above) and replaced it with a new product, vSphere Data Protection (VDP). In this article, I'll tell you how to install and configure vSphere Data Protection. In a follow-up article, I'll go further with vSphere Data Protection: Backup and Recovery.
Like its predecessor, VDR, this all-new backup and recovery product is included with vSphere essentials plus (and above). VDP is meant for small- and medium-size companies (SMB) who need to backup vSphere and don't want to purchase a large, more costly, and comprehensive virtualization backup solution.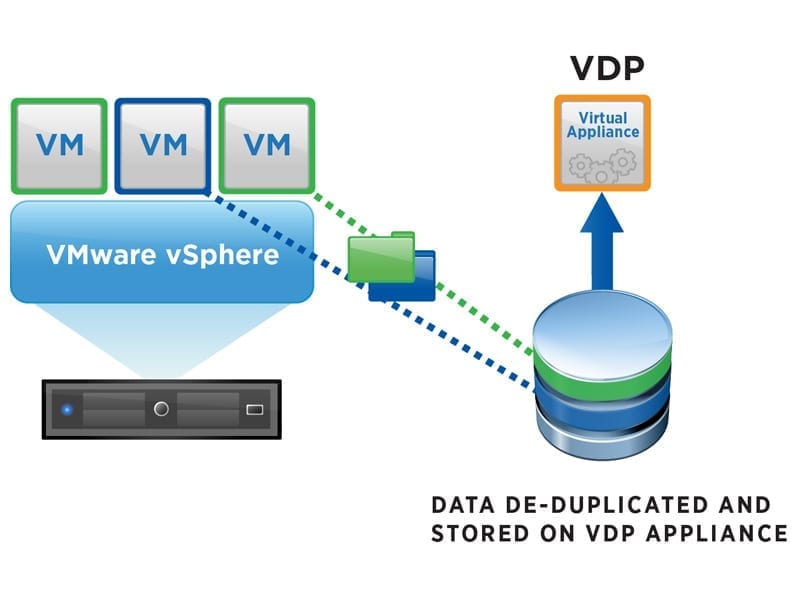 This new virtualization backup solution, VDP, is has the same limitations of VDR (and maybe one new one) but offers a much better user interface and integration with the new vCenter Web Client interface.
vSphere Data Protection (VDP): Pros and Cons

As with any solution, there are always pros and cons. Let's start out with what's good about vSphere Data Protection.
VDP Pros
Included free with vSphere enterprise plus and above
Deployed as a virtual appliance – i.e. no OS license is needed and there are no installations
Fully supported by VMware
Performs deduplication on the backup data
Utilizes VADP (the vSphere API for data protection) and CBT (change block tracking). Because of VADP and CBT, initial backups take a fair amount of time, but subsequent backups can be as little as a few minutes depending on the number of changes that have occurred since the last backup.
No backup agents are needed
File-level recovery is available (FLR)
Email reporting
Powered by EMC Avamar
VDP Cons
100 VMs per VDP virtual appliance
Each vCenter can support up to ten VDP appliances (so there is a total of 10 x 100 = 1000 virtual machines per vCenter server but each group of 100 would be managed separately)
Up to 2TB of deduplicated VM backup data can be stored
No option to store VM backup data anywhere but the appliance
No option to get VM backup data offsite
Only backs up virtual machines (no physical server backup)
VMware recently announced a new vSphere Data Protection Advanced. It is a separate commercial license but with vSphere Data Protection Advanced you gain application-specific agents to ensure application-consistent backups and more granular recovery of Microsoft SQL Server and Microsoft Exchange Server.
vSphere Data Protection (VDP) Installation
Let's say that your company is a good fit for using VDP and you want to install it for testing. If you are already have a vSphere license, you can download vSphere Data Protection. However, if you have no vSphere or VDP licenses, you can evaluate vSphere and VDP at no cost for 60 days.
On the VDP download page, you'll find that VDP comes in three sizes: .5TB, 1TB, and 2TB. These sizes are based on the size of the preconfigured backup disk, which controls how large your backup data repository will grow.
After you download the VDP .OVA virtual appliance, you deploy it from the vSphere Windows client under File -> Deploy OVF Template or in the vSphere Web Client under the actions menu (same menu option).
From here, the Deploy OVF Template wizard will come up and ask you a series of questions. Specify the source to the OVA file that you downloaded.
Next, accept the EULA and select a destination location for VDP in your vCenter infrastructure.
Specify the datastore for deployment.
Configure a static IP address for the virtual machine, and check to power the VM after deployment. Then click Finish.
After a few minutes, you'll have a working VDP appliance in vCenter.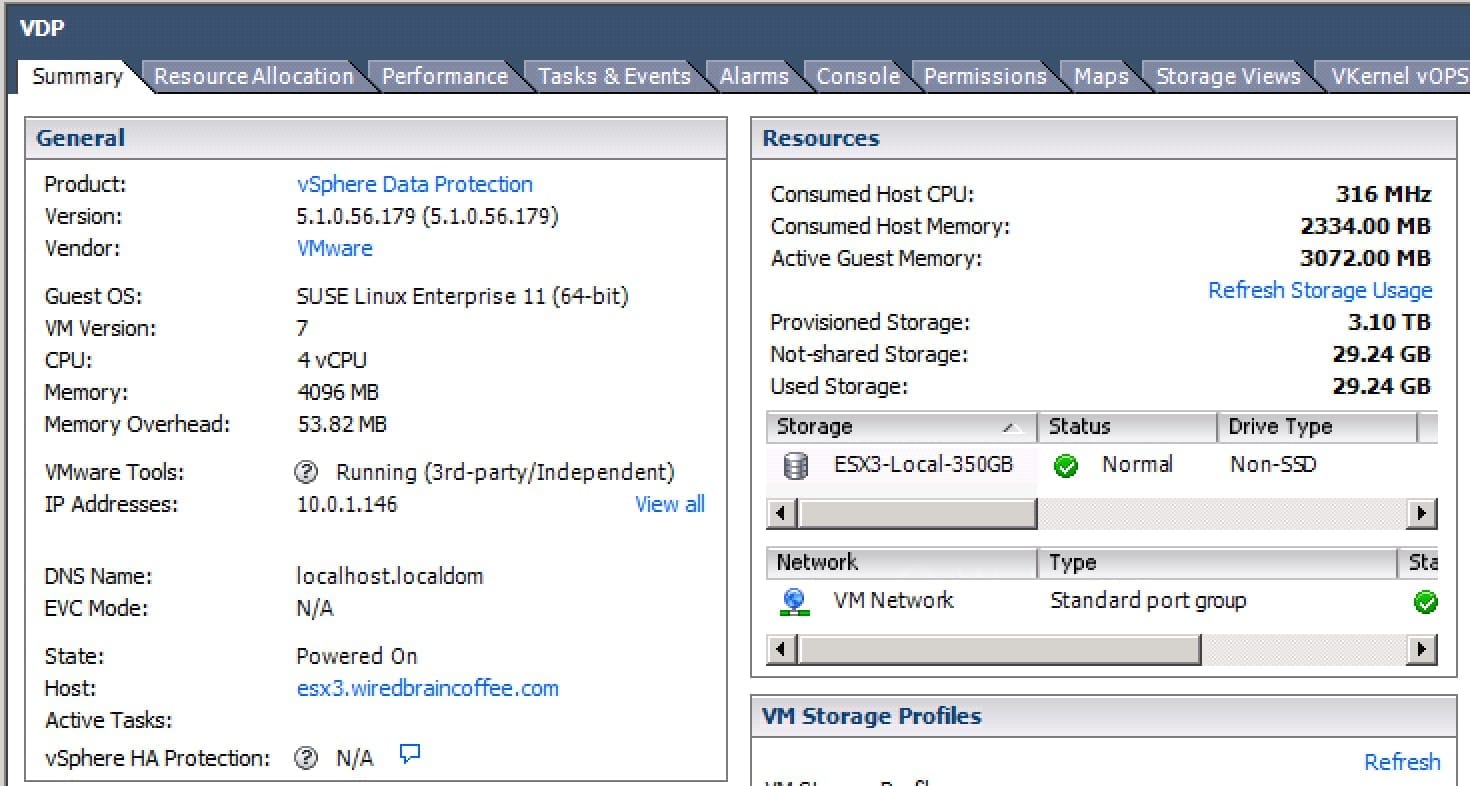 vSphere Data Protection (VDP) Initial Configuration
To use it, you'll need to perform a quick configuration. If you go to the VDP VM console, you'll see that you are told to configure VDP by going to  https://x.x.x.x:8543/vdp-configure (x.x.x.x is the virtual appliance IP address.)
You'll get a login prompt after you get to that IP. Login using the VDP default credentials: root and changeme
From here, as this is the first time that you have used it, you'll get a configuration wizard. The wizard walks you through the process of reconfiguring the IP address and hostname of the VDP VM (if needed), the time zone for the appliance, changing the VDP root password, and – most importantly – registering the VDP appliance with your vCenter server by providing the vCenter hostname and credentials.
Note: It's recommended to create a DNS alias for the IP address you use for the VDP appliance.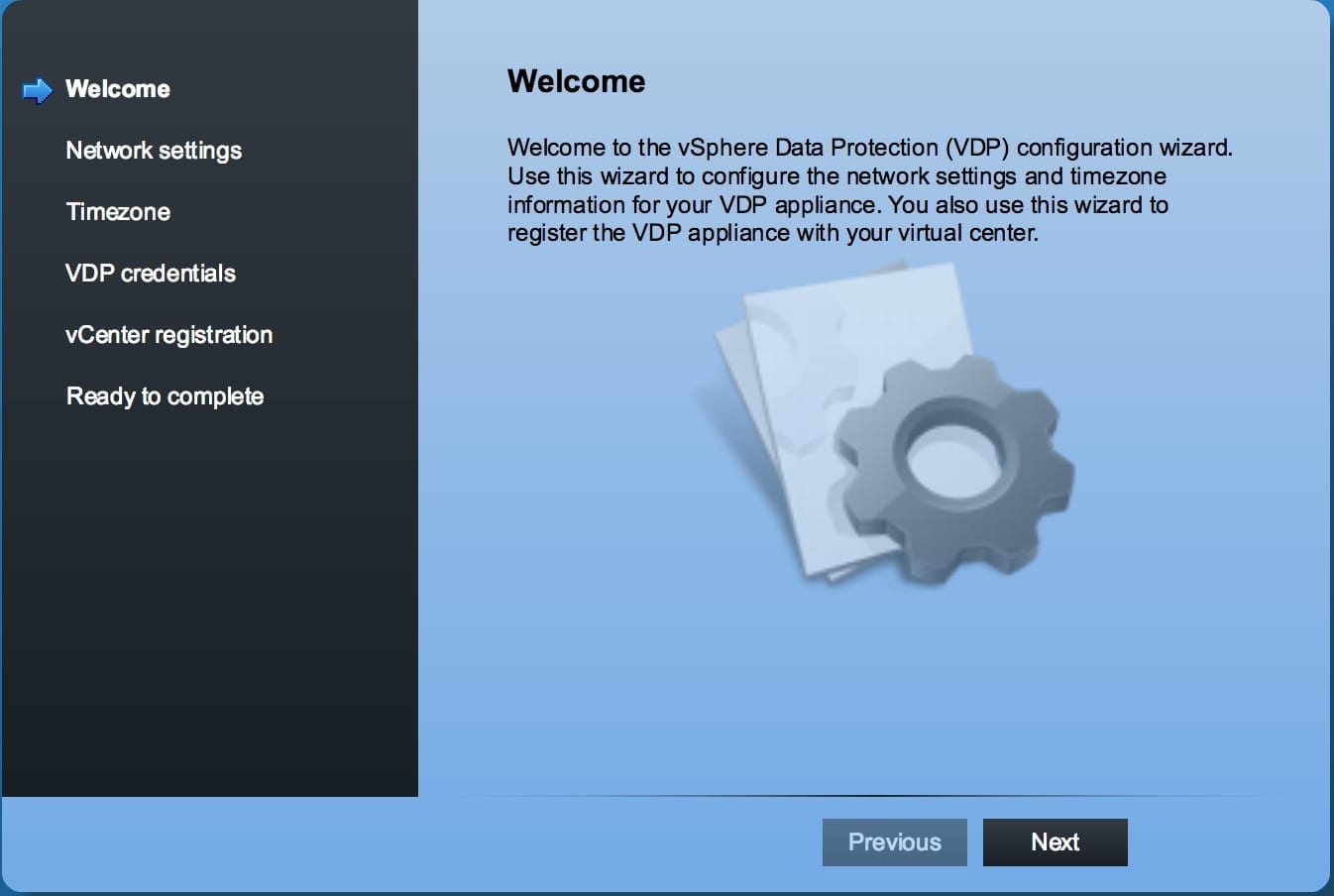 When completed, you've got a VDP appliance that is ready to backup your vSphere virtual infrastructure!
Keep a lookout for my next article about vSphere Data Protection: Backup and Recovery.