On stage at VMworld 2012, VMware's annual event held this year in San Francisco, CA, VMware announced their latest virtualization and cloud hypervisor. Part of this announcement includes their vision of the first solution that creates a software-defined data center. In the confusing cloud computing market, VMware is attempting to differentiate their vision by touting how their new vCloud suite is the ideal (and first ever) solution to create a software-defined data center (SDDC).
Certainly this vision of the SDDC is a long-term vision that isn't completely fulfilled in today's vCloud Suite 5.1, but it is a unique and powerful vision that sets VMware apart. As an example of how virtual data centers of the future, as part of a software defined data center, can help IT pros think about the time it takes to provision new storage, network, server, OS, and applications related to new server implementation (even with virtualization). Because the physical storage and network are still involved, this provisioning takes five days on average, according to VMware. With the new software-defined data center, this can take as little as three minutes.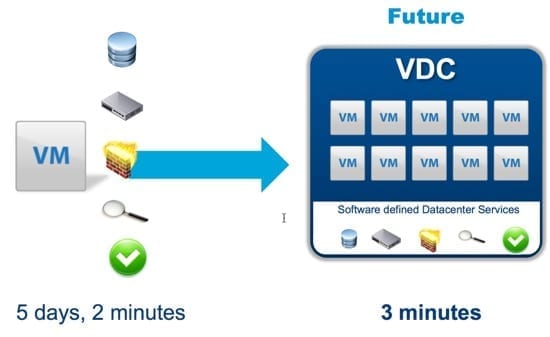 The five core tenants of the SDDC are: standardized, adaptive, automated, holistic, and resilient. Can VMware offer a 100 percent software-based data center that fulfills these traits? VMware says that they can.
Let's find out more about the products that make up this suite and how they can help you.
What Makes Up the vCloud Suite 5.1 ?
With this announcement, VMware's flagship product will be called the "vCloud Suite." This suite of products is made up of a number of different solutions that can be purchased in a single license (however, some can be bought separately).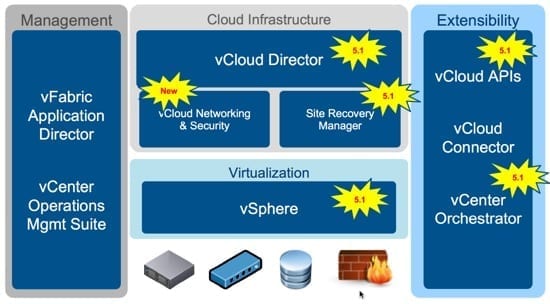 Here is how the solutions lay out:
vSphere 5.1 – VMware's hypervisor and management tool, vCenter, now includes the ability to support up to 64 vCPUs and 1TB of RAM per virtual machine and over 1 million IOPS per VM, live migration without shared storage (similar in concept to Microsoft's shared-nothing migration), a new vSphere Data Protection tool (that replaces VMware Data Recovery), vSphere replication included as a virtual appliance, SR-IOV, zero-downtime for upgrades to VMware tools, and vShield endpoint for VM security.
vCenter Site Recovery manager 5.1 – VMware's automated and integrated disaster recovery tool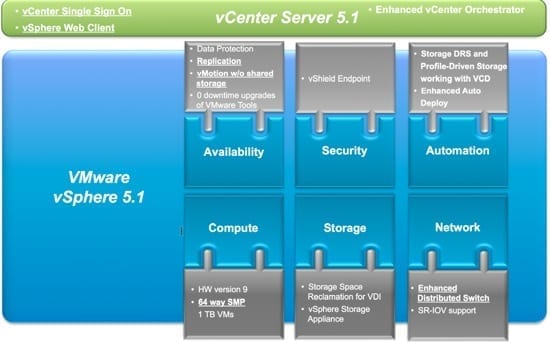 vCloud Director 5.1 – VMware's infrastructure as a service cloud management tool now includes support for "elastic" virtual data centers (VDC) for multiple vSphere clusters and up to 30,000 VMs. Additionally, VMware's VXLAN allows you to do cross-cluster vMotions by spanning L2 subnets across domains, snapshot functionality for vApps, and Storage DRS and Profile-Driven Storage working with VCD.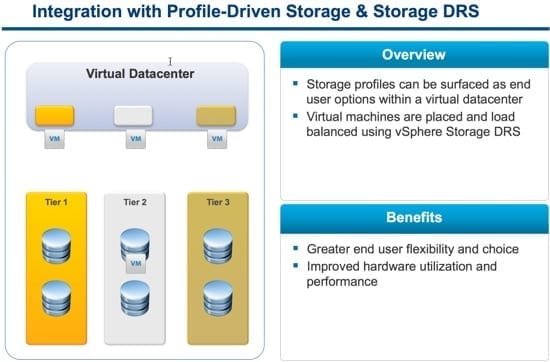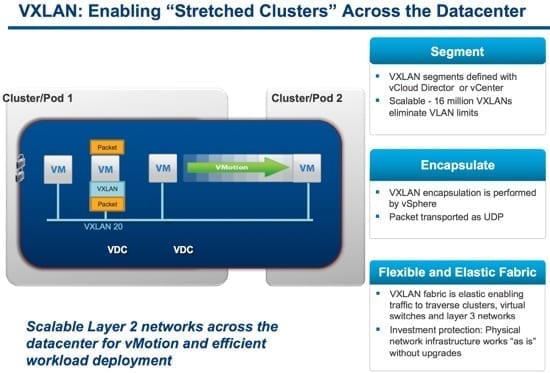 vCloud Networking and Security 5.1 – replacing VMware's "vShield," the new vCloud Networking and Security (or vCNS) secures your virtual infrastructure cloud by offering "Edge Gateway" (which replaces vShield Edge) a border firewall, vCNS App (formerly vShield App) isolates and protects virtualized apps and VMs, and integrated management with vCenter 5.1 and vCloud Director 5.1. Additionally, one of the most interesting features of vCNS is the new built-in software-defined load balancing. This "Cloud Load Balancing" offers dynamic distribution of incoming sessions for virtual machines, advanced load balancing for HTTP and HTTPS, and integrated provisioning with vCloud Director. The virtual distributed switch has numerous updates including support for LACP, Netflow 9, RSPAN/ERSPAN, rollback and recovery, elastic port groups, VDS templates, network health check, and more. Finally, vCNS is fully extensible with APIs for third parties to offer integrated vSphere/vCloud solutions (VMware says that they have more than 20 partners in their pipeline to develop new virtual networking and security solutions in this area).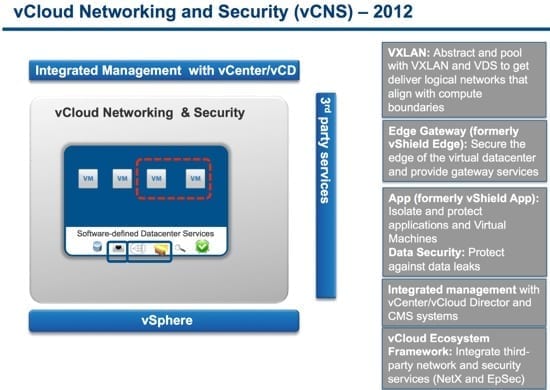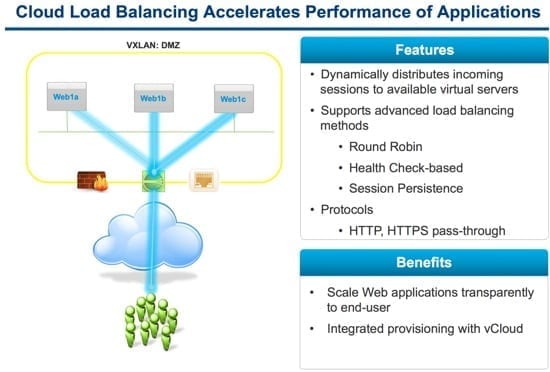 Additionally, the vSphere Storage Appliance (VSA) has been vastly improved.
This suite can also be extended with other VMware products such as vFabric Application Director, vCenter Operations Management Suite, vCloud APIs, vCloud Connector, and vCenter Orchestrator.
Favorite Features of the vCloud Suite 5.1
There are an incredible number of new features in what is dubbed a "point release" – that is, vSphere 5.1. I like that VMware now offers their entire suite of flagship products in a single SKU and has a vision for the "software-defined data center." As VMware continues to fulfill this vision, it's foreseeable to be able to run an entire datacenter in just two or three massively powerful servers, all with virtualized software, networking, and cloud automation.

Since this release offers a great number of advanced powerful around networking, security, and storage, it was difficult to narrow the list down to just a few favorites. Even so, here is what stood out:
New vMotion without shared storage – Perhaps pressured by Microsoft's "shared-nothing migration," vSphere 5.1 will offer now allows you to vMotion a running virtual machine from one host to another even if those two hosts don't have access to the same datastore. Thus, both hosts could be using local storage and a vMotion can still succeed between them.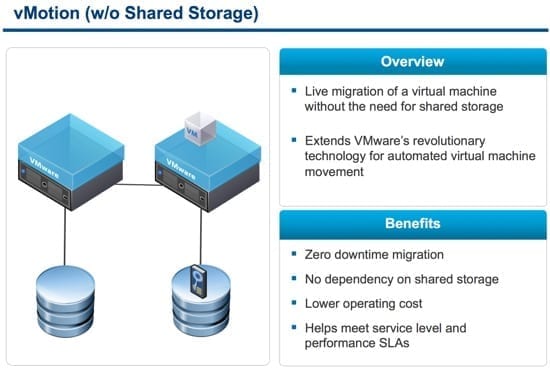 New vSphere Replication – Powered by a virtual appliance that runs on each vSphere host participating in replication, this new feature allows you to replicate virtual machines from one host to another and across wide-area networks for disaster recovery purposes. This provides low-cost replication for SMBs, and it even integrates with VMware's site recovery manager so that you can use SRM without purchasing expensive hardware-based replication.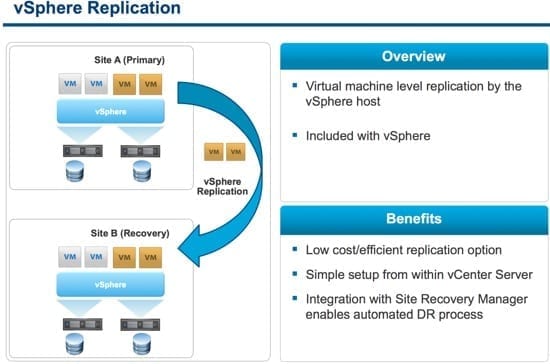 New vSphere Web Client – With vSphere 5.1, the traditional Windows-based vSphere client is still available but it is no longer the primary interface for management. In fact, most of the new features in the vCloud Suite can't be used from the traditional Windows client; instead, you must use the vastly improved vSphere web client. This new, faster web client has a beautiful GUI, offers enhanced workflow, custom tagging, and makes managing vSphere possible from any Flash-capable device with a web browser. Third-party vendors will need to update their vSphere Client plugins to work with the new web browser, but when completed, they can be more integrated with vSphere management than ever before. To me, this new vSphere web client in version 5.1 is the most impressive feature.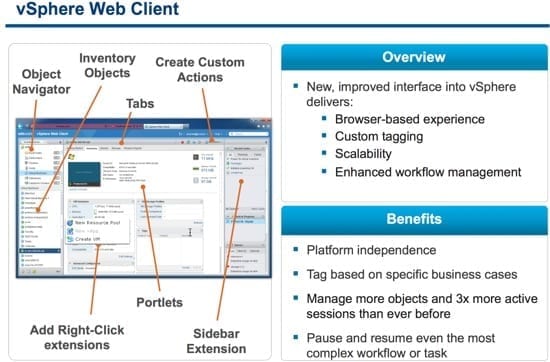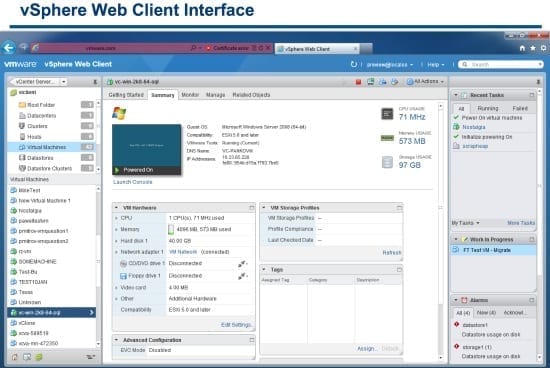 Where vSphere Falls Flat
If there was any feature that fell flat, for me, it is the new vSphere Data Protection. VDP (based on EMC's Avamar) is a good backup tool, especially as it is included for free with every version of vSphere starting with Essentials Plus. However, I was disappointed that this new replacement for VDR takes away the ability to backup VMs to SMB shared storage (which was offered in the previous version, VDR). What this means is that VM backups can only go to VMFS data stores. With all the backups on a VMFS data store, how do you get them offsite? The new VDP also has the same limitation as VDR in the sense that it can only backup up to 100 virtual machines. Thus, just like VDR, VDP won't compete with the commercial backup tools and is only for SMBs where you know you won't scale beyond that limit.
Overall, the SDDC vision is ambitious, unique, and it does a good job in attempting to differentiate VMware from their competition in the world of cloud computing. The new vCloud Suite 5.1 is impressive and powerful. I applaud VMware for delivering annual releases of their flagship products that offer so many new features.
Finally, perhaps one of the best received messages of the VMworld 2012 keynote is that VMware's unpopular "vRAM Pooled Pricing" has been abolished and pricing is now only per-CPU. Hoorah!