VMware Unveils vCloud Hybrid Cloud Service, Enters IaaS Market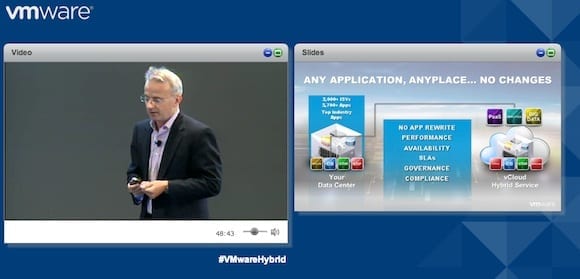 Earlier today at a press event at the VMware campus in Palo Alto, VMware CEO Pat Gelsinger announced the VMware vCloud Hybrid Service, an Infrastructure as a Service (IaaS) offering designed to compete against similar IaaS services such as Amazon AWS, Windows Azure, RackSpace, IBM SmartCloud, and others. Gelsinger said that VMware's corporate strategy revolved around three things: The software-defined data center concept, their new hybrid cloud service, and their end-user computing efforts (in the form of the VMware Horizon Suite).
In a statement released today to coincide with the launch event this morning, Gelsinger said that the vCloud Hybrid Service will "seamlessly extend VMware software used by hundreds of thousands of customers into the public cloud. This means customers will be able to extend the same skills, tools, networking and security models across both on-premise and off-premise environments."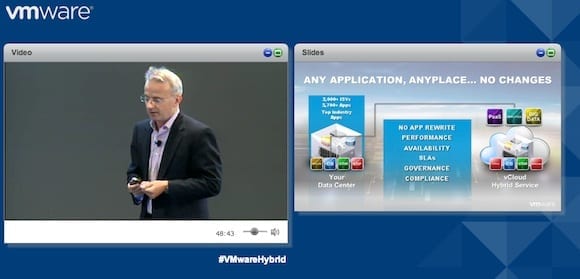 VMware's Bill Fathers discusses vCloud Hybrid Services at the launch event.
The Day Has Arrived
VMware's introduction of their cloud IaaS service underscores how competitive the market for IaaS cloud computing services has become, as many IT organizations are beginning to consider using public cloud computing services in greater numbers. Forrester Research IT infrastructure and operations analyst James Staten noted last month that these developments were a good sign of the growing acceptance towards and adoption of cloud services. "If all the above is so ho-hum, then why am I so bullish on these announcements?," Staten wrote. "Because ho-hum releases like these are signs of maturity that signal to enterprises that it's now okay to invest."
VMware has steadily been enhancing existing products and introducing new ones in order to advance their "software-defined datacenter" cloud strategy. Gelsinger — who joined VMware as CEO in August 2012 — has been helped lead VMware's journey to cloud services, a move that many analysts, such as Gartner's Chris Wolf, predicted the company would have to make.
"Today's news shouldn't come as too much of a surprise. Nearly two years ago I blogged that this day would eventually come," Wolf wrote. "The market would force VMware to be a provider, and it has."
Leverage in the Cloud
I recently spoke with Angelos Kottas, the Group Manager for Cloud Services at VMware, and he echoed Gelsinger's argument that VMware customers want a solution that allows them to use the same management tools and processes for managing their cloud assets as they do for their on-premise infrastructure. "We're allowing customers to take all of their investment in VMware infrastructure and compatibility… and leverage that in the cloud, all from a common management platform," Kottas said.
Kottas also confirmed that VMware isn't building its own data centers for the VMware vCloud Hybrid Service offering, but that it would be using datacenter capacity from other providers to meet the needs of their customers. Kottas didn't rule out that VMware may eventually build their own data centers, but for now the company is depending on other providers, whom Kottas declined to name. Kottas said that the VMware vCloud Hybrid Service would launch with "four points of presence in the US," located at partner data center facilities on the West Coast, the Bay Area, Las Vegas, and Virginia. VMware competitors Amazon and Microsoft own and operate their own data centers for their IaaS offerings, so VMware's decision to partner with other data center providers is a sign that the company isn't ready to spend the immense amount of capital investment required to build and operate their own data centers yet.
The VMware vCloud Hybrid Service is now available for testing, but according to Kottas the service would be generally available by the end of Q3 in 2013. Petri IT Knowledgebase contributor and VMware vExpert David M. Davis will be offering up a deeper dive on what VMware vCloud Hybrid Service is all about a bit later this week, and I'll update and link to David's article when it goes live.
So are you looking forward to what VMware vCloud Hybrid Service brings to the table, or would you rather stick with Amazon or Microsoft for your cloud computing needs? Drop me an email with your thoughts, or reach out to me on Twitter.