How to Install vCHS Plugin for vSphere Web Client

The web client for vSphere is the wave of the future. But it's still relatively new to many admins, and its adoption by vendors is slow. Most vendors have not updated their plug-ins to work with the web client yet. So recently VMware released a new plug-in that allows for some of the resources from vCloud Hybrid Service (vCHS) to be controlled from the web client. In today's post, I'll show you how to install vCHS plugin for vSphere web client, and talk about some of its uses.
Installing vCHS Plugin for vSphere Web Client
The vCHS plug-in is available now from VMware. Once downloaded you will need to install on the server that is hosting your web client install. After the install, when you log into the web client you will notice a new icon or application in your dashboard. The image below shows what the plug-in icon looks like.

Once you click on the icon you are presented with a screen like the one below. From this screen there are a few different details presented to you. We can see which vCHS login ID the plug-in is linked to. This also shows the number of cloud instances or virtual data center within vCHS the account is connected to.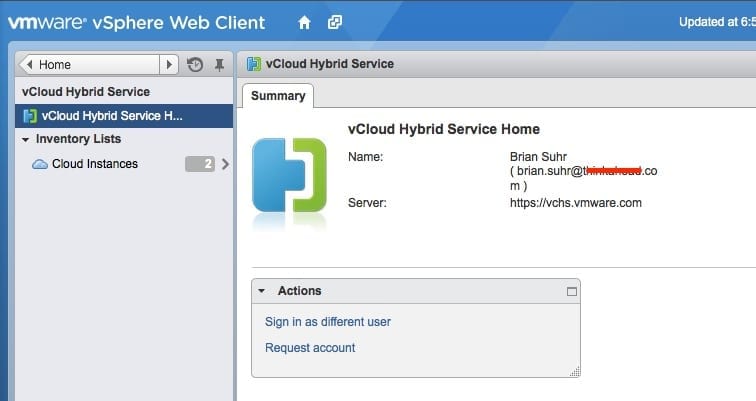 From the Cloud Instance selection we can now view the virtual data centers that we have in our vCHS account. The display is showing us the names, regions, and amount of resources that each data center provides.

Once we select the data center that we want to view further details on, we are presented with a screen like the one below. This shows the details about the virtual data center. The amount of resources are shown in gas gauge-type images. There is also a link to manage this data center from the vCHS portal.

To get a list of virtual machines that are located within this virtual data center, I have selected the Related Objects tab and then the virtual machines tab. This will then display a list of all VMs and details about their OS and resources.

Uses for vCHS Plugin for vSphere Web Client
What can we do these VMs? There are a number of functions that can be controlled from the plug-in. By selecting one of the VMs you can right-click or use the Actions option from the menu. Then, under the plug-in actions menu we can see all the actions that can be taken on the selected VM.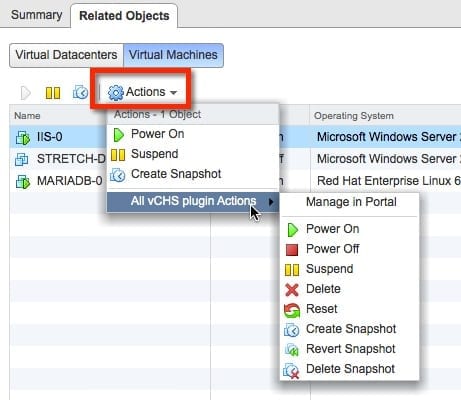 In the current version of the plug-in, the vCHS features are mostly focused on managing already provisioned VMs. At this time you cannot create a new VM or configure any network related features form the plug-in.