System Center Virtual Machine Manager 2012: Creating a Clustered File Server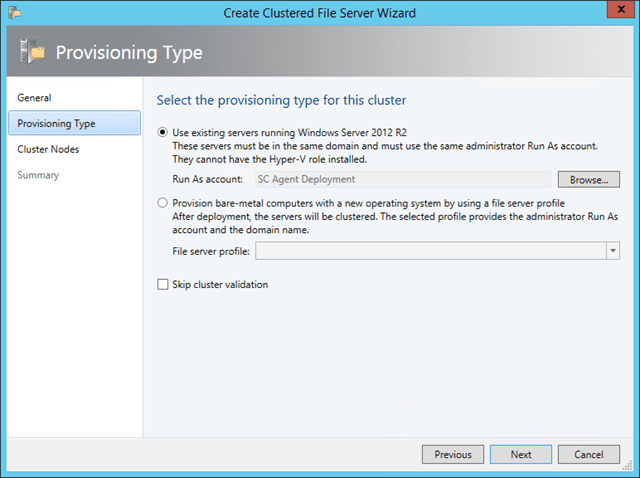 Happily, we can now relax in the knowledge that we have all the foundation work completed to permit us to finally start exercising the portions of System Center Virtual Machine Manager 2012 R2 (SCVMM 2012 R2) that are associated with storage management. It might feel like we needed to do a lot to get here, but if you consider that we first spent our time creating virtual machines and utilizing a neat trick to enable our VM host to serve up shared VHDs so that our lab would serve as a good learning ground, it's really less effort than if we did have physical nodes, and an associated storage solution to cable and configure.
Our second focus was firmly on enabling some very basic VMM mandatory network configurations. Assuming your VMM lab has been used to deploy some virtual machines, all this effort should have being previously completed. Which leads us to the real work of SCVMM 2012, and utilizing the brand new feature in R2: deploying a file server. So, lets get started.
(Editor's note: Need to catch up? Check out part one of our series on System Center Virtual Machine Manager 2012 R2 (SCVMM 2012 R2) and Scale-Out File Server (SoFS), in which we built a virtual SoFS lab, and part two, in which we configured the fabric.)
Creating the File Server
Remaining in the Fabric View of SCVMM, we will now change our Navigation tree focus from Networks to Servers.
Select Server Node from the Navigation Tree.
On the ribbon, click the Create button and select the option File Server Cluster, which will launch the new Create Clustered File Server wizard.
On the General page of the wizard, in the Cluster Name field, enter a name for your cluster. For example: PDC-FS-SMB-Clust.
In the File Server Name field, enter a name for the new Scale-Out File Server role that will be established on the cluster, for example: PDC-FS-SMB.
Next, in the Cluster IP Addresses field you will need to provide an IP address for the new file server role. This IP address must match the IP pool you created on the associated network, and this IP address must be available for use.
Click Next.
On the Provisioning page you have the option to select to deploy for bare metal (using BMC/IPMI/SMASH controllers), but for this lab, select Use existing servers running Windows Server 2012 R2, as we have already completed all the "bare metal" work for our virtual lab.
Click Browse and select or create a new Run As account. In the lab this can be an Administrator.
On the Cluster Nodes page you will now add the name of the servers that VMM will need to configure.

Click the Add button, and in the dialog type enter the fully qualified name of the member server (for example: PDC-FS-SMB01.diginerve.net) then click OK.
Repeat the above step for each node which you wish to have added to the cluster. Then click Next to proceed.

Review the summary information, and complete the wizard.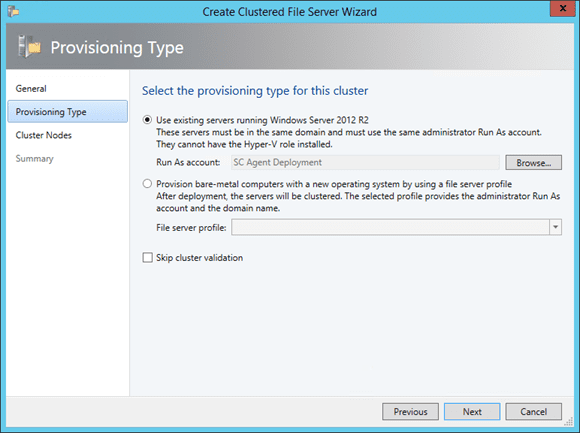 The Jobs view should then appear, and VMM will initiate its work on configuring your new SoFS.
You can use the WunderBar at any time to navigate to the Jobs view, to monitor the progress of the wizard, as it establishes your new cluster and file server role. If you have a connection open to your virtual machines (that are now being configured), you will see them reboot at least one time as the wizard adds and enables the new roles and features on the machines.
Validating the Deployment
Assuming you have experienced no issues, the process should complete and VMM will now have a new storage provider listed in the Fabric view under the storage node, matching the name of your new SoFS (PDC-FS-SMB). More importantly, you should see that the status of this node is healthy with a green check icon.

In order to get a better view of the new server, while still in the Fabric view, select the Storage Node, and from there select the File Servers branch.
Locate your new file server in the list (in our example, it's PDC-FS-SMB).
Right-click on this server name, and from the context menu select Properties.
In the Properties dialog, you should see context information for your new server. You can also use the Cluster Nodes tab to add or remove nodes from your new cluster as you desire.

Congratulations! At this point all the hard work has paid off, and you now have a new Scale-Out File Server deployed using the new functions of SCVMM. This is great, but really we have not yet seen anything to do with Storage Spaces, or even how we might use this new file server for our virtual machine hosting. That's for another article!