System Center Advisor is a free online service that you can use to analyze the configuration of Microsoft server software. You can use System Center Advisor to help you assess the server configuration. Additionally, you have access to information and best practices that has been collected from the knowledge of the Microsoft Consulting and Support teams, gained through years of experience. In today's post, I'll give you a brief overview of Microsoft System Center Advisor, including how it works and its architecture.
An Intro to System Center Advisor
System Center Advisor helps prevent downtime by giving you access to Microsoft's considerable customer support experience, which is made available through the Windows Azure cloud-based service. This service applies the following common questions from the Microsoft customer support checklist to all servers that Advisor monitors.
Are servers missing critical hotfixes or service packs?

Are there any device driver problems; for example, problems that are known to cause storage issues on a SQL server?

Are the in-use versions of the operating system or the software too old? For example, although there are some obvious issues such as SQL Server 2000 being no longer supported, even newer products such as SQL Server 2012 require certain software update levels to be in a supportable state.

Are there any configuration settings within the operating system or software that customers commonly have problems with?
Because Advisor is a cloud-based service, Microsoft constantly updates the knowledge that is provided to the service. Microsoft product support teams can identify new recurring issues and immediately update the Advisor knowledge and content data. This is used to assess other business servers and provide them with advance notification of a potential problem in their configuration, thereby giving them time to resolve the issue before it occurs within their infrastructure.
System Center Advisor and Server Software
System Center Advisor analyzes the following Microsoft server software:
Windows Server 2008, 2008 R2, 2012

Microsoft Hyper-V Server 2012

Active Directory

Hyper-V Host

SQL Server 2008 Engine

Microsoft SharePoint 2010

Microsoft Exchange Server 2010

Microsoft Lync Server 2010, 2013

System Center 2012 SP1 Virtual Machine Manager
Architecture of System Center Advisor
The System Center Advisor environment consists of the following components.
Advisor web service: A service hosted in the cloud that is used to provide aggregation and analysis of data collected by System Center Advisor.

Gateway:

On-premise software that collects analyzed data from one or more agents running on monitored Microsoft servers and then uploads it to the Advisor web service.

Agents:

On-premise software installed on Microsoft servers that are to be monitored by System Center Advisor. Data is analyzed by the agent using a set of rules similar to that found in Operations Manager. This analyzed data is then forwarded to the Gateway.

Analyzer Portal:

A web portal that is used to view alerts generated by System Center Advisor including remediation advice.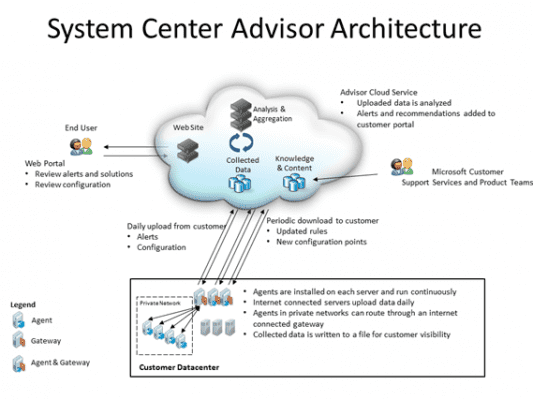 Operations Manager Integration
Although the Advisor Portal provides a comprehensive view of servers being managed in System Center Advisor, if you already have an Operations Manager environment deployed you should consider integrating System Center Advisor with Operations Manager. This not only allows you to view Advisor alerts in the Operations Manager Operations console, but also allows you to view configuration information that the Advisor Agents have collected. When System Center Advisor and Operations Manager are integrated you can use a single console (Operations console) to view and manage alerts from both Advisor and Operations Manager at the same time.
With System Center 2012 R2 System Center Advisor is included in the Operations console and simply needs to be configured. With System Center 2012 SP1 Operations Manager a System Center Advisor Connector must be downloaded and Management Packs need to be imported before integration could be configured.
Free Service
You have nothing to loose, surf over to the service landing page, and get started NOW!