Surface Laptop Studio: Microsoft's New Portable Workstation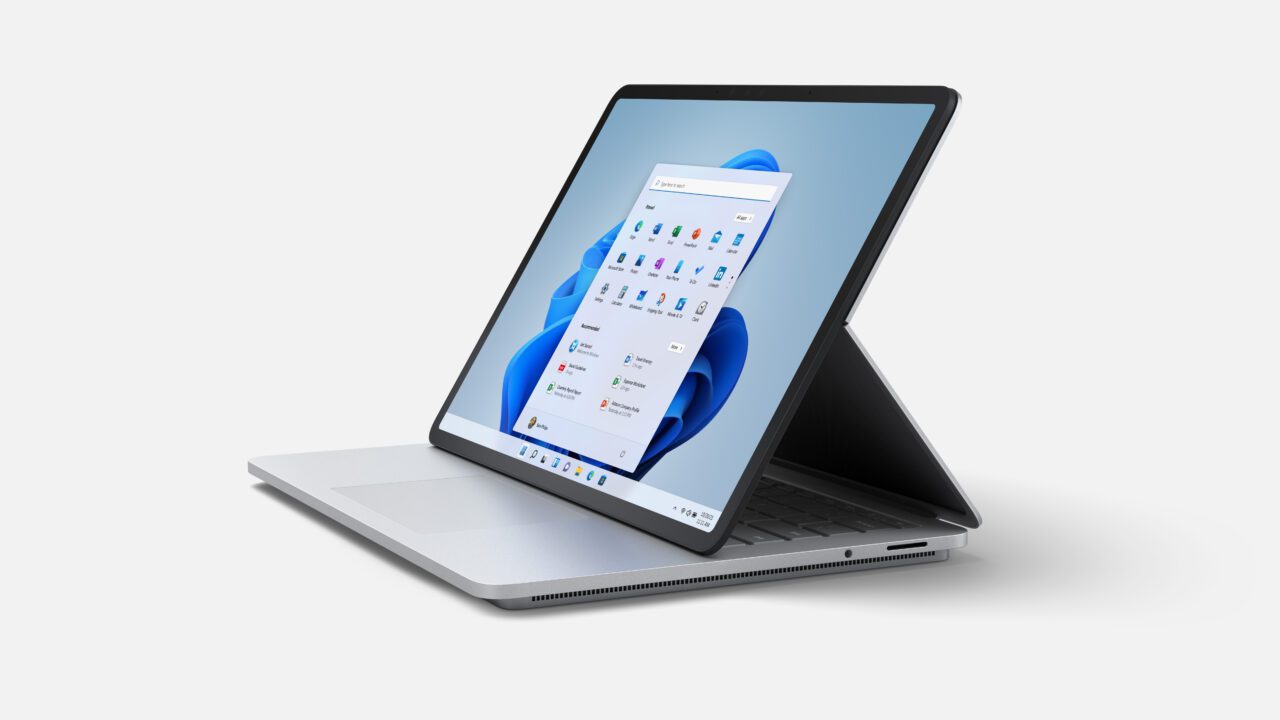 Today, Microsoft is unveiling its refreshed lineup that includes updating most of the products in its lineup. But the company is not only refreshing hardware, they are announcing an entirely new product – the Surface Laptop Studio.
The Surface Laptop Studio is the child of mixing the Surface Laptop, Surface Pro, and Surface Studio into a single product. Microsoft says that this is the most powerful Surface the company has ever built and there is a lot to digest – let's dig in.
First up are the specs, under the hood, the Laptop Studio is using a Quad-Core 11th gen Intel chip that spans from the i5-11300H to the i7-11370Hmodels and the GPU is either an Iris® Xe/RTX 3050Ti for consumer version and on the commercial side, it can be equipped with an RTX A2000 card.
The display is a 14.4in PixelSense Flow touch display with a resolution of 2400×1600 with a 120Hz refresh rate that also supports Dolby Vision, 10-point multi-touch and keeps the 3:2 aspect ratio that we typically see on Surface products.
Sponsored Content
What is "Inside Microsoft Teams"?
"Inside Microsoft Teams" is a webcast series, now in Season 4 for IT pros hosted by Microsoft Product Manager, Stephen Rose. Stephen & his guests comprised of customers, partners, and real-world experts share best practices of planning, deploying, adopting, managing, and securing Teams. You can watch any episode at your convenience, find resources, blogs, reviews of accessories certified for Teams, bonus clips, and information regarding upcoming live broadcasts. Our next episode, "Polaris Inc., and Microsoft Teams- Reinventing how we work and play" will be airing on Oct. 28th from 10-11am PST.
Learn More
On the ports, there are two Thunderbolt 4 connections, Surface Connect, headphone jack, but no SD reader. Like other devices in the Surface family, the SSD is removable and you can equip up to 2TB of storage.
Microsoft claims that battery life is up to 19hrs for the i5 model and 18hrs for the Core i7. Having used Surface hardware nearly daily for several years, I would slice those numbers in half for typical workflows.
With the specs out of the way, the hardware is worth discussing as this is the spiritual successor to the Surface Book and it solves many of the challenges the Book faced. Namely, being able to move the components into the body (and not the display), this allows Microsoft to use higher-performant chips from Intel and also lower the center of gravity to make it easier to use on your lap.
The Laptop Studio has three "modes" as Microsoft calls them. The first is Laptop mode that is self-explanatory. The second is Stage mode that pulls the display forward and is ideal for gaming, streaming, docking, or presenting to clients. The third mode is Studio mode that is designed for using the device like a digital canvas with the Surface Pen that can be stored on the bottom of the Studio Laptop.
Speaking of the bottom, much like the Surface Book with its tear-drop style hinge, the Laptop Studio has an interesting design that some may find unappealing. If you look at the picture below, you can see that the keyboard deck sits on top of a base that is ventilated in a stepped design.
This means that this laptop isn't an ultra-portable, it's a workstation and it has the size to prove it. With dimensions of 12.7" x 9.0" x 0.7", the device can weigh as much as 4lbs. Is that too much? That's an individual question but if it allows you to replace a laptop and a drawing tablet, you could argue that this is a good price to pay for the convenience of having an all-in-one package.
And with corporate-friendly features like Hello, removable SSD, TPM 2.0, Surface Connect, and A2000 for professional workloads – it's clear that Microsoft believes this is targeted at creative professionals and others who need a high-end workstation that can also fit into a backpack.
This is a big and new design for Surface, although other laptops do have similar characteristics, the question remaining is if this is the right solution for what the market demands? That's a question that only time can answer and it would appear that the Book design was not effectively answering that call.
So, will the Surface Laptop Studio find a spot in the market and challenge the conventional? That we don't know yet, but one thing is for certain, Microsoft is willing to try new designs and iterate its products which keeps me interested in Surface and I would bet I am not the only one.
Surface Laptop Studio starts at $1599.99 and is available for pre-order today.