Setting up Windows Vista to multi-boot Windows 7 Ultimate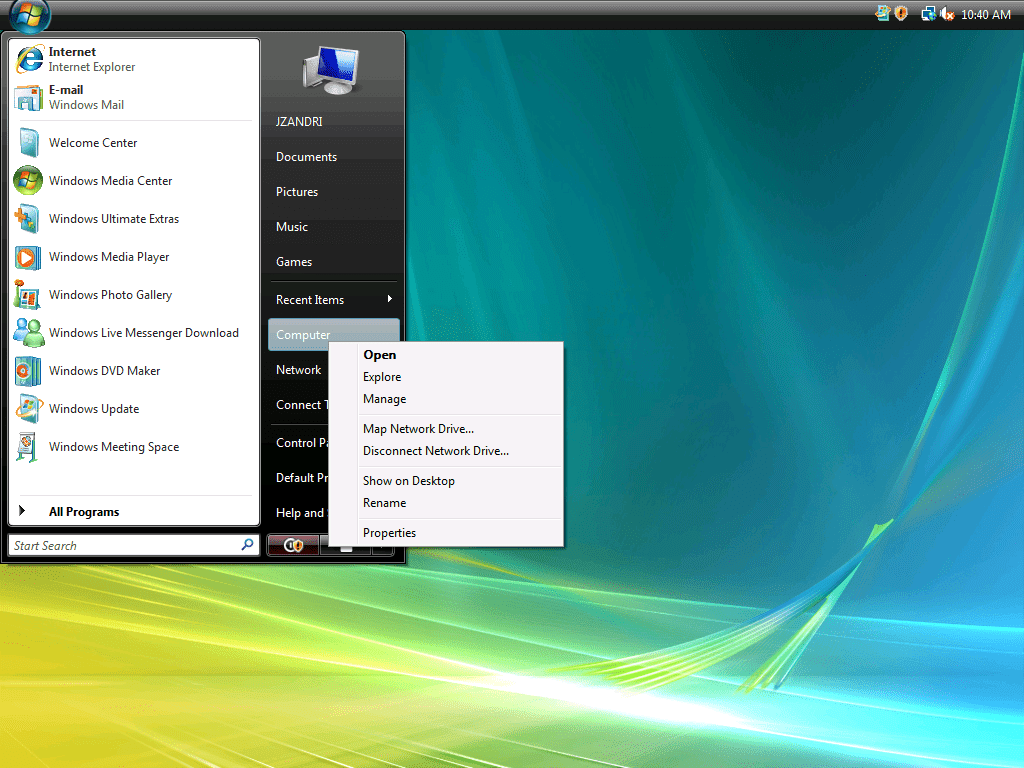 Windows 7 is the next generation of operating system due from Microsoft and it is still working on a planned release for early 2010 which would be three years after the release of Windows Vista.

This article is a complete walk through on the steps taken to set up your Windows Vista Ultimate system to multi-boot with Windows 7 Ultimate edition. Basically we are going to be outlining the steps to prepare the existing system so that there is a free partition for the installation.
[NOTES FROM THE FIELD] – It is important to note that Windows 7 is only in beta release at the present time. The version of Windows 7 that I am using for this walk through is Windows 7 Ultimate edition, build 6.1.7000.
Because the content is still under development and in beta release it is a preliminary tutorial and is subject to change upon the final release of this new version of Windows.
The terms multi-boot and dual-boot are often used interchangeably when talking about two side by side installations of operating systems. When there are more than two available installations of operating system available the correct term is multi-boot but even in a situation where there are just two you can use that term as well despite the fact that dual-boot is more appropriate.
When you are getting ready to do any major installation on a host system, whether that is making a major configuration change to the operating system or installing a new application (especially one that is going to make major changes to the operating system, system registry, etc.) you really should be sure that a restore point is made on the system. You should also make sure you back up any data on the system that you must preserve. While 99.99% of the time these types of activities on a system will go smoothly there is no point in risking critical data by skipping the step of creating a backup or creating a restore point.
[NOTES FROM THE FIELD] – How to back up a PC is a very good write up that can be found on the Microsoft website that breaks down backing up PCs running Windows Vista as well as Windows XP.
Additionally System Restore: frequently asked questions from the Windows Help and How-to page is also a good review.
For a review of Windows XP System Restore information you can read the TechNet write up at the following link.
Other important things to remember when attempting a multi-boot / dual-boot configuration:
You need a hard disk in the system that has a separate partition for each operating system that you want to install
If the single disk does not have multiple partitions already configured you may need to reformat and / or repartition your hard disk
Optionally, you could install an additional hard drive in the system
The partition should formatted with the NTFS file system.
To avoid major configuration problems, especially between older boot managers and newer boot managers, you should always install operating systems from oldest release to newest.
[NOTES FROM THE FIELD] – In most cases what that last bullet point means is that if you wanted to install on a multi-boot system an installation of Windows 2000, Windows XP, Windows Vista and Windows 7 you should do them in that order.
As newer operating systems release, setup, the boot manager and other critical start up routines are built "aware" of other, older potentially available operating systems but for obvious reasons, not the other way around as older OSes have no way of knowing about the future releases.
You can "rig" the boot loader routines to discover other operating systems when you install them outside of their chronological release order but this is not a best practice.
For some history on this you can review How to multiple boot Windows XP, Windows 2000, Windows NT, Windows 95, Windows 98, Windows Me, and MS-DOS and there is also the How to create a multiple-boot system in Windows XP knowledgebase article that goes into some additional detail as well.
For this walkthrough we are going to get our system ready to dual boot our current Windows Vista Ultimate Edition service pack 1 virtual machine installation with Windows 7 Ultimate beta build 7000.
[NOTES FROM THE FIELD] – It is important to note that we could be showing this walkthrough using Windows 2000 or Windows XP as the current installation and getting it ready for a dual boot configuration with Windows 7.
While the steps to get the disk space repartitioned are different in those older operating systems (some configurations may require third party tools), the end result is the same – having a free partition available for a clean installation of Windows 7 so that both the originating operating system and the fresh install of Windows 7 are available choices to boot into.
Once the guest OS in the virtual machine is up and running we are going to need to shrink the main volume so that we can split it into two partitions so that we have a place to install Windows 7. We will do this through the Computer Management MMC and through the Disk Management snap in.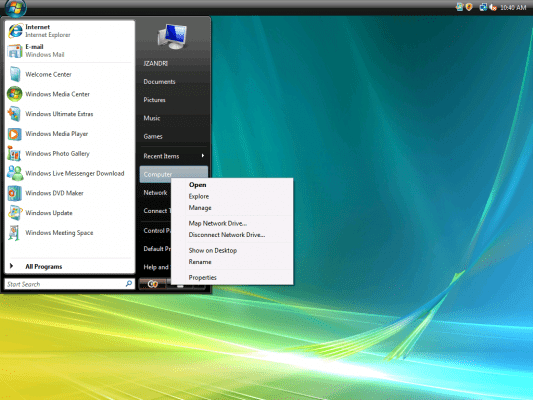 We would choose the C:\ partition from the results pane (middle pane of the MMC) and right click and choose shrink volume.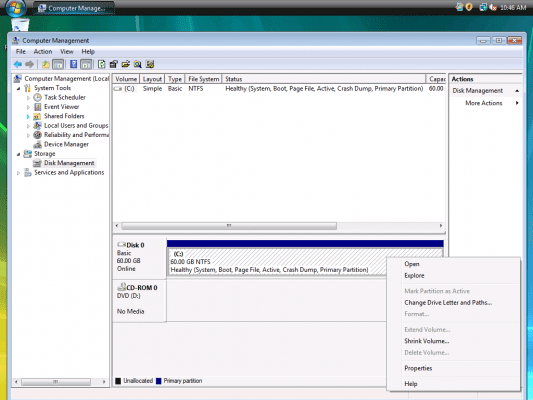 The dialog box that appears would show the total size of the partition before shrink in MB and the size of available shrink (which is effetely what you would be left with after action to use as another partition or partitions). The field can be changed if you wanted to adjust the size of the space to create more than just one partition.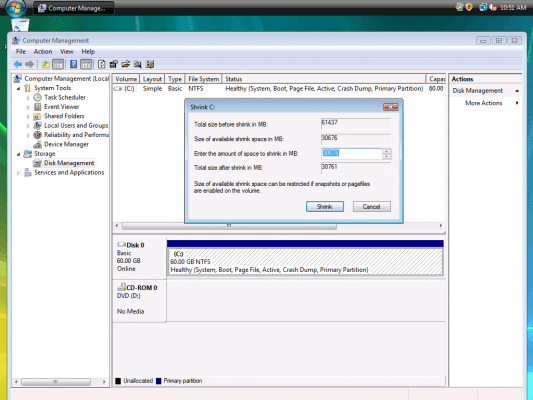 For our walk through we are going to shrink the partition basically in half by leaving the defaults in there and choosing SHRINK.
Once the action is over you will see that there is now unallocated space available in the Disk Management MMC available for us to format for use.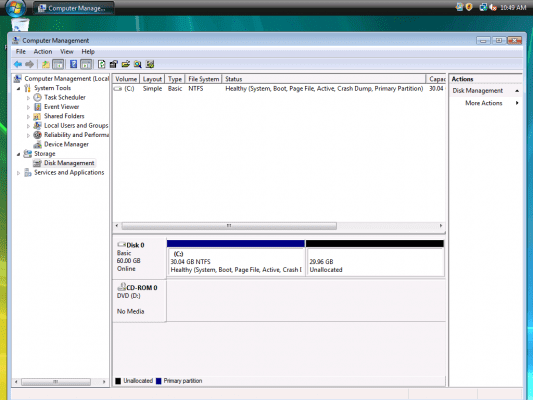 We would right click in the unallocated space and choose the New Simple Volume option as shown below.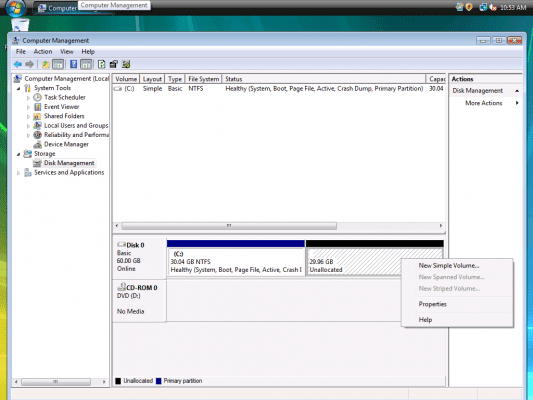 The New Simple Volume Wizard is launched and after the welcome screen you are given the option to specify a volume size (and we have used the default option of all of the available space). From here you click NEXT to continue.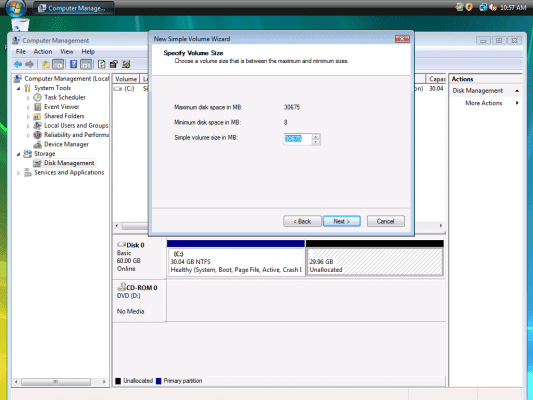 The next screen is the Assign Drive Letter or Path options which all you to assign a drive letter to the new space, mount the planned new space into an empty NTFS folder or to simply not assign any information to the space by the Do not assign a drive letter or drive path option. For our walk through we will choose the option to assign the drive to E:\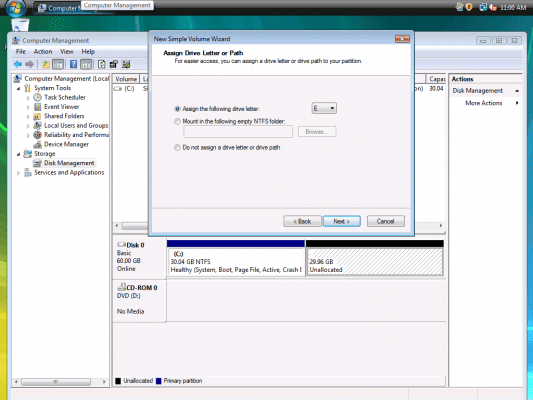 On the next screen of the wizard we are given different options for formatting the partition. We could choose to not format the volume or to format it with FAT32 or NTFS.
We also have options to label the volume and whether to choose to perform a quick format or choosing file and folder compression.
Our options for the walkthrough are shown in the screen capture below.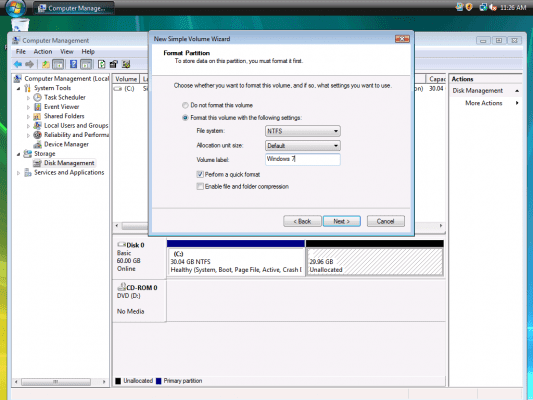 The next screen is the summary screen of all of the options selected throughout the wizard and you would choose FINISH to complete the actions.
[NOTES FROM THE FIELD] – If you needed to make any adjustments before committing the configuration you could choose BACK. Additionally, if really needed after the volume is created and formatted you could always delete it and start over before any data was committed to the volume.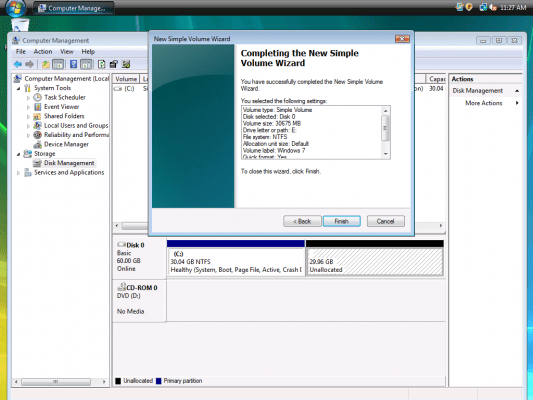 Once the format part of the process is complete you will see that the new partition shows up in the Disk Management MMC and shows a status of Healthy as a Primary Partition with the volume label of Windows 7 as shown below.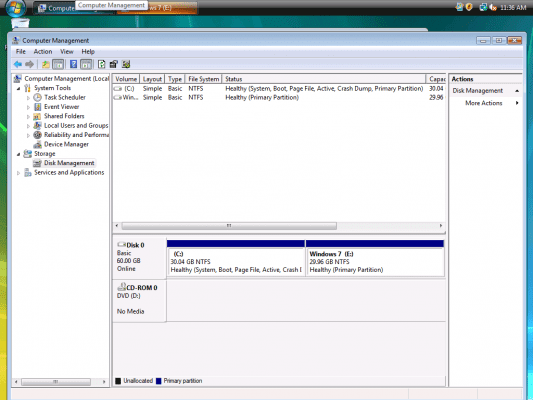 The system is now ready for the clean installation of Windows 7 to the new partition which will allow you to boot into either operating system.
In another article Dual Booting Windows Vista with Windows 7 Ultimate (beta build 7000) I will outline the steps to use this system as configured to install a clean copy of Windows 7 alongside the Windows Vista installation so that either OS could be launched for use.
Until then, I am looking forward to any feedback you have on the article and I would also welcome any suggestions for topics of interest that you would like to see covered. Based on demand and column space I'll do what I can to deliver them to you.
Best of luck in your studies.