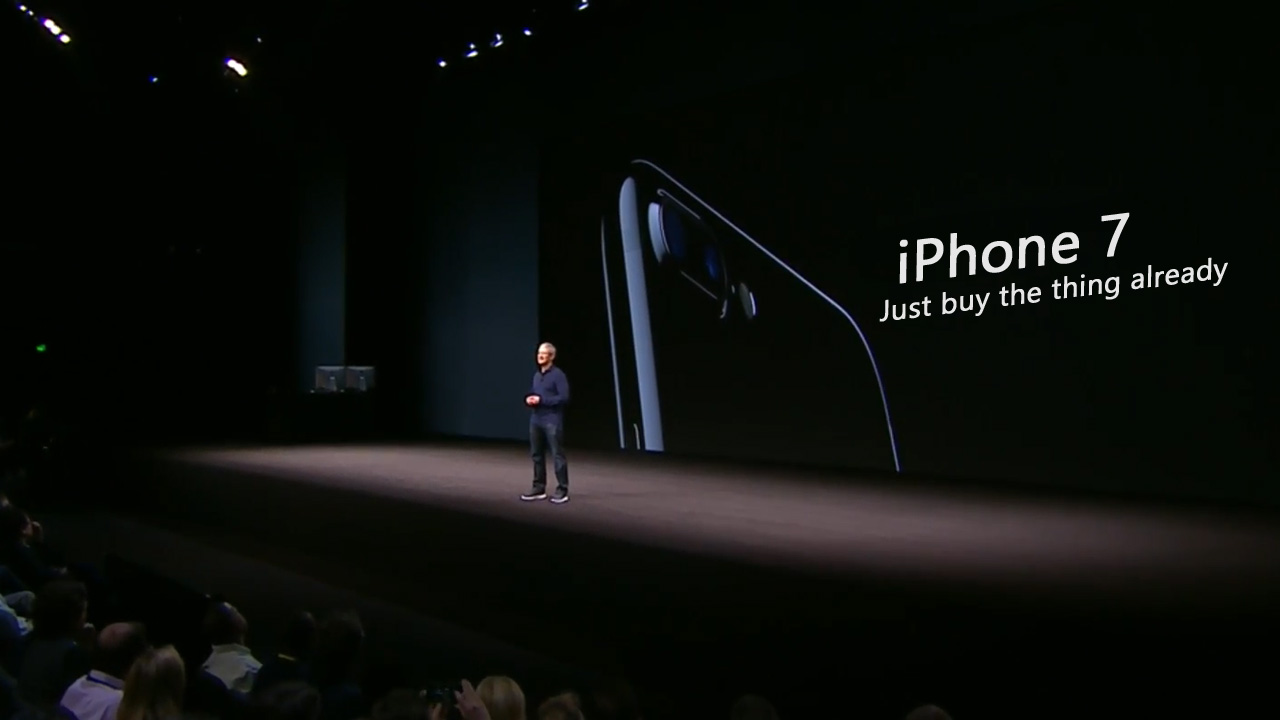 Because it's International iPhone Day today, this edition of Short Takes focuses on the iPhone 6SE (sorry, iPhone 7), ongoing problems with the Windows 10 Anniversary Update, Microsoft's terrible new Surface ads, Microsoft Stores are now offering small business support, a Samsung Galaxy Note 7 recall, and more.
Happy iPhone Day ™
It's the most wonderful day of the year … if you're an Apple fanboy, that is. Today, Apple unleashes the iPhone 7 and 7 Plus—or, as I call them, the iPhone 6SE and 6SE Plus—on the world, bringing a temporary stab of joy between the moment of acquisition and the moment your credit card bill arrives. But the biggest benefit of the iPhone 7, of course, is for Apple, which badly needed a hit. And this minor, evolutionary upgrade appears to be just that, despite being a … well, a minor, evolutionary upgrade. All hail the two year upgrade cycle. And seriously, buy the damn thing already.
"Verizon Announces Moto G4 Play Prepaid Smartphone For $85"
So it's slightly less expensive than the new iPhone.
Windows 10 version 1607 quietly shifts into Revision 2.0
As I've written in the past, the Windows 10 Anniversary Update arrived in early August with an unprecedented number of problems, leading Microsoft to quietly slow down the rollout. But Woody Leonard adds more evidence to support my claims, noting that Microsoft has issued "five major updates [to the Anniversary Update] in six weeks. No wonder Microsoft's holding off on the Anniversary Update rollout." Some problems, like the Kindle/blue screen problem, have been fixed without comment from Microsoft. But others, like Webcamgate, have not. The clock is ticking, guys. No rush.
"Adobe, Microsoft Push Critical Updates"
It's just like kidney stones!
Killing 'em with (terrible) music
I'm not sure how broadly these are being broadcast, but if you've not seen any of the recent Microsoft Surface ads … well, don't look at this one. They're pretty terrible. The theme seems to be quirkiness combined with terrible music. And there are several of these out there now. Which I will never link to. Because oh God, I've already done too much.
"Microsoft is finally bringing desktop apps to the Windows Store"
Maybe next year, Microsoft will let us download desktop apps from the web, too!
Microsoft Stores are now offering small business support
Those Microsoft Stores that are nowhere near where you live are now offering support to small businesses too. These stores—and seriously, they do exist, I've seen one with my own eyes—now provide dedicated SMB Zones that feature "hands-on access to business-grade technology and technical guidance tailored with business owners and entrepreneurs in mind," Microsoft explains. See? Now your own business can be just as successful as Microsoft's stores!
"Windows 10 haters: Try Linux on Kaby Lake chips with Dell's new XPS 13"
No.
Finally, a Samsung Galaxy Note 7 recall
Samsung Galaxy Note 7 phablets have been catching on fire and exploding for weeks, and yet the U.S. government has done absolutely nothing to prevent a massive disaster, perhaps involving an airplane. (Samsung, too, has handled this issue terribly.) Well, that's finally starting to change. On Thursday, the U.S. Consumer Product Safety Commission issued a recall for the device, noting that "the lithium-ion battery in the Galaxy Note7 smartphones can overheat and catch fire, posing a serious burn hazard to consumers." According to the agency, Samsung has received 92 reports of the batteries overheating in the U.S., including 26 reports of burns and 55 reports of property damage, including fires in cars and a garage. And the advice here is simple: Stop using this phone and power it down if you own one. And then contact your wireless carrier to return it.
"Leaked Emails Say Apple Has 'Sexist' and 'Toxic' Work Environment"
And that's just the materials it uses to build phones.
Ted Cruz is fighting to, seriously, "protect the Internet"
Beelzebub's brother in law—sorry, Ted Cruz—is leading a fight to, as he puts it, "protect the Internet" by trying to prevent a transfer this month of the U.S. government's oversight of domain name registrations to the Internet Corporation for Assigned Names and Numbers (ICANN). Why? Lets' ask the voices in Ted's head. "Imagine an Internet run like many Middle Eastern countries, that punish what they deem to be blasphemy," he told a Senate hearing this week. "Or imagine an Internet run like China or Russia, that punish and incarcerate those that engage in political dissent." I get the feeling he doesn't know how the Internet works. You see, Ted, the Internet is like a series of tubes.
"Surface Phone needs to be unique to revive Windows Phone"
Actually having apps would be unique. For Windows phone.
Live! It's NFL Football … on Twitter
Last night's Thursday Night Football matchup between the Buffalo Bills and the New York Jets was notable for a few reasons. For starters, the Jets actually won the game, which I think we can all agree was unexpected. But the bigger news is that it was the first NFL broadcast to be streamed live … on Twitter. I head to Twitter when I want to read text in 140 character bites, so the notion of sitting through a 3 hour grudge match is a bit of a stretch. Plus, it's been enough having to deal with CBS's terrible announcers, now I have to put up with the steaming masses and their terrible opinions? The biggest complaint about the stream was that it was delayed by almost 30 seconds. Which is funny, since it means that people watching the game on TV and tweeting about it could ruin it for those actually watching it on Twitter. Ah, technology.
"Tip: How to Manage Your Windows Drivers"
Here's a tip. Don't.