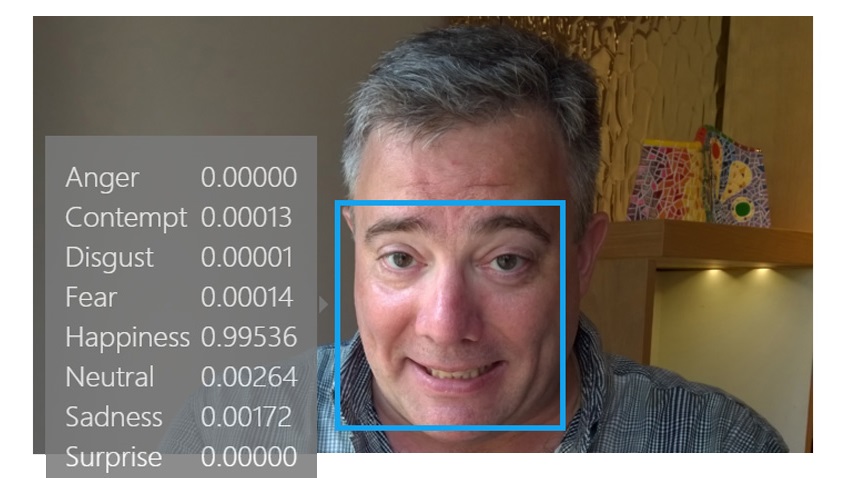 Because there is no substitute, this week's other news includes Microsoft's new emotion-sensing platform, bad news for UK-based Surface Book fans, Apple executives mock the products they copied, and Google's self-driving car is pulled over … for driving too slowly.
New Microsoft platform can sense emotions
Well, please point it at those people who got the Windows 10 upgrade without requesting it: I'm going to go out on a limb and say they're not very happy. Anyway, a Microsoft project called Oxford—which you may recall from the absolutely hilarious How Old Do I Look?, Twins or Not? and My Moustache web sites—has now issued a new time-waster: A web site that will examine a photo and determine how happy a person is. Dubbed "Emotion Recognition," this, um, tool, uses facial expressions to determine emotion. You can see an example at the top of this article. (And kudos to Microsoft for correctly sensing that I was happy, which I was, and not grimacing.)
"Surface Pro 4 and iPad Pro compete for enterprise attention"
Do they? Really?
Surface Book heading to the U.K. in Spring 2016
When Microsoft announced Surface Book last month, it only said that customers in the U.S. and Canada would get first shot, with the product heading to other markets in the near future. Well, it turns out that only the latter part of that description is correct: Surface Book isn't coming to the U.K., for example, until "Spring 2016," so late March/early April at the earliest. Worse, Microsoft will apparently not offer the fingerprint reader-based Surface Pro 4 Type Cover in the U.K. at all, and it's not clear why. And as for the rest of the world, we can only guess. No idea why they can't just announce a schedule.
"Facebook is testing a Snapchat-style disappearing message feature in its Messenger app"
Why? Because they're cool, that's why. And nothing at all like AOL.
Xbox One finally wins one
Well, now we know why Sony finally cut the price of its dominant PlayStation 4 console: Sales, finally, are down. And according to NPD, which tracks usage data only for the United States, Microsoft's Xbox One console in October finally outsold out the PS4, for only the second time ever in two years. The Xbox One was helped by the Halo 5 launch—that was the number one game in October—and by an 81 percent increase in YOY sales. While it's fair to point out that Xbox One will never catch up with PS4 over the lifetimes of these consoles, is great news, and suggests that having high-quality platform exclusives still matters quite a bit. It will be interesting to see how November and December shape up.
"Dell Launches New PowerEdge SMB Servers"
Just sitting here trying to imagine the small business that needs an on-prem server and coming up woefully short.
Tim Cook ridicules Surface Book
Steve Jobs once derided Michael Dell, noting that he "thought CEOs were supposed to be classy." He should have mentioned this to his successor, too, as Tim Cook has been inserting foot in mouth fairly regularly when it comes to Microsoft. After deriding Surface because nobody wanted a "converged toaster and a refrigerator," he then blatantly ripped off the design of Surface with iPad Pro. And this past week, he whined that Microsoft's new Surface Book—which you can expect Apple to copy in about three years—was "diluted." (Funnily, this comment was at first misreported as "deluded," a word that describes Mr. Cook pretty well.) "Surface Book is a product that tries too hard to do too much," he said, not noting the irony of how well that description applies to Apple's iPad Pro. "It's trying to be a tablet and a notebook and it really succeeds at being neither." Again. Just. Like. iPad. Pro. You hypocrite.
Oh, and it's not just Tim Cook that's deluded, or diluted, or whatever
Apple marketing senior vice president Phil Schiller curiously echoed Mr. Cook's tone-deaf comments about "hybrid tablets," as if that wasn't exactly what an iPad Pro was. "There certainly are more [hybrid] offerings today, more people trying to create a market," hetold Mashable. "But based on all the data that I've been able to see, it is still incredibly small and niche and may not be growing to anything significant. Time will tell." Phil, seriously. The iPad Pro is a hybrid. Are you suggesting there's no market for iPad Pro?
"Amazon opening its first real bookstore"
Maybe Apple could open its first real music store next and sell vinyl.
Google's self-driving car was pulled over by the police
This is just too funny. A Google driverless car—which looks more like a beetle than a VW Beetle—was recently pulled over by a Mountain View, California police officer because it was driving too slow: 24 mph in a 35 mph zone. It's not clear if the officer dropped the ticket on the driverless front seat, or cited the driver for operating without a license.The encounter is detailed on the Mountain View Police blog, which notes that "the officer made contact with the operators [e.g. Google] to learn more about how the car was choosing speeds along certain roadways and to educate the operators about impeding traffic." Which, by the way, is illegal.