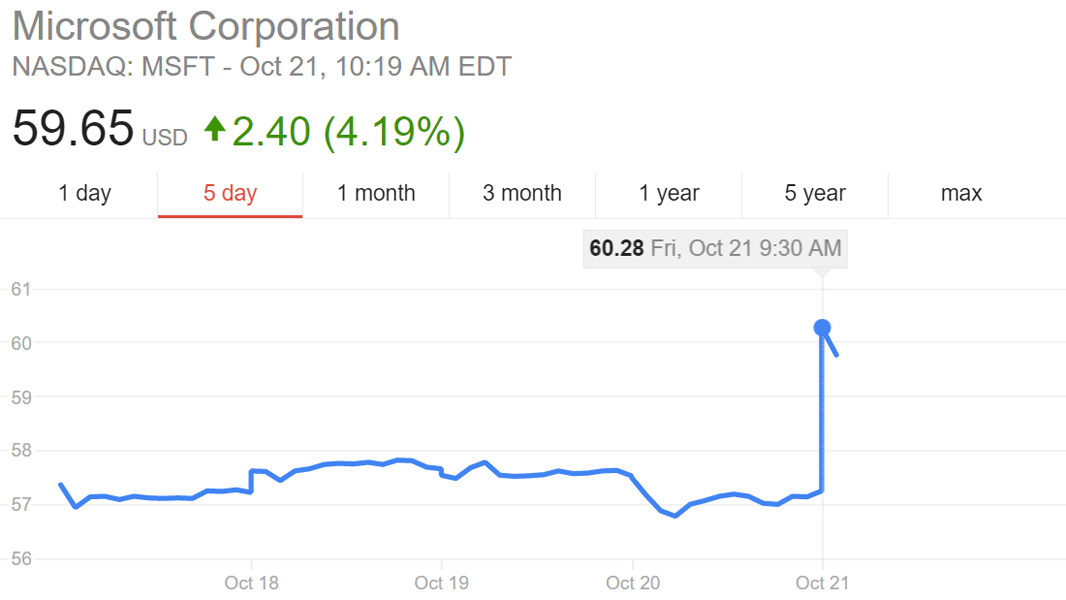 Because it's that time of the month, this edition of Short Takes focuses largely on Microsoft's quarterly earnings: Plus I riff on some headlines and report on a few other things.
NOTE: Many of the blurbs in today's Short Takes reference Microsoft's quarterly earnings. The software giant posted net income of $4.69 billion on revenues of $20.45 billion, both of which are basically flat when compared to the figures for the year ago quarter—$4.9 billion and $20.38 billion, respectively—but better than expectations. There's not a lot of comedy to be had in financial reports, of course. –Paul
"Microsoft Earnings: What to Watch"
Follow the money. Which, by the way, Deep Throat never actually said.
Microsoft earnings: "Transition" is the ongoing theme
This year, Microsoft has really pushed the notion that it is transitioning from a maker of traditionally-delivered software to a major player in cloud computing, and they really drove home that theme during this week's earnings announcement. But there's proof in dem numbers: Fully one-third of Microsoft's revenues now come from its cloud operations, making the software giant one of the "bigliest" cloud vendors around. Looking at just Azure, revenues jumped 116 percent, Microsoft said.
"Microsoft blunts losses"
I guess that means the same thing as "Microsoft earns profits."
Microsoft earnings: MSFT hits an all-time high
In the wake of Microsoft's solid quarter, shares in the firm jumped to an all-time high of $60.45, eclipsing a record that was set back in 1999 … yes, near the height of the Dot Com bubble. (Which really happened in 2000, but whatever.) So this is great news, but it's worth noting that Microsoft is nowhere close to their peak from a market cap perspective: That figure hit $462 billion this morning, but at its height in 2000, it would have surpassed $900 billion in today's dollars. And that, I think, explains Microsoft's future nicely: It will never run roughshod over the industry like it did in the past. But it will still be a humongous and powerful company.
"Microsoft Shares Hit All-Time High"
"We're an all time hiiiiiggghhh… We'll change all that's gone before…."
Microsoft earnings: Office 365 usages surges
I've been wondering about Office 365 usage and now I have some real numbers. And those numbers are good: Office 365 Commercial reports 85 million monthly active users, up from 70 million in the previous sequential quarter. And on the consumer front, Office 365 now has 25 million active users, a huge jump over the 15 million figure the firm previously reported.
"WHERE ARE THEY NOW? What happened to the people in Microsoft's iconic 1978 company photo"
Well, they got older.
Microsoft earnings: Windows continues its slow decline. Once Microsoft's biggest business, Windows is now wedged into a crowded business called More Personal Computing (ugh) where they can better hide its shame. Windows OEM (PC maker) and commercial licensing were both flat year-over-year, which Microsoft noted was better than the broader PC industry. Which is pretty much everything you need to know about that business.
"Library hosts free Windows 10 classes"
I stand corrected. That is pretty much everything you need to know about that business.
Microsoft earnings: Xbox tumbles
Despite a strong start for the Xbox One S—the Xbox has been the best-selling console in the U.S. for three months in a row now—overall consoles sales have still declined year-over-year, Microsoft says. (To what, no one can say.) And total gaming revenue was $1.9 billion, a drop of 5 percent. In the good news front, Xbox services and software revenue was "up," but by a mystery figure no one seems to want to discuss. And here's a weird one: Xbox Live users stand at 47 million. That's up from a year ago. But it's down 2 million from the previous sequential quarter. Eh?
"Microsoft's Expensive Cloud Bet Is Paying Off"
Just keep playing red, you got this.
Microsoft earnings: Surface surges in the quarter, but…
Microsoft's Surface business grew revenues to $926 million in the quarter, falling short of the magical $1 billion figure everyone likes to see. Fans will point out that that's a big jump from the same quarter a year ago, when the revenues hit at $672 million. But there is a big difference year-over-year: Last year, we knew that Microsoft was going to refresh its Pro lineup, so sales in the previous quarter fell short. But this year, we know they are not, so sales were artificially higher than they might have been otherwise. Put another way, Apple's iPad business is still about 5 times as big as Surface. And that business is struggling.
"The new HP Elite X3 is like having a Windows 10 PC in your pocket"
By which they mean a phone that has no apps and a PC that can't run any desktop applications. It's a win-win!
Microsoft earnings: How low can phone go?
Microsoft "restructured" its phone business in mid-2015, and then "re-restructured" (OK, that's my made-up word) in May 2016, so perhaps it's no surprise that the business is not doing so well. But an SEC 10-Q filing associated with this week's earnings report highlights how badly it's really doing: Revenues from the phone business declined by $799 million year-over-year, with unit sales falling 72 percent. But it's even worse when you look back two years: Revenues from Microsoft's phone business have declined $2.3 billion in that time. Or when you look at the write-offs that Microsoft has taken to erase its Nokia mistake: That figure is now north of $10 billion. Naturally, Microsoft "remains committed to Windows 10 Mobile." You can see why. Cough.
"Microsoft's Salesforce-killer product is selling well"
So, it's … a virus?
Microsoft earnings: Surface and phone revenues to decline in the current quarter
During its post-earnings conference call, Microsoft noted that sales of both Surface and Lumia devices would decline in the current quarter. The Lumia thing makes sense, of course. But what's up with Surface? It turns out that the company's flagship products, Surface Book and Surface Pro 4, are now one year old, so sales are falling. And since there are no new devices coming until next Spring, sales won't rebound this quarter. (Microsoft, is, however, expected to launch at least one lesser Surface device, like a Surface All-in-One PC, later this month.) Put another way, Microsoft just confirmed what I've been saying for a while now: No new Surface Book or Pro devices this month, sorry.
"I never wanted to buy Twitter, billionaire Steve Ballmer says"
Right. No one else does either.
Even President Obama is making fun of the Galaxy Note 7
This week, U.S president Barack Obama compared his Affordable Care Act—which most just call Obamacare—to Samsung's disastrous Galaxy Note 7. "When one of these companies comes out with a new smartphone, and it has a few bugs, what do they do? They fix it, they upgrade," he said. "Unless it catches fire and then they just, then they pull it off the market. But you don't go back to using a rotary phone! You don't say, well we're repealing smartphones — we're just gonna do the dial-up thing. It's not what you do. All the same principles apply here." LOL. Love it.
"Apple Has Long Been Hiding a One-Handed Keyboard on iOS"
I wonder what else they're hiding!
Microsoft gives Brazil access to its source code
Microsoft has opened a new Transparency Center in Brazil, which is basically a safe house where representatives of the government can go to pour over Microsoft's source code. This is the fourth such Transparency Center, but they're all aimed at the same thing: Proving to governments in this post-Snowden era that there are no back doors in Windows and Microsoft's other products. But I'm curious. How would they even know if Microsoft was showing them everything?
"Google's AI can now learn from its own memory independently"
That's right. People are now superfluous.
Nintendo thinks differently—yes, grammar matters—with new console
On Thursday, Nintendo provided a sneak peek at its next video game console, called the Switch. And as the name suggests, the quirky and beloved game maker is going in a new direction: It's a 2-in-1 device, essentially, that can be used like a traditional console, plugged into a dock and attached to your TV, or as a portable handheld unit. That's exciting as-is, but the Switch also features mini removable game controllers that can be used attached to the device or not, a controller converter that turns those two mini controllers into a bigger single controller, and—whew—a more traditional Xbox-style controller as well. This looks to be the most innovative thing to happen to video games since the Nintendo Wii. And for that, Nintendo, I thank you for being you.