7 Tips to Optimize the Microsoft Surface RT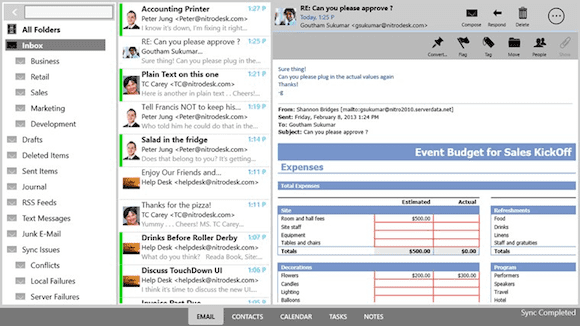 Microsoft's first tablet, the Surface Windows RT, arrived at the end of October 2012. It's a significant departure for Microsoft, best thought of as a tablet designed for BYOD, mixing consumer-friendly touch features with a version of Office 2013. Within its VaporMg casing lies a powerful machine — but it could always be better, right? Today I'll discuss some tips on how to get the most out of your Surface RT.
(Editor's note: Also check out our review of the Microsoft Surface RT.)
How to Get the Most from your Surface RT
1. Keeping in Sync
Surface RT is at heart a companion device. Unlike other tablets it's clearly designed to work with traditional desktop PCs and laptops, functioning as something you can quickly pick up when you don't want the weight of a less portable device. To get the most out of it you'll need a SkyDrive account, as Microsoft uses SkyDrive to share Office documents with Surface. The default SkyDrive 7GB may not seem that large, but it's more than sufficient for a couple of OneNote notebooks and a set of Office documents.
Unlike the desktop SkyDrive, Surface RT is limited to the Windows Store SkyDrive app and Office 2013's built-in synchronization features. Office will use its cache to keep temporary copies of recently saved files so you can work offline, but in practice you'll need a wireless connection if you're working with cloud data. Surface RT's built-in Office Home and Student 2013 will work with your Office 365 accounts, and it counts as one of your five devices per account (letting you use it for commercial work when used with an appropriately licensed Office 365 account).
2. Fixing mail
The Windows 8 mail app is one of the OS's weakest points. That's not so much of a problem on Intel-based systems where you get access to the full Windows desktop and can run tools like Outlook 2013. Unfortunately that's not an option on the ARM-based Surface RT, with its locked-down Windows desktop, and it does make it hard to work with large amounts of mail on Surface RT.
Luckily the Windows Store already has alternative mail clients, including a version of NitroDesk's popular Android Exchange client TouchDown. With support for contacts, email, notes and tasks, TouchDown offers many of the features of Exchange — without having to wait for the mythical Outlook RT.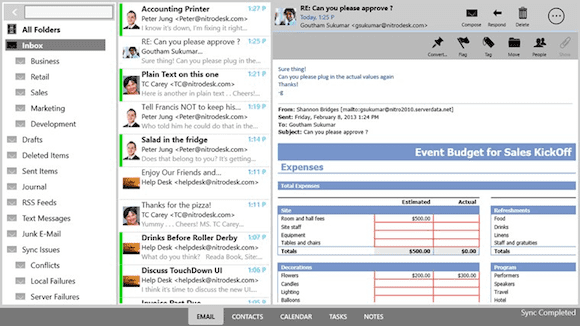 3. Under the (Touch) Covers
Microsoft offers two lightweight keyboard/cover options for its Surface family: TouchCover and TypeCover. Only the TouchCover is bundled with Surface RT systems, and while it feels like typing on a touch keyboard, it works just like a standard keyboard. That does mean that the Shift button isn't sticky – so keep that in mind while you learn just how hard to tap on the slightly flexible cover. I recommend downloading the Trackpad Settings app from the Windows Store to tune the covers' trackpads. You can use it to turn the trackpad on and off (useful when you're typing large amounts of text) and control tap gestures and scrolling. The keyboards also have keys for quick access to the Windows 8 Charms.
If you're holding the Surface RT as a tablet, it's a good idea to remove the cover and flip it around. This gives you a smooth surface to hold your tablet, without exposing the keyboard to the elements.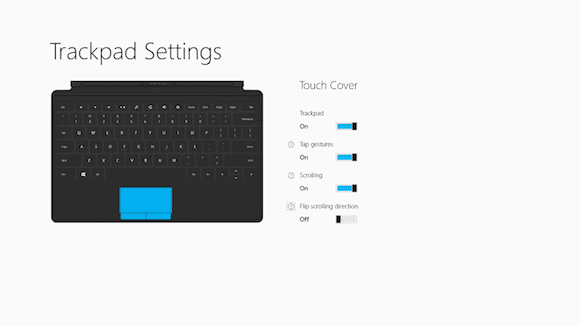 4. Managing with Intune
While Surface RT can't be domain joined, that doesn't mean it can't be managed. A built-in management agent means you can manage devices from Intune Wave D. You'll need to have user accounts in an Azure Active Directory (either federated from an internal AD or via another Microsoft cloud service like Office 365). Users just need to enter an email address and password to trigger the download of a Company Portal app. This can be used to sideload approved apps or to link directly to apps in the Windows Store.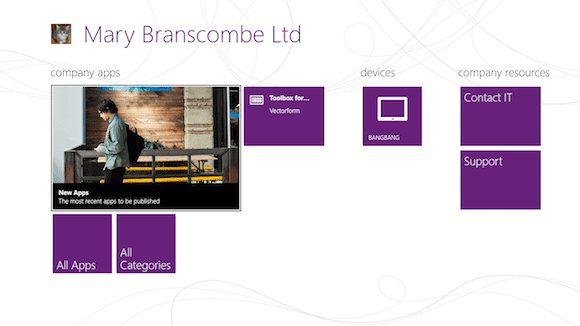 5. Connecting Devices
Windows RT is Windows 8, or near enough for most purposes. You can use Surface RT with most common Windows devices, either over Bluetooth or via its USB 2.0 port. Most devices I have tested with Surface RT have worked with no issues, even older printers.
Surface RT is designed to connect to external displays using a mini-HDMI adapter. Some adapters don't make a good connection, due to the angle of the Surface RT's bevelled edge, so I recommend using Microsoft's own adapters (including support for VGA monitors and projectors), which have been designed to work with Surface's angled, uh, surfaces.
6. OneNote
For many users Surface RT will be the OneNote tablet. Microsoft's note-taking and outlining tool is often called the hidden gem in Office, but with Office 2013 – and with Surface – it's finally out in front. Using Surface RT's split-touch keyboard, the Windows Store version of OneNote is an ideal quick note-taking tool, with an innovative touch-based radial menu. The bundled Office includes the desktop version of OneNote 2013 for more detailed note taking. Both versions synchronize with SkyDrive, so you'll always have the latest version of your notes.
Both versions of Windows RT OneNote have limited ink support, so while you can use a capacitive pen to take notes and sketch in OneNote 2013, you can only read ink notes in the Windows Store version. I recommend using a pen just for quick sketches, as the Surface RT's capacitive digitizer isn't high enough resolution for writing by hand.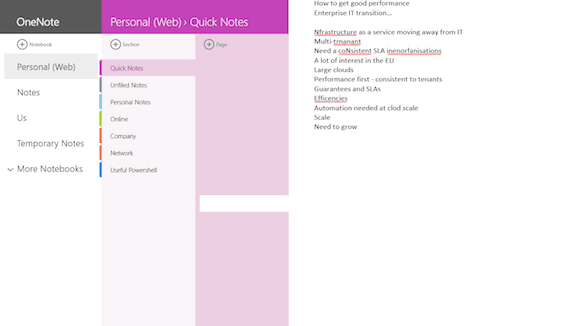 7. Managing Connected Standby
With a system on chip processors like Surface RT's Tegra 3, Windows 8 can take advantage of new low power states to receive information from external sources without completely waking a sleeping system. However, many apps that use Connected Standby don't use it correctly, and so apps that deliver information to the Windows 8 lock screen can use more power than you might expect.
If you're planning on leaving a Surface RT device in standby for more than a couple of days, I recommend turning off most lock-screen apps to keep background activity to a minimum. In fact, I recommend just leaving Mail and Messaging on the lock screen. This will give you as much battery life as possible.