Monitoring System Center 2012 - Orchestrator with Orchestrator Health Checker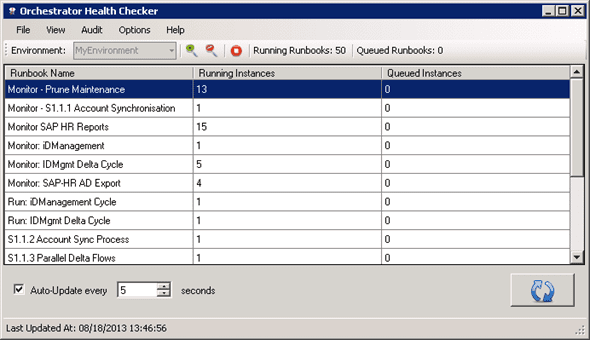 The more tasks you automate, the more important System Center 2012 – Orchestrator will become in your environment; over time you will depend on Orchestrator as if it were the assistant you never had. As with any assistant you are going to want to know that everything is working properly, so that you can relax in the knowledge that your automations are going to continue running just as you have designed.
Install and Configure Orchestrator Health Checker
How do you check the health of your System Center 2012 – Orchestrator? With the Orchestrator Health Checker, of course! This free community-developed utility has been carefully created by Vauhn Nerdahl and his team. Updated regularly and available for download directly off CodePlex.com, this utility will guarantee that you can sleep well as Orchestrator deals with your automated tasks.
Once you have downloaded the Health Checker, the very first task you will need to complete is a simple configuration to let the utility know where exactly your Orchestrator components are located. This is accomplished by editing the file Orchestrator Health Checker.exe.config. Within the file you will see three settings which are all prefixed with the name MyEnvironment.

As this utility will support multiple Orchestrator Environments, you can customise the prefix with your own environment names, for example, Production, Stating etc. Each of these settings have a value attribute also, which contains the actual setting you need to change to match your environment(s).
Health Check Time
After you have completed the configuration, you can launch the application. Assuming all your settings are correct and that you have of course permission to access the SQL Database and the Web Service, then the list of active runbooks will be presented.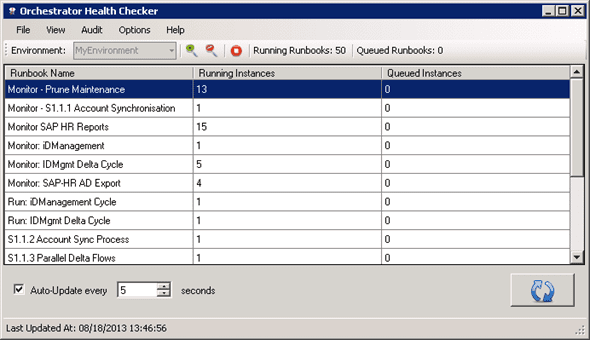 Double-click on any of the presented runbooks to be presented with a dialog showing the path to the runbook, and the server on which it is running. You can also click on the Analyze Orphans button to determine whether there are any runbooks stuck that you might need to terminate, and of course which runbook server these are running on.
On the Audit menu, you can quickly determine what clients are connected to your runbook servers, which is very useful if you need plan a maintenance. In addition, you also have the ability to enumerate all the runbooks that were created, modified, checked out, or even deleted from a specific date!
Orchestrator offers the ability to enable logging on each runbook, this is very useful in development and debugging, but in a production deployment the recommendation is to ensure this is disabled as it will create a lot of logs and slow down the performance. From the Audit menu, you can use the Logging enabled Runbooks to determine which runbooks need to be cleared.
On the Options menu, you will find one of the most useful settings in the utility, called Admin Options. In this dialog you have a very clean way of stopping all active runbooks on a server, which is very important when patching; this can also be used to manage a clean failover of the runbooks executing on one server to an alternate server.
What's Next for Orchestrator
We have covered the high levels of what this great free utility can do for your Orchestrator implementation. You can be sure that we will be checking back on this again to look in detail on how we can use this for other tasks, and maybe even how to accomplish that perfect failover.
In the meantime, be sure to keep an eye on Codeplex, as this tool is getting a lot of new features all the time, and you never know, if you ask for a special setting to be added, you might just get it added. As always, I look forward to your comments!