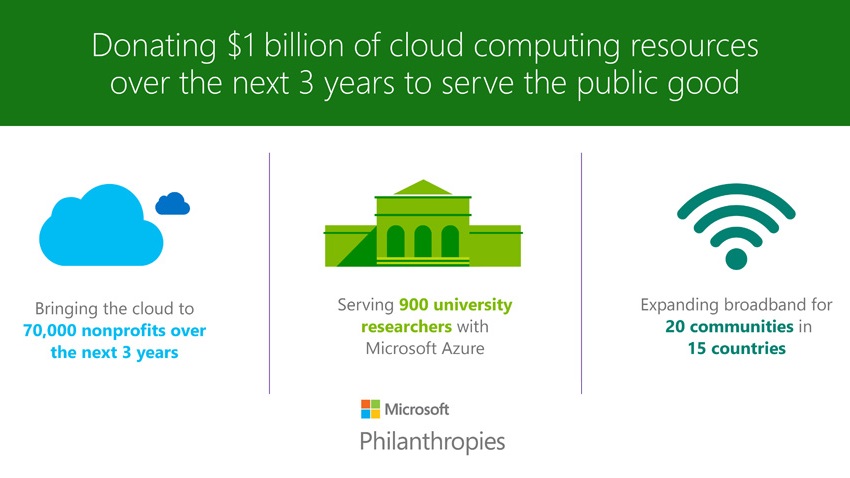 Microsoft announced this week that it will donate $1 billion in "cloud computing resources" over the next five years to nonprofits, faculty researchers, and communities that lack broadband Internet access. The goal is to help transform the cloud from a solution for the privileged into a resource that everyone can use.
"Cloud computing is one of the most important transformations of our time," Microsoft CEO Satya Nadella said this week. "It converts guesswork and speculation into predictive and analytical power. If we do not put this technology power in the hands of mission-driven organizations, we risk making a disproportionate investment in solutions to 'first-world problems' at the expense of solutions focused on the greater public good."
Microsoft's $1 billion donation is part of a broader effort, announced in December, to expand its corporate philanthropy globally, and to the people who really need it.At the time, the firm said that it would connect the benefits of technology to those who need it most and work harder to drive inclusive growth of the global economy.
"We will strive to bridge gaps within and across communities through more widespread access to technology that enhances the productivity and quality of life for the people of those communities," Microsoft president Brad Smith wrote at the time. "The opportunity to do this is greater than ever with the power of cloud computing and the potential of data science."
Today, we learn some specifics of this broad agenda via another blog post by Mr. Smith. And Satya Nadella has weighed in as well with his own post, plus a Financial Times op-ed piece.
"If cloud computing is one of the most important transformations of our time, how do we ensure that its benefits are universally accessible?" Mr. Nadella asks. "What if only wealthy societies have access to the data, intelligence, analytics and insights that come from the power of mobile and cloud computing?"
Smith, Nadella, and other Microsoft executives are in Davos, Switzerland this week attending the World Economic Forum to focus on what Smith calls "the fourth industrial revolution," a digital transformation brought about by ubiquitous, powerful, mobile and networked technologies. (His words.)
To tackle the cloud computing gap, Nadella says that Microsoft will create a "pro-cloud policy framework" that encompasses infrastructure, next generation skills development, trusted computing and leadership, and "would encourage more pervasive use of the public cloud for public good."
He cites a few concrete examples of how this can work—how the digitization of medical records and other socio-economic data has helped doctors in India treat cataracts in over 20 million patients, helping to prevent blindness, and how disaster relief workers used the public cloud to speed access to compensation, relief packages and other assistance after the 2015 Nepal earthquake. But as he notes, these are not isolated stories.
Mr. Smith offers further specifics, noting that Microsoft is creating a comprehensive and industry-leading donations program to provide cloud services to nonprofit organizations worldwide. This includes access to Microsoft Azure, Enterprise Mobility Suite (EMS), CRM Online, and an expansion of the Office 365 Nonprofit program, which has been updated to include include Power BI, "so nonprofit groups can make use of our newest business intelligence and data analytics."
The full Microsoft Cloud nonprofit program will begin rolling out this spring, and the goal is to serve over 70,000 non-profit organizations by the end of 2017. Microsoft's 2016 contribution alone should exceed $350 million, Smith says.
Microsoft is also expanding its Microsoft Azure for Research program by 50 percent. To date this program has provided free cloud computing resources for over 600 research projects on six continents, Microsoft says.
Finally, the software giant is working to solve the last-mile connectivity access problem.
"We're enthusiastic about the potential for TV White Spaces to bring broadband connectivity at a low cost to more communities around the world – and to do so in 2016, without waiting for the arrival of the next decade," Mr. Smith writes. "We are setting a goal of pursuing and supporting at least 20 of partnerships with local governments and nonprofit groups in at least 15 countries around the world by the end of 2017."
Pretty impressive stuff.