The Microsoft Surface 2 is faster and more flexible than Microsoft's original Surface tablet. The full-size USB 3 port and 1080p screen resolution of the Surface 2 make it more of a workhorse, as does the much faster NVIDIA Tegra 4 1.7 GHz CPU. Even the Wi-Fi is faster; it's still 802.11n, but connected to a faster bus which improves throughput. The battery life is a definite improvement for me: I can get a full working day with Wi-Fi on; or I can leave the cover closed for a couple of days without plugging the Surface 2 in and it's still ready to use when I pick it up again. But the change that might make the most difference is the Surface 2 kickstand. It now opens to two positions, meaning you can avoid glare and you have a better chance of it perching stably on your lap rather than tipping over.
Microsoft Surface 2 Tips and Improvements
Put it all together and the Surface 2 is a tablet you can use for real work. Although I have a Surface Pro, the Surface 2 has been my main computing device (in and out of the office) since it was released. Here are a few tips that I've picked up while using the Surface 2 over the last few months. Many of them also apply to the original Surface RT with the Windows 8.1 upgrade, but the extra oomph of Surface 2 matters in some cases. Editor's Note: See our original Microsoft Surface tips article for even more advice and suggestions.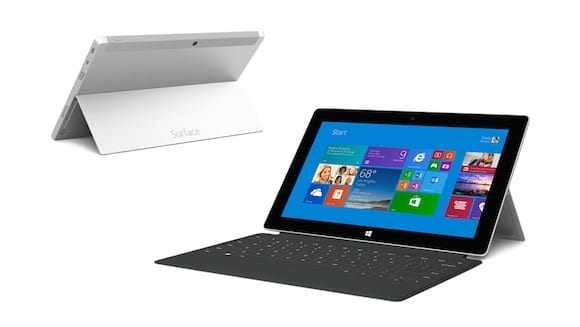 1. Use OneDrive, but Not Too Much
With Windows 8.1, Microsoft OneDrive is fully integrated, and you can automatically sync files to and from the cloud to your Surface (although the Store app may still call it SkyDrive). That means you can always have the latest version of your spreadsheet when you're on a plane with no Wi-Fi, even if you updated it on your PC just before you left for the airport. Note that you'll probably have more storage space in OneDrive than you do on your Surface (and it's easy to fill up your tablet). To prevent you from running out of space for the Windows RT OS to run in, OneDrive won't sync any files if you have less than 3Gb of free space. That doesn't just stop you syncing new files: It can also stop updates to files you already sync.
2. Get More Space
If you run low on space on your Surface, you can delete some local files, run the Disk Cleanup tool to remove the files left behind after system updates (let it scan your system, then click to remove system files as well) or set fewer files and folders to be available offline from OneDrive. You can see which files and folders are available offline from Explorer by selecting them. You can also change the setting with the context menu, but it's actually faster to check the status of files in the modern SkyDrive app and swipe up to get the app bar and set them online that way. Emptying the Deleted Items folder in Outlook and setting Mail and Calendar to save fewer days' worth of information will get you a bit of space back, or not syncing as many OneNote notebooks.
If you keep running out of space though, you can add a micro SD card (these now go up to 128Gb, but currently Microsoft supports cards up to 64Gb) and move files to the card. Put your documents, music and pictures libraries on there and if you keep everything in the cloud move the OneDrive folder there. Right-click on OneDrive in Explorer (it may still be labelled SkyDrive) and choose Properties, Location, Move, and pick the micro SD card. (You don't need to do anything complicated to prepare the SD card, just format it as NTFS first.)
That will have a slight impact on battery life though. The other, more drastic option, is to free up the space used by the recovery image, but then you'll have to use the USB stick you save the image on if you ever want to reset your Surface. Follow the steps to create a USB recovery drive and don't lose the USB stick.
3. Get a New Surface Cover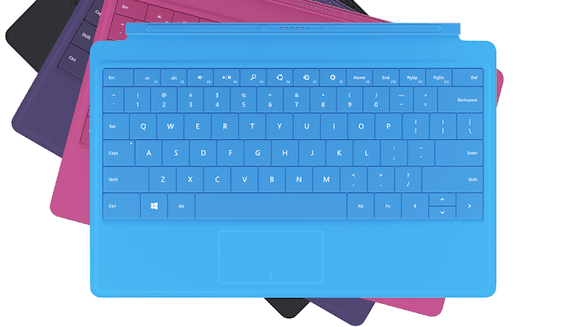 Whether you prefer the ultra-thin and silent Touch Cover or the more traditional Type Cover, it's worth picking up one of the new covers, even for use with an original Surface or Surface 2. The Touch Cover 2 uses the keys as a giant trackpad when you're not typing; you can swipe gestures over it, including selecting words from the predictive text suggestions. The new Type Cover 2 manages to be a millimeter thinner without having less travel, but it's also more rigid: With less bounce you can type faster but it's also much less likely to bounce out of the magnetic connection to the Surface. The trackpad is easier to use – and the keys are backlit, with a sensor that turns the light off if you're not typing and back on as soon as you put your hand on the keyboard. Even more usefully, there's a light to warn you when you've turned Caps Lock on.
4. Lock the Function Keys
The Type Cover has the function keys labelled as secondary keys on the top row of keys that give you charms, media controls, and the backlight control. The Touch Cover doesn't label them, but they're still there. If you use the function keys far more than the special keys, press Function-Caps to lock them to the function keys. You can still get the other controls by holding down Function when you tap a key.
5. Clip PDFs to OneNote 
If you want to get information into OneNote from a PDF, you won't find OneNote on the Share Charm. But you can choose Devices, Print, and Send to OneNote 2013, which puts it in the desktop OneNote app. You can even pick which section to put it in and print one page or the whole PDF. It's a bit trickier if you just want to clip a chunk out of a page in a PDF, because the Screen Clipping tool only works on desktop apps, and there isn't a way of seeing PDFs on the desktop in Windows RT.
Here's a quick fix: Zoom the page to show just the content you want, hit the volume down and Windows buttons at the same time to grab a screenshot of the page and then paste it straight into OneNote. As long as you don't copy anything else in between, the screenshot will be in your clipboard so you don't need to open or copy it manually.
6. Try Skype Video
The front-facing camera in Surface 2 is a whole lot better than in Surface RT. It's about five times better in terms of sensor size, but what really makes a difference is the automatic lighting adjustment so you don't have to turn the lights up before a call. The microphone is on the front of the chassis now as well, so people can hear you more clearly when using Skype or Microsoft Lync.
7. Get Another Charger for Traveling 
The Surface charger is small and neat, but shell out for a Surface Pro charger – it's larger, but it charges the Surface faster and gives you a USB port for charging your phone (or anything else) at the same time.
8. Pin Things to the Start Screen
The key to the Start screen in Windows 8 is pinning the tiles that make it useful to you, whether that's favorite websites, people you want to contact quickly, or deep links to news topics you want to track. The new Mail client in Windows 8.1 is good enough to win over all but the most faithful Outlook users – the automatic list of people you exchange mail with the most is particularly useful. But even if you stick to Outlook, pin the largest size of the Mail and Calendar tiles to the start screen to get an at-a-glance view of your next meetings and your latest messages whenever the Start screen pops up.
9. Use Microsoft Office
This is less a tip and more the reason to get a Surface 2. Yes, it's a lovely touch machine. Yes, it's a nice tablet for web browsing and games and apps (I like the new Hoppd app for Untapped). But the reason I pick it up every day and carry it to every meeting is that it's a thin, light, long-battery Microsoft Office machine that it handles book-length documents and that massive spreadsheet that has seven years of my accounts loaded – all without slowing down.