Microsoft recently discussed how they were going to extend the functionality of Azure Backup at the Worldwide Partner Conference (WPC) in Orlando last week. I had a call with some people in Microsoft to discuss Project Venus, which is a multi-step project that will quickly add desired features to Azure Backup.
What is Azure Backup?
Azure Backup is Microsoft's online backup solution that uses extremely affordable Block Blob storage as the backup target. I personally don't like the branding of Azure Backup, because I see it as three very different solutions that customers are constantly get confused about, often thanks to Microsoft announcements and marketing that gloss over significant differences between the offerings.
Here's how I refer to the solutions:
Azure Backup: This is a service where you download an agent called MARS onto each machine and configure a backup of files and folders only using a GUI on that machine. Data is encrypted, compressed, and sent straight to Azure on a full-then-incremental basis with up to 366 recovery points and up to 99 years of retention. Stated differently, this solution provides more than you'll ever need.
DPM + Azure Backup: A customer has System Center licensing and deploys Data Protection Manager (DPM) to backup files and folders, Hyper-V, SQL Server, Exchange Server, and SharePoint to a local disk repository with a short retention period. A single Azure Backup agent is installed on the DPM server, which extends DPM's functionality, allowing the admin to select all or a subset of the backup data and forward it to Azure for longer off-site retention, with support for Hyper-V, SQL Server, and so on.
Azure Backup for IaaS virtual machines (in preview): Using a console in the Azure management portal, you discover Azure virtual machines in your subscription and region, register the required virtual machines, and associate them with a backup policy. Backups are done of the virtual machine as an atomic unit (like you might do with Veeam, Altaro, etc, with on-premises virtual machines) on a daily basis and retained for up to four weeks, to be extended at GA.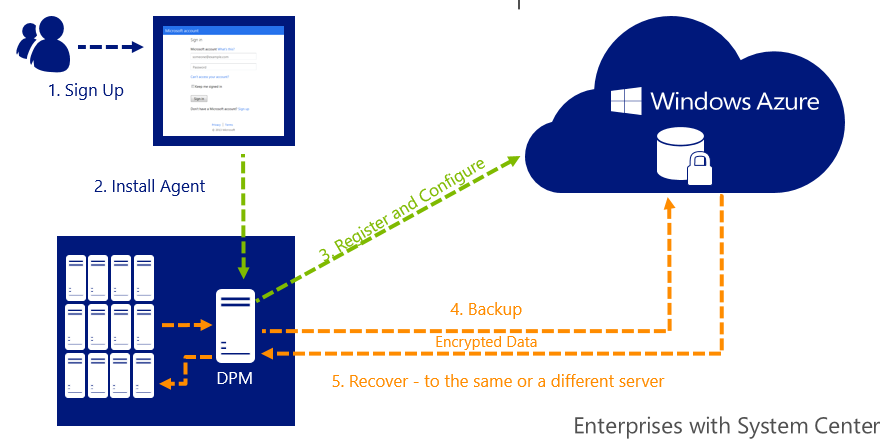 The two online backup services, as I refer to them, Azure Backup and DPM + Azure Backup, offer very different levels of functionality, which cause an issue. Online backup is a huge market that's quite mature, where most of the resellers I deal with have been offering resold services for up to 10 years, usually based on a product called Ahsay. The market for online backup is for small-to-medium enterprises, where each might be small, but they make up over 90 percent of all companies, where the sum is a lot of storage. Unfortunately, these companies have usually been unable to adopt Azure Backup because:
The basic Azure Backup product has limited backup functionality
DPM is needed for more functionality. System Center is too expensive and too complex for most SMEs.
In Europe, most SMEs rely on managed IT service providers (Microsoft partners) to supply and manage their IT. Those partners service many customers, and they require a centralized online multi-subscription console which Azure Backup in any form, lacks.

Microsoft's Project Venus
Details about Project Venus were hinted at in a recent announcement by Microsoft on improvements in hybrid computing. Microsoft stated that:
DPM agent functionality would be added to Azure Backup, enabling the basic online backup product to protect the same services as DPM.
A new centralized console would be added for Azure Backup.
At WPC 2015, Microsoft went into some detail on how they will do this. The steps will be:
Release a stripped-down version of System Center Data Protection Manager to Azure Backup Customers at no extra cost.
Continue to develop Azure Backup.
Eventually enable the customer to strip away DPM from the customer site, allowing the backup agent to be directly managed from a central console in Azure that's partner enabled.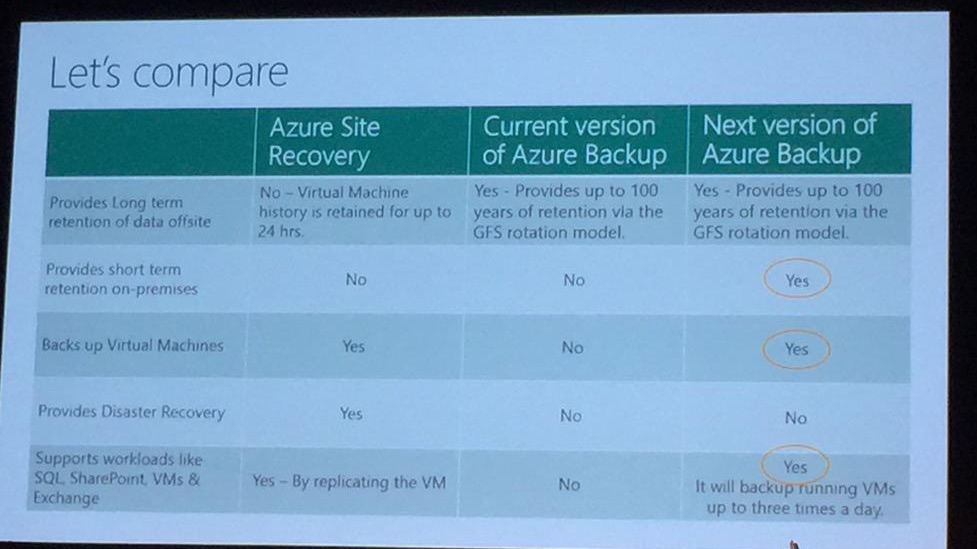 Stripped-Down DPM
What are Azure Backup customers going to get and how will it work? In return for using Azure Backup, customers will get rights to deploy a new on-prem edition of DPM that does not require System Center licensing. Speaking of licensing:
You will need a Windows Server license to deploy this DPM, which is already done if you have licensed virtualization hosts with Windows Server Datacenter edition.
This edition of DPM will come with rights to deploy the necessary SQL Server just for this installation of DPM.
What's been stripped out? As it happens, not much. Microsoft has removed the ability to backup to tapes. Otherwise, it's the same DPM that System Center customers can deploy. It will backup files and folders, Hyper-V virtual machines, SQL Server, Exchange Server, and SharePoint.
With this solution, you will be able to backup required services to local disk with short-term retention, and optionally forward the data to Azure Backup for off-site and long-term retention.
Note that instance pricing still applies to anything that you backup to local disk and don't forward to Azure. In other words, this is not a free DPM because you're paying for it through the Azure Backup instance charge.
If you need to restore data, use the local repository to restore recent data over the LAN, and download data from Azure via DPM.
Why Codename Venus?
I did wonder why the project was called Venus, and I had a bit of a "doh!" moment when it was explained to me in a briefing on this project that the current agent is called MARS. So,  I'll let you figure out the who's from Venus and who's from Mars thing!

Thoughts on Project Venus
If you're like me and you want a long-term solution to use Azure Backup for SMEs, you might have an initial reaction of disappointment to Project Venus. Why do we need to install DPM? I let this stew overnight, and I also listened to Microsoft's reasoning.
Admittedly, this isn't a perfect solution, and Microsoft realizes this. Using DPM is an interim feature that will allow Microsoft to empower SMEs to use Microsoft's very price-competitive solution by adding the necessary features. Personally, I think that it will be a great benefit to have a local backup repository, too. Microsoft has heard the feedback and giving us a DPM-based solution was the quickest way to give us what we need.
In the meantime, Microsoft will continue to develop a centralized portal and more powerful agents that can be directly managed from the cloud. I liked what I heard from the team when I talked to them, and I like what they described as the endpoint and the plan to transition to it (it must be seamless without interrupting backup or repository access). So, while the first step in Project Venus isn't perfect, we have to realize that it's the first of several steps to get us where we want to go, and that this first step is getting us essential features fast.