As of August 1st 2014, Microsoft added a fourth way that businesses could purchase Azure, in addition to the two credit card systems with a lack of control and enterprise agreements aimed at large enterprises; small-medium enterprises (SMEs), government and educational organizations can purchase Azure through Open, Open Value (OV) and Open Value Subscription (OVS) volume licensing programs.
SMEs, the core market for open licensing, can pre-purchase credit in units of $100 from one unit to an unlimited number and have 12 months to use that credit using the various services of Microsoft Azure. Azure is a huge product, so how is Microsoft distilling the message to avoid feature shock? In this article, I will discuss the three core scenarios that Microsoft is talking about in the SME market.
The Azure Sales Strategy for Small and Medium Enterprises
When you attend an event such as TechEd, there is a very clear message from Microsoft. Unlike some of their cloud competitors, Microsoft is selling one solution that enables customers to deploy data and services in any location:
On-premises: Using Windows Server, Hyper-V, and System Center
A Cloud operated by a Microsoft hosting partner: Using Windows Server, Hyper-V, and System Center
In Microsoft Azure: Based on Hyper-V
The unique selling point that Microsoft has is that they can provide once consistent platform that customers can use to run their business. If you want to remain on-premises, then you can. If you want to outsource in some measure with a local hosting partner, then you can. If you want to deploy in Microsoft Azure, then you can. If you want to use a mixture of any two or all three parts of this "cloud OS," then you can. For SMEs, there might be challenges to lifting and shifting IT from on-premises to the cloud, but that does not stop you from supplementing those services with functionality from Azure. In fact, there are features of Azure that should be of great benefit those those customers. Here's more about the three core scenarios that are part of the Azure sales strategy for small and medium enterprises.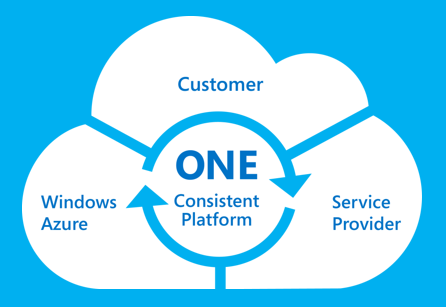 Microsoft's Cloud OS. (Image: Aidan Finn)
The Three Core Scenarios
It is easy to get lost in the vast array of developer, PaaS, and IaaS features that Microsoft Azure can offer. Most of the Microsoft partners that operate in the SME space have taken no more than a cursory look at Azure before now, so it would have been foolish for Microsoft to pitch out the entire range of services and say "Do X, Do Y, Do Z, offer A, B, and C, and don't forget M, N and L." Instead, Microsoft has identified three talking points for Microsoft partners that can solve problems for SMEs without using the big scary 'push the cloud only' message that other cloud vendors market. Each of these scenarios can supplement investments that SMEs have already made in on-premises IT and can solve some problems that they might face in the future:
Hosting websites
Deploying applications in Azure using virtual machines
Using Azure Online Backup for automated offsite backup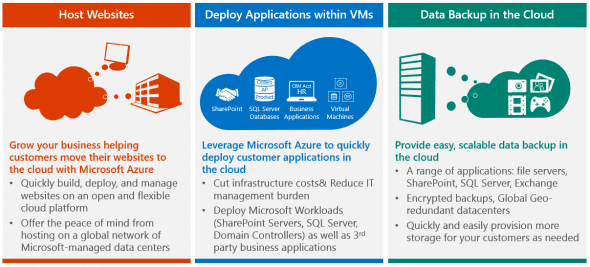 Scenario #1: Azure Websites
Hosting of websites is not exactly a new concept. You can go to any of thousands of hosting companies around the world, and pay them a few bucks a month to host your website. Some of them even offer a store of some kind that will pre-provision a CMS and backend database for you, such as WordPress on PHP with a shared server MySQL backend database.
Azure offers that same kind of service, but with the advantages that you get from hosting with a  big-3 cloud vendor. You can get a simple website (running in either a shared or dedicated hidden virtual machine) from Microsoft, you can scale the site up to a very powerful instance with lots of CPU and RAM, and you can scale it out to hundreds of load balanced web servers. The naïve IT pro might comment that this is all too much for an SME. Maybe it is; but why place an arbitrary limitation on how big a business can grow? Azure Websites allows "Mary the mechanic" to advertise her business using the same infrastructure as the likes of Citibank, HypoVereinsbank, or Barclays, all massive banking corporations. Mary can take a tiny bite out of Azure every month, paying either nothing (the low spec instances are free) or very little to market her business online. If demand, and therefore her business revenue, grows then Mary can scale up or scale out her presence on Azure and pay a little more. The benefit is simple: take advantage of a huge, globally located infrastructure and sell/market your business to your customers, no matter where they are, with great performance, and no that you can scale up/down to meet demands, with no long term capital investments; any business savvy planner should like the sound of that!
Azure Websites is based on IIS, but you can deploy a huge range of Microsoft and non-Microsoft applications and CMS systems, including WordPress, PHP, Joomla, Drupal, and more, all from the Gallery.
Scenario #2: Deploy Applications with Virtual Machines
Let's get something out of the way first; On more than one occasion I have heard someone proclaim that they would never "put their file server in the cloud" because they "didn't want it to be visible to the world". OK, that makes sense, but why you would ever want to open up the firewall to put your file server at the Internet's mercy completely baffles me! Any virtual machine that you create in or upload to Microsoft Azure sits behind a firewall. It's up to whomever is managing the Azure deployment to control that firewall, and it is pretty secure by default. You can punch holes (firewall rules are known as endpoints) through the firewall, or you can make your services available to on-premises users via private WAN connections (ExpressRoute) or encrypted site-to-site VPN connections.
An Azure virtual machine is a Hyper-V virtual machine. Unfortunately right now, they are restricted to Generation 1 virtual machines with VHD files. You can deploy a bare machine with an operating system (Windows or Linux), or you can deploy virtual machines with pre-installed applications, including things like SQL Server, SharePoint, Oracle Database, and many more non-Microsoft platforms and applications. There is a very nice selling point to Azure virtual machines: licensing. Microsoft licensing has never been this easy; when you deploy an Azure virtual machine from the gallery with Windows Server, the cost of the virtual machine includes Windows Server and you do not need CALs to access this virtual machine (it is similar to SPLA per-processor licensing). The same goes for a virtual machine with SQL Server pre-installed; the cost includes SQL Server, and you do not need any CALs to access SQL on this virtual machine.
Many scenarios are discussed by Microsoft including the dreaded Windows Server 2003 upgrade; if you decide to migrate applications and data to Azure, then you can avoid the entire big spend of a hardware and software refresh, and move to a more-affordable and flexible subscription model with Microsoft Azure. This type of solution also applies to regular refreshes and deployments of new services that would normally require new hardware to be deployed.
Scenario #3: Data Backup in the Cloud
Every business should have an off-site backup. There are many solutions for this, including those that are enabled by traditional on-premises backup solutions, and those made available from the myriad of online backup vendors and resellers.
So why would you be interested in Microsoft's online backup solution. Right now, it's a very simple solution that is light on management, especially when compared to the many vendors of online backup – partner reselling and management is sorely needed in Azure because most SMEs outsource their IT management. However, Azure Online Backup has one big advantage: price per GB per month. Microsoft can purchase and deploy storage at costs that only Amazon and Google can compete with, and Microsoft is determined to be competitive or cheaper than the other big 2 vendors when it comes to cloud storage. I have seen a number of cloud backup resellers double-take when I've told them about the pricing of Azure backup. I know, for example, that Azure backup is 33% cheaper than the online backup solution that one of the traditional block storage vendors owns.
There are two ways to leverage this service. The first is aimed at the smaller business that might have a single small server, or maybe a couple of virtual machines on-premises. An agent is downloaded to these machines, and they can backup direct to the cloud – note that you can continue to use Windows Server Backup to backup locally to USB for regular restores. A bigger solution is where you supplement on-premises backup, such as System Center Data Protection Manager, and selectively send a copy of backup data to Azure.
Note that the data is pre-encrypted (trust no-one or TNO) before it leaves the customer site and Microsoft never has the secret passphrase to decrypt the data. The data is also optimized – in my tests a 1.6 GB selection requires 660 MB of data to backup and restore.
There is Much More to Azure
Azure is much more than just these three scenarios. In my introduction presentations to technical staff, I expand on how we can use these services in more ways, and how we can use additional services like Traffic Manager, RemoteApp, and Automation to improve offerings and reduce costs. Microsoft Azure is here to stay so as the Borg say: resistance is futile!