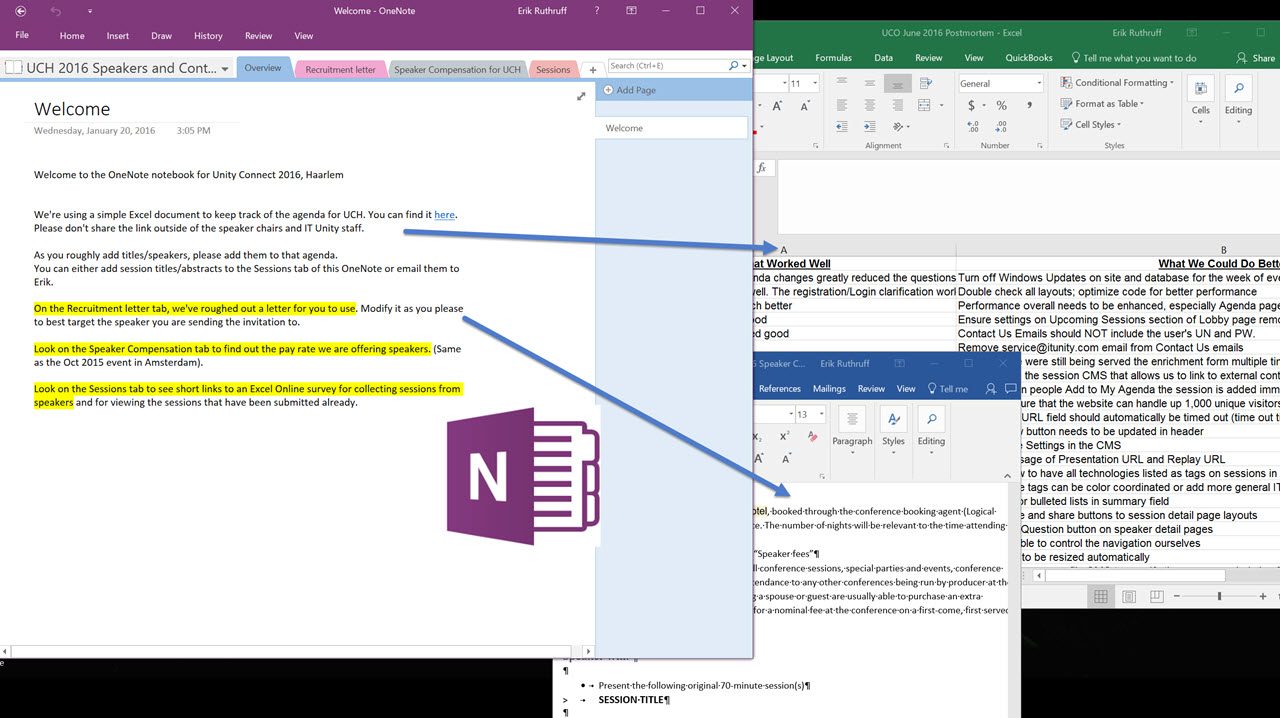 Creating good information management systems can be difficult. Document creation has largely been solved with Word, Excel, and PowerPoint. Business communication has been solved with Outlook and Skype for Business. Yet, many businesses still do not have a solution for managing information which does not fit anywhere. Some examples of this kind of information would be issue tracking, light project management, ticket handling, product summaries, shared team progress and action items.
Some large companies understand the importance of keeping on top of issues, tickets, meeting notes, action items, and project management so they have purchased specialized software to manage each task. However, many businesses leave those jobs up to their employees to find their own solutions. This usually means everyone finds their own system that works for them and everyone has a different system. While this works fine when everyone works alone, it can create issues when working in teams.
Trusting everyone to manage their own projects and information can empower those who have the proper skills and burden those who do not. Time management should not be an afterthought and avoiding the problem does not make it go away. Microsoft does sell a few products that help with project management, like Microsoft Project. But for many companies those tools are too expensive and cumbersome.
OneNote to the rescue
OneNote is a free note-taking program that Microsoft offers to everyone at no charge, and it can be the perfect information management tool for your business. OneNote is extremely flexible and can be easily set up to give structure to complex systems. All companies have some sort of system to manage projects and their status. Using several Word and Excel documents to manage issues and store progress updates can work, but it is not a good solution. OneNote provides an infinite blank canvas to track progress and include all types of media from images, to tables, to documents, inking, audio, video, and more.
Instead of hiding project status within Excel documents stored in a complex file structure on a server, teams can expose information in an easy-to-understand format with OneNote. With standard formatting techniques, OneNote can give hard-to-find documents or data more visibility in fewer clicks. With computers taking over so much of our day-to-day work, we generate a huge amount of data. OneNote can help connect that data without moving or duplicating it.
Does your company store testing documents in one folder with test requests in a separate network drive, or something like that? Well, you can respect the current procedures and put a table in OneNote with links to test data next to test requests. This makes sense to your employees and coworkers who want the data, while also keeping your existing server file structure intact.
Work how you want to work
OneNote has several levels of organization that gives you freedom on how to set up your notebooks. Some use cases call for pages to be moved, some call for sections to be created and closed. To-do items can be set using simple tags or by using Outlook Tasks. The Outlook Tasks can be assigned to team members and due dates set.
Leveraging OneNote in your company does not have a clear procedure, but it does have huge potential. Paired with Outlook Groups, OneNote can take hard-to-reach information and give it to remote users. When your team is on board with using OneNote, it can become the first stop to answer critical questions like what open issues do we have, how did we solve this problem last time, or what is holding up progress.
Through an upcoming series of posts on leveraging OneNote in your company, I will give detailed examples on several different use cases. I will also highlight where OneNote is missing features and when that can be a pain. Topics of this series include project management, note tracking, issue tracking, ticket management, and summary pages.