JumpCloud Touts Directory-as-a-Service (DaaS) Alternative to Active Directory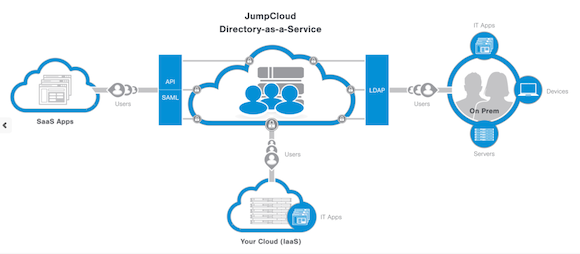 Boulder, CO-based JumpCloud has announced JumpCloud Directory as a Service (DaaS), a new offering that the company touts as an alternative to existing on-premise directory services like the Lightweight Directory Access Protocol (LDAP) and Microsoft Active Directory (AD).
Conventional IT wisdom in the Windows Server world has held that once an organization reached a certain size, it needs a directory solution — like AD — that can be used to authenticate and authorize users and devices, and to also help medium to large enterprises more easily contend with the forest (pun partially not intended) of employment, HR, and compliance guidelines that they need to follow. From keeping shipping clerks from viewing salary records on the HR network folder to making sure that access to network and computer resources are revoked when employees leave an organization, AD serves a vital role in the on-premise IT departments of medium to large organizations.
Is the Future of Directory Services in the Cloud?
Over the last decade or so, the cloud — and services like Google Apps, DropBox, SalesForce, BaseCamp, and others — have allowed startups and small businesses to get work done without building out a costly on-premise IT infrastructure, which has historically been based on the Windows Server stack. It's no secret that a lot of startups and small businesses don't have any Microsoft-branded infrastructure at all, other than Windows running on desktop machines, laptops, and tablets. These small businesses could do fine up until a certain size, conventional wisdom goes, then they needed to pony up for Windows Server licenses so they could run AD. JumpCloud seeks to replace the functionality of AD with a cloud-based solution, much like the aforementioned cloud solutions have done — to some degree — with their on-premise alternatives.
"As we have seen with the transitions from Siebel to SalesForce, Exchange to Gmail, and file servers to DropBox, JumpCloud is enabling the transition of one of the last on-premise technologies to a fully managed service: the user directory," said Rajat Bhargava, JumpCloud's President and CEO said in a news release announcing JumpCloud DaaS.
Directory as a Service Use Cases
JumpCloud CMO Greg Keller described a sample use-case where JumpCloud DaaS is well-suited: A school that mainly uses Apple MacBooks, but needed to spool up a server running Windows Server 2012 so they could setup group policy and active directory for device management. They then had to rely on another third-party solution — JAMF Software's Casper Suite — to more effectively manage those aforementioned MacBook clients.
Keller said that they've done exhaustive research of their target market, and they found many small and medium companies weren't eager to embrace an on-premise directory solution. "Some of theses companies are born in the cloud, and from Day 1 they've never had a piece of Microsoft infrastructure," Keller says. "They've used Google Apps…they've never used Microsoft Exchange, but they've hit an inflection point. It's an IT conundrum…what do they do from an IT policy management perspective when they hit that 50th, 60th, or 70th employee?"
Keller goes on to describe a scenario where a 28-year old IT professional — an IT generalist at a small company — has plenty of experience with managing Google Apps, setting up Linux servers, and administering DropBox and SalesForce, but who has little experience managing Windows Server, let alone managing AD. What does he do when they reach 50 seats? Keller says there are really two choices for on-premise directory services: AD or LDAP.
We discussed the 28-year old IT pro with no Windows Server or AD experience, but what about LDAP? "Some younger IT guys who are Linux-savvy will pull their hair out and chew tinfoil in an effort to startup LDAP and keep that alive," Keller says. "We're saying you don't have to do this! We've got this for you — we're stripping away the pain."
Keller explained that JumpCloud DaaS uses agents that admins can drop on all of their devices that they want to manage, and management can be done in a neutral way, regardless of users are using Windows, Linux, or MacOS client devices. JumpCloud DaaS is available now, and the first 10 user accounts are free. Pricing begins at $10 per user per month after the 10th user.
So would you consider using a cloud-based directory service instead of on-premise AD? Please drop me an email with your thoughts, add a comment to this blog post, or contact me on Twitter or Google+. You can also catch up on my posts in the Petri IT Knowledgebase forums.