Citing a variety of issues that hampered growth, Google this week posted its earnings report for the final quarter of calendar year 2014. The search giant reported net income of $4.76 billion on revenues of $18.10 billion for the quarter, both of which were improvements over the same quarter a year earlier. But the results came in under expectations.
The highlights:
Ad revenue. Approximately 95 percent of Google's revenues come from advertising, and that business is still growing—it grew 14 percent in the quarter, year over year—but more slowly than before because of an ongoing shift to mobile, where advertising is much trickier. Google provided the following chart showing growth in "paid clicks" over the past two years. (Long story short: Paid clicks are trending down on Google web sites but up on third-party sites.)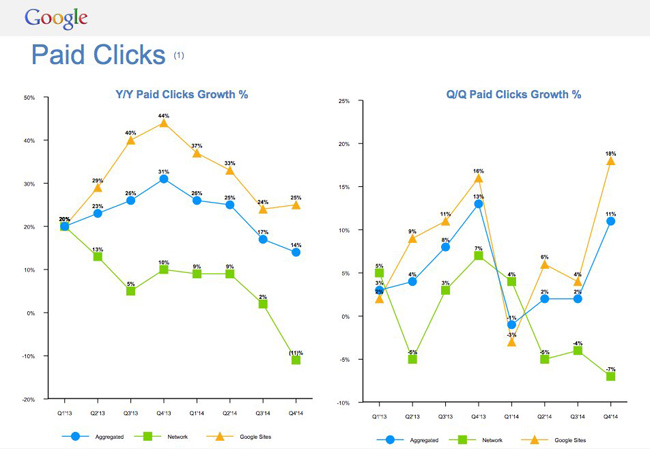 Revenue from "other" businesses. Google's "other" businesses–the Play content store, Google Apps, enterprise cloud, and so on–actually grew faster by 20 percent than the rest of the company, albeit it at a much slower rate than the past three quarters, which all saw 50 percent growth. These businesses together contributed $1.9 billion in revenues in the quarter. By comparison, Apple's "services" businesses–iTunes Store, App Store, Apple Pay, and other services–contributed almost $5 billion in revenues in the same quarter.
Impact from a strong US dollar. Google CFO Patrick Pichette said that "a strong US dollar" erased $468 million in revenues in the quarter and hit the Google Play Store particularly hard. The message here was that revenue growth "despite strong currency headwinds" is good news. But this issue didn't seem to impact Apple very much.
Not enough Nexus 6. Google launched its Nexus 6 phablet in the quarter but had trouble getting enough of the devices into market to meet demand, the firm said. It's unclear how sales of a single smart phone could have impacted Google's quarter, given the relatively low sales of the Nexus line overall, but this device falls into that "Other" category. (The Nexus brand is meant to show partners and customers what a "clean" Android device should look like, similar to Microsoft's Surface and Signature PC lines.)
Product cancellations. Addressing its decision to kill off Google Glass, the firm said that it would aggressively halt activities "in those cases where projects don't have the impact we hoped for." It's fair to say that Google Glass had an impact. It just wasn't a positive one.
Write downs. Google says it took a write-down on real estate holdings reclassified some stock-compensation expenses. Yep, they talked real estate.
In somewhat related news, the Wall Street Journal on Thursday reported that Microsoft is investing in Cyanogen, a startup that aims to "take Android away from Google." Microsoft's mobile OS, Windows Phone, has barely made a dent in the market and while it is the clear number three in a market dominated by Android and iOS, it is also a very distant number three with only 3-4 percent market share. Microsoft has not commented on the story, but if true it's reasonable to assume that the software giant is at least considering a Cyanogen-based Android version as another option in mobile.