Paul Thurrott's Short Takes: April 29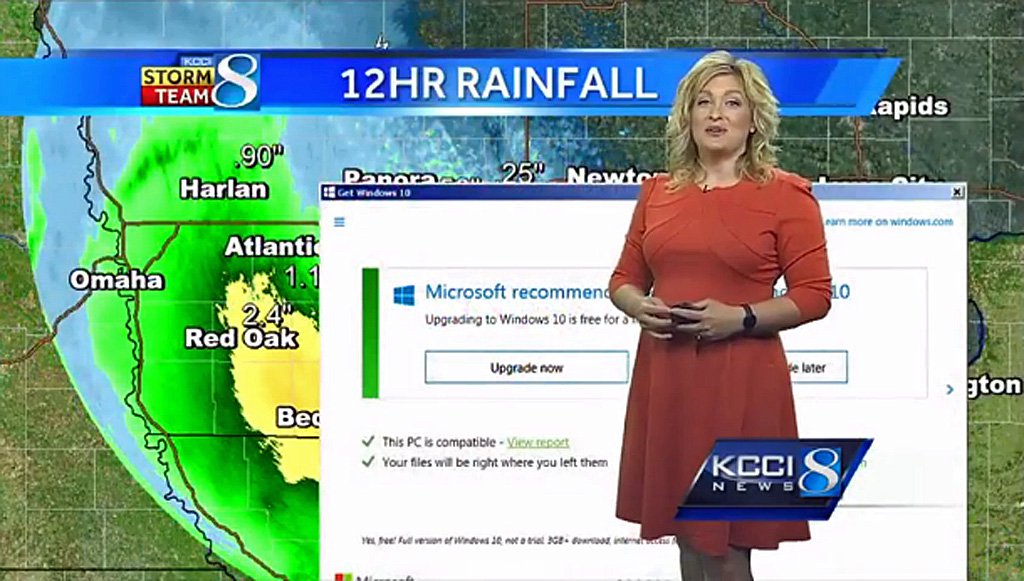 Because Microsoft controls the weather now, this edition of Short Takes focuses on Microsoft's use of DNA for storage, Skype's one billion mobile downloads, Microsoft's Windows phone messaging, Google's pending EU sanctions, Google copies Microsoft's mission statement, Amazon's AWS surge, and much more.
Microsoft is testing synthentic DNA as data storage
If this works, maybe they can bring back unlimited storage in OneDrive. Anyway, Microsoft has purchased ten million long oligonucleotides—in other words, DNA—from Twist Bioscience to encode digital data. "DNA is a promising storage media, as it has a known shelf life of several thousand years, offers a permanent storage format and can be read for continuously decreasing costs," Twist Bioscience's Emily M. Leproust said. "Our silicon-based DNA synthesis platform offers unmatched scale and product quality that vastly accelerates the ability to write DNA at a cost enabling data storage." That's actually pretty amazing.
"Microsoft is using synthetic DNA to store data"
The margarine of DNA types.
Skype hits 1 billion mobile downloads
Microsoft announced this week that mobile app versions of Skype—on iOS, Android, and Windows phone—had hit one billion downloads, a pretty significant milestone. That said, there are only 340 million active Skype users, so many of those downloads are either never used, or are used by people already using Skype on PCs. Their next milestone should be making Skype actually work reliably.
"Microsoft updates Groove for Windows 10 PC, phone and HoloLens on Windows Insider Fast ring"
So an audience of 3, then.
Windows phone: Do you believe what Microsoft says? Or what it does?
This week, Microsoft once again sent out some contradictory messages about its beleaguered Windows phone platform. First, a purposefully leaked internal memo claimed to Microsoft employees and partners that the software giant was "committed" to supporting Windows 10 Mobile for "many years." But this week, Microsoft also starting offering a BOGO deal on its poorly-selling Lumia 950 phones, where you buy a Lumia 950 XL and get a Lumia 950 (valued at over $500) for free. So tell me. Which of those two things more accurately describes how Microsoft really feels about Windows phone's prospects?
"Microsoft Surface Phone: What's the story so far?"
Well, so far it's just fan fiction.
Google will face EU fine, according to report
Reuters is reporting that Google will almost certainly face its first EU-based antitrust-related sanctions this year, for its shopping site-based transgressions. And those sanctions will almost certainly include a fine. But as a lawyer associated with Google noted, that's all according to plan. "From a pure profitability perspective, it is better off dragging out the competition case, continuing its practices for as long as possible, and ultimately paying a fine that will be smaller than the profits it generates by continuing the conduct," he said. Hopefully, the sanctions include behavioral remedies, too.
"Have we reached peak Apple?"
No. Just peak headline.
Now, Google is copying Microsoft's mission statement too
Google CEO Sundar Pichai is not a founder, but Larry Page and Sergey Brin let him write Alphabet's "founders letter" this year. And what he delivered reads like something Microsoft would communicate.as Julie Bort correctly points out on BI. Google's enterprise customers—yes, they have some—are "transforming their businesses by using our enterprise productivity suite of Google Apps and Google Cloud Platform services," he writes. And Google's "long term investments in productivity tools" are supported by its "machine learning and artificial intelligence efforts." Sound familiar? No? How about this little usurpation of Satya Nadella's favorite phrase andword? "Technology is not about the devices or the products we build," Pichai writes. "Technology is a democratizing force,empowering people through information." That's an astonishing level of plagiarism.
"Microsoft launches 'cool blob' Azure storage – at 1¢ per GB monthly"
Or, as The Register puts it, "Microsoft joins the 1c/GB/month cloud storage caper."
Amazon profits driven by cloud business
Amazon delivered blockbuster financial results yesterday, a sentence I've never been able to write before. It earned a net income of $513 million on revenues of $29.1 billion, compared to a $57 million loss on $22.7 billion in revenues a year earlier. But the standout, apparently, was Amazon's cloud business, which generated $2.6 billion in revenues, up from $1.6 billion a year earlier. I'd love to compare the AWS figures to those for Azure, but—alas—Microsoft does not provide that kind of transparency. Instead, Azure revenues (and profits/losses) are lumped together with a wide range of private and hybrid server products and services it collectively calls the "intelligent cloud." It's not so much apples and oranges as it is apples and apples and more apples.
"Why Investors Should Be Ecstatic About Microsoft Corporation's "Poor" Earnings"
Because "poor" is better than "disaster"?
The FBI can now hack millions of devices with a single warrant
And you thought our government wasn't efficient. The Supreme Court on Thursday approved a change that lets U.S. judges issue search warrants that, in effect, greatly expand the FBI's hacking authority, Reuters reports. "Under the proposed rules, the government would now be able to obtain a single warrant to access and search thousands or millions of computers at once; and the vast majority of the affected computers would belong to the victims, not the perpetrators, of a cybercrime," Senator Ron Wyden of Oregon explained in a statement. Or, as the DOJ puts it, just a minor rule change.
"'Textalyzer' device could detect texting and driving"
Sorely necessary.
Carl Icahn knee-jerks on Apple's bad news in China
Carl Icahn is one of those immediately unlikable people, a billionaire meddler who likes nothing more than threatening the companies he invests in. So it's unclear how we should react to this little bit of news: After Apple this week said that China sales were slower than expected, Mr. Icahn sold his entire stake in Apple, which I estimated to be worth over $4 billion. "You worry a little bit, maybe more than a little, about China's attitude," he said, noting he had called Apple CEO Tim Cook personally to explain the sale. Of course he did. Dick.
"Here's How Snapchat Might Be Beating Facebook"
Here's how it may not be.
Former Moto exec is hired by Google
Former Motorola president and COO Rick Osterloh left his company after parent Lenovo decided to kill the Motorola brand, and now he's surfaced at … Google. Where he will report directly to the CEO and oversee most of the firm's hardware devices, including Nexus phones and tablets, Pixel tablets and Chromebooks, Chromecast, OnHub, ATAP and more. What's interesting about this is which Google hardware isn't under Mr. Osterloh. Most notably, Google Cardboard, the firm's VR product line is not. And that is most curious.