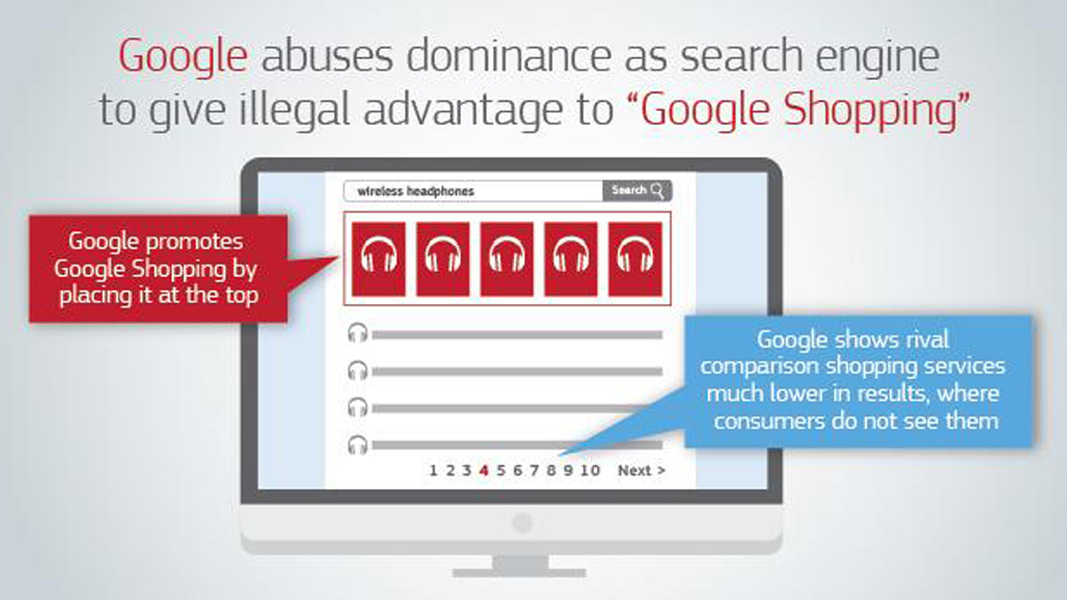 As we've seen before with Microsoft, Intel, and Apple, the EU is not shy about protecting competition. Now Google has learned this lesson as well, with the EU fining the search giant a record €2.4 billion—or $2.71 billion—for its anticompetitive business practices there.
More specifically, this case is about online shopping. Google is being separately charged in at least two other antitrust concerns involving online search advertising and Android. Right. Google's two most-dominant products.
"Google has abused its market dominance as a search engine by giving an illegal advantage to another Google product, its comparison shopping service," the EU complaint reads. "The company must now end the conduct within 90 days or face penalty payments of up to 5 percent of the average daily worldwide turnover of Alphabet, Google's parent company."
This case is clear-cut: As I've noted before, Google was found to have artificially doctored its search results to favor its own services over those of niche or vertical market competitors. And because it is the gateway to the Internet for most of the EU's population, with over 90 percent usage share, it has unique insight into what people are searching for, so it can quickly ramp up its own offerings to compete with any new EU-based services.
"Google's strategy for its comparison shopping service wasn't just about attracting customers by making its product better than those of its rivals," EU Competition Commissioner Margrethe Vestager said in a prepared statement. "Instead, Google abused its market dominance as a search engine by promoting its own comparison shopping service in its search results, and demoting those of competitors."
Google is still arguing its position for some reason, but the fine means that the case is now over, save what promises to be a lengthy appeals process.
"Google shows shopping ads, connecting our users with thousands of advertisers, large and small, in ways that are useful for both," Google general counsel Kent Walker explains in a post to the Google in Europe blog. "We believe the European Commission's online shopping decision underestimates the value of those kinds of fast and easy connections … people usually prefer links that take them directly to the products they want, not to websites where they have to repeat their searches."
The EU complaint is not about convenience, however. It's about Google's "systematic" strategy of shutting out competitors by artificially directing users to its own comparison shopping service, where it earns further advertising dollars. "The most highly ranked rival service appears on average only on page four of Google's search results," the EU statement notes, "and Google's own comparison shopping service is not subject to Google's generic search algorithms, including such demotions."
As before, Google also carted out the two obvious examples of companies that have done extremely well in online shopping—Amazon and eBay—despite its own search dominance. But one might as easily brush aside these lone examples as the exception to the rule. Also, neither is a European company, and Google has no list of EU-based firms that have thrived during its time channeling shoppers to its advertisers.
"Google has abused its market dominance by giving its own comparison shopping service an illegal advantage," the EU says. "Google's illegal practices have allowed Google's comparison shopping service to make significant gains in traffic at the expense of its rivals and to the detriment of European consumers."
Naturally, Google says it is considering an appeal. And I do expect the firm to do so, which could add a few more years to what has already been a glacial process: The EU formally charged Google with this crime over two years ago.
But in addition to pending advertising and Android fines, Google could now face additional charges based on this case: The EU says that the shopping case is now a "precedent" on which it could build similar cases against the search giant. "The Commission also continues to examine Google's treatment in its search results of other specialized Google search services," the EU statement explains.