Driver Detective Driver Updater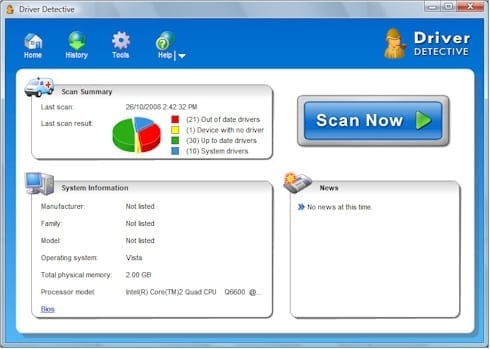 Traditionally, locating the right driver for a PC, server, or peripheral has required that you know the specifics of your device's manufacturer, model number, your OS version, the date of your current or placeholder driver.  This guide outlines how to use an automated driver 'locate and install tool' called Driver Detective to source the correct drivers for your device or PC without scouring hardware vendor's websites.
Note: Driver Detective retails for $29.95.  If you're looking for a free driver update try Device Doctor (portable USB version also available).
Step 1: Download and Install the Driver Updater Utility
To start the automated update process, grab the Driver Detective installer download available directly here. (3.8Mb)
Driver Detective is built on the Microsoft .NET 2.0 platform, so if you're running Windows XP SP1 or SP2, the app will download the .NET framework for you automatically.  If you're running XP SP3, Windows Vista, or Windows 7, the framework is baked into Windows by default. The average install time is about 30 seconds.
Step 2: Start the Driver Scan and Search
In some instances, Driver Detective's "Universal Match Intelligence" technology may be able to identify your PC's brand and model number automatically reducing scan and compatibility check times.
In our test case, we were using a custom built machine, so scan presets weren't available.  This wasn't an issue however.
Click the Scan Now button on the top right: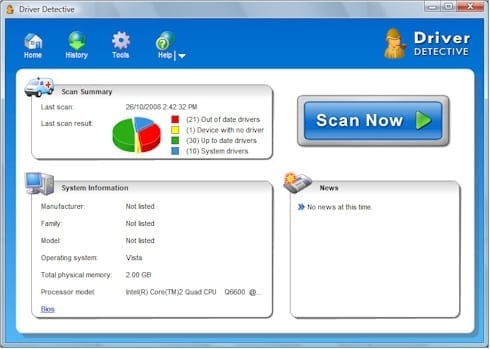 The driver scan will search your PC for internal hardware components and even currently unplugged peripheral devices.  The average scan time is about two minutes or so.
Step 3: Review Hardware with Out-of-Date Drivers and Update
The scan results screen shows the number of outdated drivers currently installed (in red), the devices with no driver installed at all (in yellow) and updated devices in green and blue.  Each driver has a "?" icon beside it, providing a direct pipeline to Driver Detective's support department where you can ask a question prior to updating if you're unsure.  (very handy feature)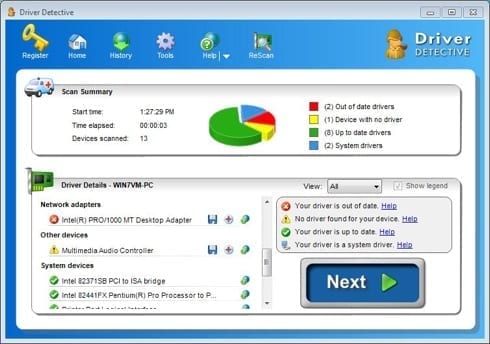 Select Next to continue to the downloads section…
Step 4: Download and Install the Recommended Driver Updates
After clicking Next, You can select which drivers you'd like to download direct from Driver Detective's servers.  The driver files are pre-screened for integrity to ensure the contents are complete and virus-free, and also verified for device compatibility.  Here's a screenshot of the download manager: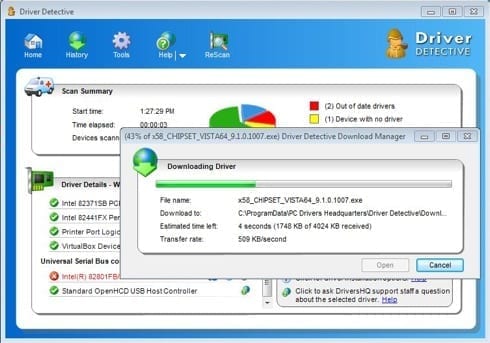 It should be noted that the driver packages that are downloaded from the Driver Detective servers are originally from the device manufacturer.  Driver Detective downloads the drivers to a specific folder on your hard drive and auto runs the installer from the manufacturer.  In the case of our test machine, Driver Detective launched the Intel chipset upgrade installer: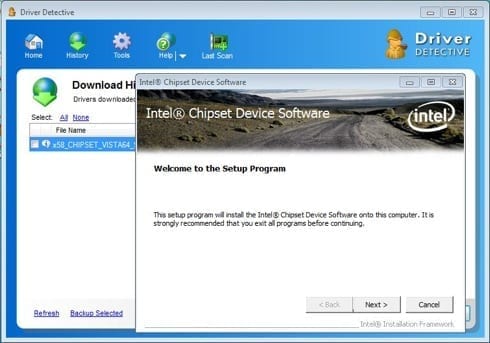 After the manufacturer's install process has completed, Driver Detective prompts for a re-scan to ensure the drivers were installed correctly.  You should also check your PC's Windows Device Manager (Start>Control Panel> System) to review your devices.
Success!
Final Notes and Conclusion
Driver Detective has some interesting settings available as well.  The app allows you to custom-configure your PC's brand and model number to speed up scanning and compatibility checks.  Here's a screenshot of the configurator for this: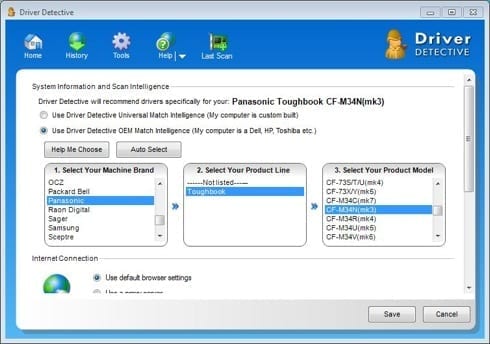 Our test machine for this guide was running the Windows 7 Release Candidate (Build 7100) and Driver Detective worked seamlessly.  This bodes well for Windows 7's release.
Of special note for Systems Administrators, Driver Detective supports drivers for Windows Server 2003, and a plethora of server and storage card/RAID products, making it a very handy tool to have around.
Driver Detective also supports both Windows Vista 32 and 64 bit, as well as Windows XP 64 bit.  A single license for Driver Detective can be used on up to 10 computers.
Special thanks to Mike at PC Drivers Headquarters (Driver Detective's Developer) for providing us with the background info needed to assemble this guide.