Not too many years ago, it would have been considered a luxury if a business could afford to deploy the latest technologies in a timely manner. At best, SMEs that traditionally had money spend on IT, such as legal practices and financial consultants, might upgrade servers and PCs once every few years; while large companies would be weighed down with monolithic IT infrastructures that were expensive and complex to upgrade.
While penny pinching IT departments eked the last breath of life out of every server, PC and other infrastructure components, companies with a more balanced approach would spend to save, giving them a happier workforce and a competitive advantage because of their ability to innovate faster.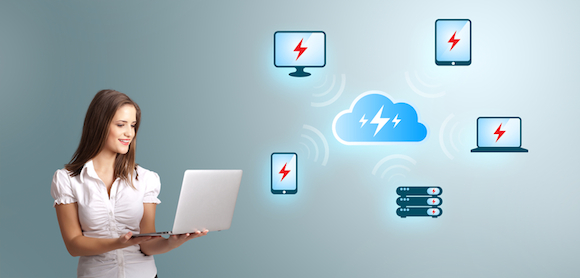 Cloud computing adoption can make IT more agile and efficient, which can lead to a competitive advantage for many organizations. (Image: Dreamstime)
It's easy to dismiss cloud computing as another marketing bandwagon, usurping virtualization as the previous favorite, but what will be the fate of companies and IT professionals that fail to embrace it?
The Cloud Computing Competitive Advantage
Gone are the days where equipment needs to be procured for production servers, and budgets negotiated for research and development. Environments can be provisioned in minutes, with unlimited access to storage, memory and processing power with no upfront costs. But the best part is that resources that were once only available to large enterprises, are now accessible to even the smallest enterprises.
The cloud enables organizations of all sizes to develop and test new solutions quickly and cheaply, and then deploy them into production without the large upfront investments that traditionally might have prevented new projects being approved.
Cloud Benefit: Economies of Scale
Need to add an extra 2GB of memory and additional processor to a server? No problem in the cloud. A task that would take considerable time, planning and initial investment in the physical world can be achieved within a few clicks in the cloud, leaving IT to concentrate on developing new solutions rather than trying to maintain existing infrastructure.
Dynamic resource allocation allows organizations to scale systems as required and pay only for what is being used. As demand for a service grows, resources can be added automatically to ensure performance doesn't degrade, and when that demand decreases, the additional resources can be taken offline. This kind of flexibility wasn't available in the datacenter of yesteryear. You rented a server, and whether fully utilized or not, a fixed monthly fee would be incurred.
Linux or Windows, Public or Hybrid? The Choice is Yours
The public cloud isn't suitable for all applications, especially those that involve processing or storing of sensitive data. Regulatory codes can also place strict requirements on how and where data is stored, transmitted and accessed. Consequently, it may be that some organizations will opt to build their own private cloud infrastructures, or use a hybrid public/private cloud.
Much like OpenStack, and unlike Amazon AWS, Microsoft Azure is available as a public, private and hybrid cloud solution. Azure Pack provides a familiar management experience no matter what cloud architecture you choose. Additionally, if you choose OpenStack it doesn't mean you are limited to running Linux, and Azure also supports various Linux flavors. The choice of cloud OS is more about the management stack than individual components.
Cloud Risk versus Benefit
The cloud is ushering in a new era of IT services that are transforming the way we do business. From services that consumers are familiar with, such as Google Docs, to large-scale enterprise infrastructures based in the cloud, there is something on offer for all budgets and needs. Even hitherto reluctant financial service companies are beginning to take tentative steps into the cloud.
As many of the most popular cloud services are provided by US companies, an issue of trust still remains for businesses based outside that jurisdiction. Globally dispersed datacenters help to calm some of those fears, but the threat of economic sanctions and a recent ruling by a US judge to hand over data stored by Microsoft in its Dublin datacenter is leaving some businesses feeling nervous.
Sovereign Clouds
Despite these fears, sovereign clouds that operate only within national borders don't provide an answer. Some European countries are only too quick to comply with requests from US law enforcement agencies, and sovereign clouds would be more a symbol of national pride than a practical solution to privacy worries for countries such as Russia and China.
As required by the Chinese government, Microsoft has already partnered with a local Chinese datacenter provider to bring Azure to China. This approach provides some assurances that China can't be cut off from the cloud should it face US sanctions, and other US CSPs are following suit.
Azure has long been available in Russia, and there is currently no strict Internet regulation. But as of September 2016, all Internet service providers and websites will be required to store the personal information of Russian citizens on the territory of the Russian Federation, a move that could be designed to force foreign companies to build datacenters in Russia, or partner with local providers.
The Future of IT is in the Cloud
The increased use of encryption and geographically dispersed datacenters will open the cloud to more markets, industries and relieve privacy and service continuity fears. As the technologies develop, it will become more difficult to ignore the cloud for the reasons often cited today, and those who get left behind won't be able to compete in a globally agile environment. Cloud services will become an integral part of the Internet, much like DNS or Hotmail.