In this Ask the Admin, I'll show you how to back up all data on your Windows XP PC, including the operating system. You should note that you can only use the backup created in this article to restore Windows XP if you have the original Windows installation media.
Create a Backup of Windows XP
The backup program in Windows XP can be found on the Start menu under All Programs, Accessories, and System Tools. Let's use the wizard to create a full backup of Windows XP. You should be logged on as a local administrator to complete this task.
In the Backup or Restore Wizard, click Next to begin on the welcome screen.
On the Backup or Restore screen, check Back up files and settings, and click Next.
On the What to Back Up screen, check All information on this computer and click Next.
On the Backup Type, Destination, and Name screen, click Browse and select a location for the backup and click Save. This should preferably not be on the same physical drive that you are backing up – for instance, a removable USB disk would be a good option.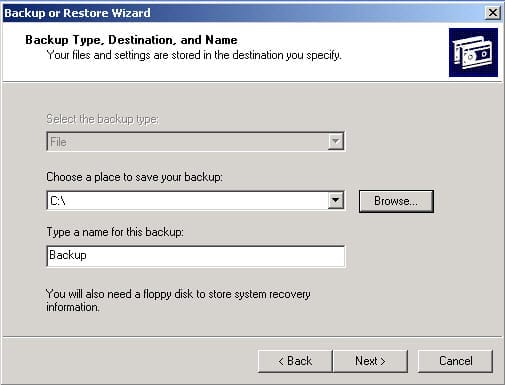 Click Next to finalize the settings.
Click Finish to start the backup.
The Backup Progress window will show you the status of the backup operation, how many files are estimated to be backed up, and how long the job is likely to take.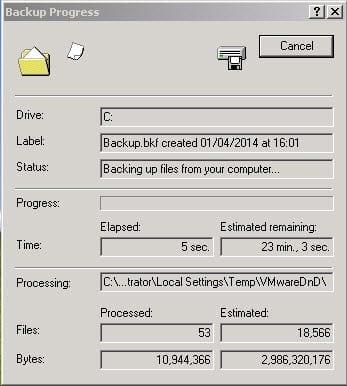 When the backup is finished, you'll be prompted to insert a floppy disk. Click OK on the prompt. If you don't have a floppy disk drive, you can click Cancel in the error message. The ASR files are not required to restore Windows XP.
Finally, when you're done click Close in the Backup Progress window.