Azure Site Recovery Now Supports SAN-to-SAN Replication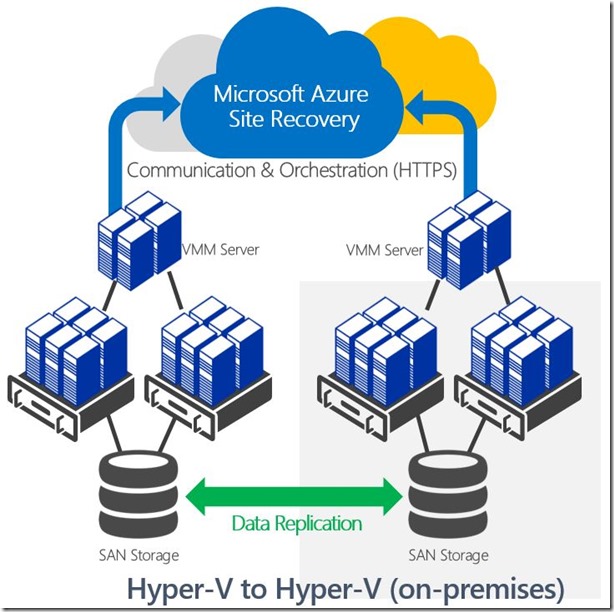 Microsoft just announced that Azure Site Recovery will now support the orchestration of site-to-site storage area network (SAN) replication for customers with Hyper-V and System Center. In this article, I'll explain what that will mean for Azure Site Recovery customers.

Background on Azure Site Recovery
When it was first launched, Azure Site Recovery (ASR) was a service for orchestrating replication of individual virtual machines between two sites that were running Hyper-V and managed by System Center Virtual Machine Manager (SCVMM). The service has grown since to include:
Orchestration of replication between two vSphere sites
Replication and orchestration from a site with Hyper-V and System Center to Azure
Using Azure as an orchestrated DR site in the cloud for sites that have Windows Server 2012 R2 Hyper-V or Hyper-V Server 2012 R2
Hyper-V replication was based on Hyper-V Replica (HVR), which provides per-virtual machine asynchronous replication. While this provides a free replication method that is storage agnostic, it is not perfect for all customers; some want synchronous replication for zero data loss (recovery point objective or RPO) and consistent failover of multi-tier applications. This is something that has only been possible with SAN-to-SAN replication or specialized software-based storage solutions.

Azure Site Recovery and SAN Replication
Microsoft launched a preview of ASR SAN replication back at TechEd Europe 2014 in October 2014 and the new service was made generally available on February 18. This is a new end-to-end orchestration and replication service that is based on SCVMM managing Hyper-V hosts, clusters, and the storage systems (SANs).
SCVMM has the ability to manage SANs and provision LUNs in a Hyper-V farm or cloud via the industry standard, SMI-S. Those who take advantage of this feature have the ability to simplify storage management:
SAN administration is abstracted and revealed through a standardized UI in System Center
Storage can be graded
LUNs are easily provisioned and zoned
The creation of cluster shared volumes (CSVs) is turned into an incredibly simple process
ASR takes advantage of this SMI-S manageability to reach into the SAN to orchestrate replication. Microsoft has worked with partners such as HP (3PAR StoreServ), NetApp (FAS Storage), EMC (VMAX SRDF), Hitachi, and others to update their SMI-S providers and validate this technology. The solution, illustrated above, allows one Hyper-V site with a SAN to replicate LUNs to another site with a SAN, all managed by SCVMM and orchestrated by ASR.
This solution brings orchestrated synchronous replication to high-end Hyper-V sites. There is zero data loss during failover. This advantage with the high cost of SAN storage and licensing, short length links, and high-end WAN connections, but the customers who need this sort of availability can justify the budget.

An additional advantage is that virtual machines can be replicated as a group. N-tier applications can be brought online in the DR site with cross-machine and cross-tier consistency, which is not possible with HVR where virtual machines are replicated as individuals.
HVR cannot replicate Shared VHDX, or LUNS that are connected to virtual machines via iSCSI or fiber channel. Guest clusters that are replicated using ASR-managed synchronous replication can be replicated to and failed over to the secondary site.
The whole solution is tied together by the Recovery Plan feature of ASR, offering one-click failovers, and that's where ASR offers a very nice solution by making your worst day in IT easier by simplifying failover.