WPC 2015: 5 Announcements IT Pros Should Care About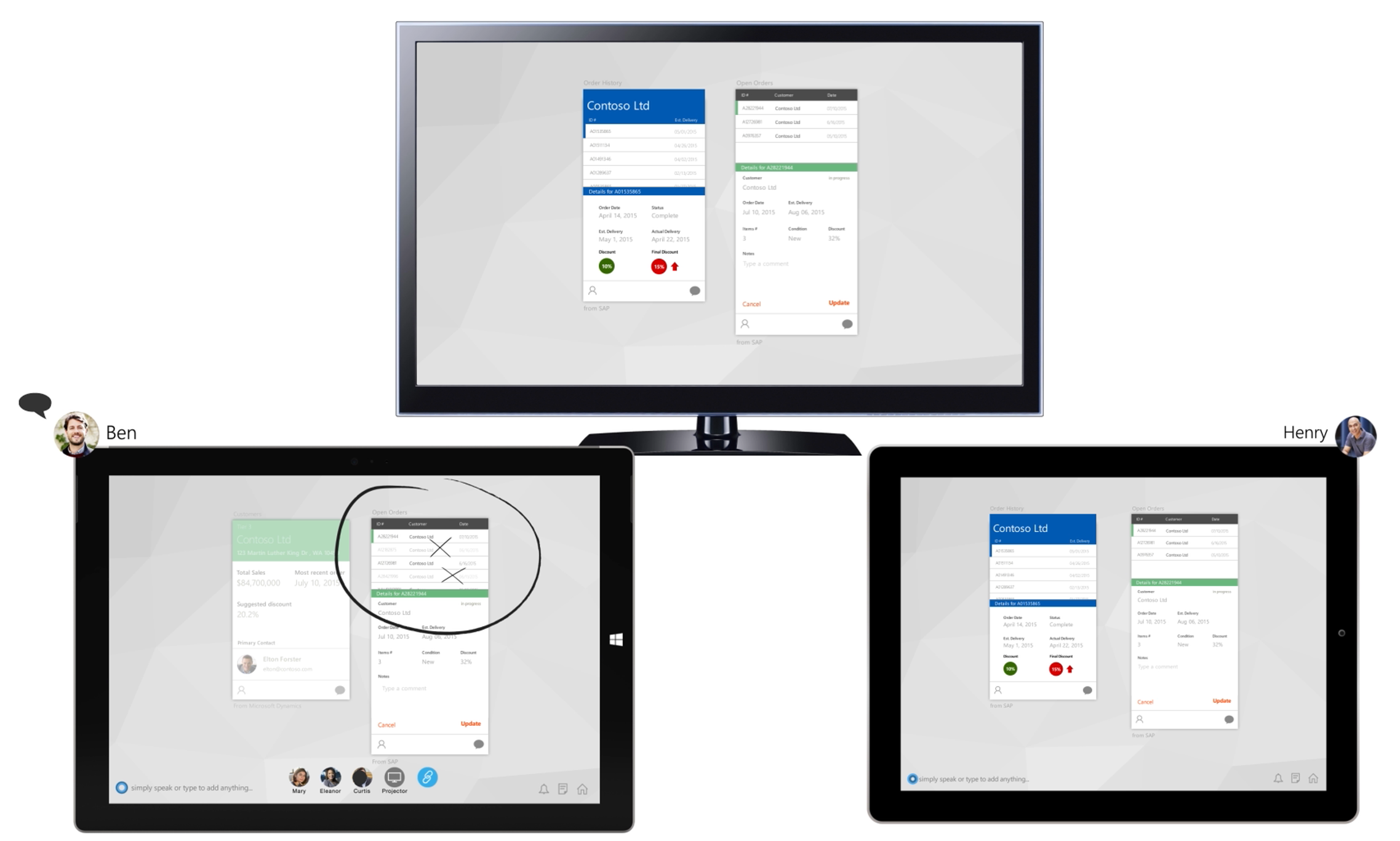 Most IT pros don't or shouldn't care about the Microsoft Worldwide Partner Conference (WPC). But at WPC 2015 in Orlando, Microsoft just wrapped up a near four-hour keynote in which they alluded to several interesting pieces of news. Even if you don't care about WPC, I urge you to keep reading, because there's probably some items that do affect you.

1. Microsoft Surface gets Increased Distribution
In my article on the Petri IT Knowledgebase, What Went Wrong At Microsoft: Surface and Marketing Mishaps, I discussed the insane ways in which Microsoft feeds Surface stock through the channel to business customers.
Note: The channel is how businesses typically buy product. The manufacturer sells to a distributor, the distributor sells to a reseller, and the reseller sells to the business. This offers a breadth market reach for the manufacturer and a responsive local contact for the reseller.
Microsoft finally got Surface right with the Surface Pro 3, at least in the minds of many business users that wanted a best-of-breed hybrid device that could be a laptop and a tablet. Initially, Microsoft limited distribution to a handful of tier 1 global companies and sold directly to large chains, such as Best Buy or PC World, which created a huge gap. The Surface Pro 3's natural market is in business. Businesses typically don't buy off of retail and most value-added resellers (VARs) have no relationship with the tier 1 distributors.
I work for what one might call a local distributor. Don't get me wrong, we have a very large presence in the Irish market, a relatively small market, but we are tiny compared to the tier 1 companies. We had many VARs contact us since the launch of Surface, asking if we could sell them stock. We weren't a distributor, so there was no sale.
What was Microsoft's first answer? They set up a website where VARs could purchase Surface at retail price and then add a margin to sell it to their customers. I know a company that does this, and they have to wrap up their sales in services. It's quite uncommon and quite a flop for Microsoft.
Answer No. 2 was to work around the system. It's a complicated process selling computers and making a profit as a retailer. Not only is there an up-front margin that's typically very small, but there's also a rebate based on performance that makes up part of the profit. Some VARs purchase stock from direct-buy retail chains at a reduced price. I'm not privy on how the numbers work, but VARs are able to sell to customers at retail or below retail prices. Once again, this isn't an ideal process because it's cash-based and few companies are availing of it, where they prefer the traditional channel model.
Recently, Microsoft quietly started to add local distributors to the Surface program. My employers are one of these companies. Sales have been restricted to the very few authorized resellers of Surface. Although I'm not involved in Surface sales, I know that deals for several hundred units have transpired. Although this is good for business, there's still a problem: many VARs are still looking to sell Surface, but they are not authorized resellers. We cannot sell to them, so they sell devices from other manufactures to their customers.
Although this business would have been positive for Microsoft, the company's own rules prevented it. You don't see HP or Dell working this way.
Today, Microsoft announced a change in how they will distribute and resell Surface.
Because of this news, we're expanding our channel and will go from having a few hundred partners selling and servicing Surface to a few thousand globally in the coming months.
Interested partners should go to the Microsoft Partner Network Device Partner Portal and contact an Authorized Device Distributor to learn how to become a partner.
Microsoft hasn't been super clear on how it intends to do this, but the article above implies that distributors will educate partners about becoming authorized resellers. I'm not aware of any process, so we'll see how this works out in the coming months.
2. Cloud Solutions Provider (CSP)
Microsoft has done a pretty poor job at packaging up and selling cloud solutions to customers. If you think that traditional on-premises licensing is complicated, then you should dig into Microsoft cloud. It can be bought:
Direct (MOSP) using a credit card
Through open volume licensing programs via a VAR and distributor
As part of an Enterprise Agreement (EA) from a Licensing Solution Provider (LSP)
From a VAR that has an EA
Syndication via a large services provider, such as a telecoms company
The product you buy dictates where you buy the product from. Some products are based on a per-user license, such as Office 365 or Intune, and some products are utility-based, such as Azure. Some products have tiers, such as Office 365, and others services such as Azure, do not. Some subscriptions can be moved between programs, where some subscriptions only move one-way. Some products offer partner-centric deployment and others do not. It's all quite complicated, and it's impossible for one person to keep up on every possibility. Even Microsoft's own specialists have trouble keeping up with licensing their own cloud products.
Microsoft tried to go direct with the cloud at first, but that was a failure. They've realized that without educated partners that enable adoption of the product in customer sites, Microsoft's efforts in the cloud were doomed. The plethora of licensing and selling solutions has confused partners, often to the point of boiling over anger. In an effort to consolidate the programs and enable partners to better drive the cloud with customers, Microsoft launched Cloud Solutions Provider (CSP) at WPC 2014.
CSP is a program that offers two tiers:
Tier 1: Large resellers, such as Rackspace, sell Microsoft cloud services under a single banner to customers.
Tier 2: Distributors sell Microsoft's cloud products via partners to customers.
The goal of CSP is that the licensing is handled by tier 1 and tier 2 partners, and not by Microsoft. The relationship with the customer is owned by the partner, and this encourages the partner to drive adoption. The customer also has a single point of purchase for Microsoft's cloud services, with access to more local and personalized support.
CSP was launched a year ago with a small set of partners in select regions. The program included only Office 365 to start. In recent months, Microsoft has been talking more about CSP behind the scenes with partners. Today, CSP was expanded to 131 countries and now includes Office 365, Azure, EMS, and more. I suspected that Microsoft would drive CSP as the way to resell the cloud. There are 39 sessions at this year's WPC on CSP, and several slides in the keynote instructed partners that the first step to reselling Microsoft cloud services was to join CSP.
3. Office 365 E5
Sometime later this year, Microsoft will add a 4th enterprise plan for Office 365. E1 includes most enterprise features, where E3 adds an Office Pro Plus subscription. E4 added PSTN functionality, which is available in a subset of markets. E5 is is a new enterprise plan that will include the following:
Cloud PBX and PSTN Conferencing
Power BI Pro
Delve Organizational Analytics
eDiscovery
Customer Lockbox
Data Loss Protection (DLP)
Safe Attachments
Visit Microsoft's Office 365 page to get a full breakdown of existing Office 365 plans.

4. Microsoft Partner Cloud Competency Changes
I know most of you will move on, but this stuff is relevant if you work for a Microsoft partner, even if your only involvement is in sitting exams.
You might have read that Microsoft is changing how they measure market success. Microsoft uses a scorecard to measure the success of individual account managers, teams, and subsidiaries. Those scorecards were always based on sale, where the assumption was that if a customer bought a license, then they would use it.
If you thought Microsoft licensing was complicated, then you should see how the process for sales and purchasing in the channel. There are ways to make red lights green by offering discounts and including products in an order that a customer didn't ask for. The result is the customer pays the original amount, but they get more, maybe some cloud, System Center, or whatever. Today's Microsoft wants adoption, not just sales, because phoney sales don't lead to renewals, but adoption does. This is why Microsoft is changing its focus to how much a customer is using a product.
Today, Microsoft sales people are being measured on customer usage of cloud products. This change is also coming to Microsoft's partner cloud competencies, which are specialization programs with incentives and rewards.
5. Project GigJam
Julia White, General Manager of the Office division, showed off a new canvas-based collaboration tool called Project GigJam. This is a whole new way for workers to collaborate and work together on a problem or opportunity. Data can be pulled onto the canvas, delved into, and selectively shared via app distribution to other worker's devices. The sum of shared data can be presented on a Surface Hub and shared with remote users. Together, users can dive in, contribute, delegate tasks, and create a business plan.

A Star is Born
About 15 hours into the never ending keynote, Terry Myerson, Executive Vice President of the Windows and Devices Group, came on stage to talk about Windows 10. He started to introduce someone that would demonstrate the new user interface. I thought this might be someone who we've seen at past Microsoft conferences, but Byran Roper entered the stage as a breath of fresh air in a Cuban hat hollered at the audience to show some energy and cracked jokes at every opportunity. He flew through the demo, showing off what businesses want to see in a Windows user interface, and it was fun.
Byran Roper is no ordinary presenter. He's the Executive Demo Lead at Microsoft, and in my mind, he's the guy that Microsoft needs to roll out to do these demos every single time.