VMworld 2013: 7 Virtualization Vendors to Watch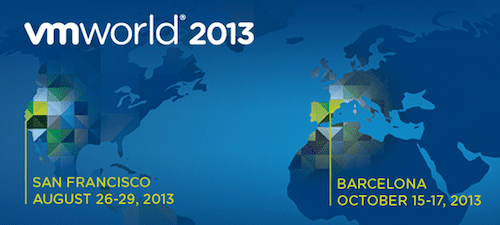 One of my favorite things to do at any tech trade show is to discover new companies and new products that bring innovation and new ideas into the market. VMworld 2013 was no different, and the expo hall was packed with vendors both large and small. Based on my own vendor briefings, some discussions with VMworld attendees, and input from Petri IT Knowledgebase friends and contributors like David Davis, Brian Suhr, and Scott Lowe, I'd like to highlight seven vendors in the VMware partner ecosystem that are creating some impactful new products and services.This is by no means an exhaustive list, but rather a highlight of some VMware partners and some of their noteworthy products, listed in alphabetical order by vendor name.
7 Virtualization Vendors to Watch
1. Barracuda Networks: Copy
There are several cloud-based storage services for consumers and businesses alike, ranging from the ubiquitous DropBox to Microsoft's SkyDrive and Google Drive.. Barracuda Networks has entered the fray with Copy, their own storage service that aims to make a play for enterprise users looking for more security and manageability than DropBox can provide.
According to Guy Suter, Barracuda's GM of their storage business, Copy was updated just before VMworld with a host of new business-friendly features, like improved controls over shared data, enhanced security, and better insight into employee Copy accounts. The first 15GB of storage is free, and you can find out more at Copy.com.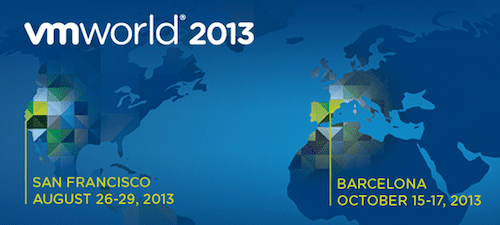 2. Eaton: Intelligent Power Manager
We all know that virtualization can bring huge benefits with power and maintenance costs when you start virtualizing servers and pooling IT resources onto fewer pieces of hardware. But what else can you do to reduce power consumption? Eaton has the answer with their Intelligent Power Manager (IPM) product. Eaton IPM can be used to measure power consumption, monitor attached storage drink shutdown, and even kickoff an automatic live VM migration if your datacenter loses power. You can also team IPM with Eaton's Intelligent Power Protector (IPP), which can restart dead machines and automate the shutdown of live machines in the case of a power surge or failure. Eaton also won a few awards at VMworld for these products, and you can find out more at Eaton's IPM website.
3. Infinio: Infinio Accelerator
Squeezing more performance out of your VMware investment should be at the top of the list of any VMware administrator, and Infinio accelerator does exactly that. According to Infinio, accelerator is a "virtual appliance that uses server-side caching to minimize I/O traffic load on central storage." Petri author and vExpert David Davis also thought Infinio was a product to watch. "[Infinio's] server-side caching solution (in beta) can offer increased storage I/O performance and actually increase the I/O capacity of your existing storage by reducing I/O demands," Davis said. "By allowing you to accelerate vSphere performance with zero downtime for deployment or requirement for local SSD, Infinio offers a very compelling host-side caching option for the enterprise." For more info, visit the Infinio website.
4. Nutanix: Virtual Computing Platform
One ongoing trend has been the convergence of compute, storage, and networking into an integrated platform with virtualization as the foundation. Nutanix's Virtual Computing Platform lands squarely in the middle of that space, and provides a hardware appliance with powerful management software to help VMware admins more effectively manage their virtualized infrastructure. It's a hot product in a hot area of the market, and virtualization expert Scott Lowe explains how companies like Nutanix are even pushing VMware to new heights. "With the release of VMware vSan, VMware has effectively validated the efforts of both Nutanix and SimpliVity and their efforts around hyper-convergence." For more info, visit the Nutantix website.
5. PLUMgrid: The PLUMgrid Platform
Virtual storage and virtual networking were hot topics at VMworld, thanks in part to the arrival of VMware Virtual SAN and VMware NSX. Several VMware vendors have also taken leading positions in those areas, with PLUMgrid making a compelling case for their PLUMgrid Platform, which the PLUMgrid website describes as "…Virtual Network Infrastructure (VNI) that allows businesses to completely replicate the functions of a physical network infrastructure (PNI) in a virtual environment, without requiring new hardware investment or changes to existing hardware infrastructure." You can find out more at the PLUMgrid Platform product website.
6. Tintri – Tintri Replicate VM and VMstore
While discussing the highlights of VMworld over a double-double with grilled onions at In-N-Out Burger, Petri contributor and VMware vExpert Brian Suhr raved about Tintri's Replicate VM software and VMstore appliance. According to Suhr, Tintri makes setup and configuration of virtual storage a painless process, and he's used the product repeatedly since he first heard of it. Suhr also said that Tintri makes management of stored VMs a snap, and gives VMware admins a global view of what's happening in their virtualized infrastructures. For more information on Tintri, check out the Tintri VMstore website.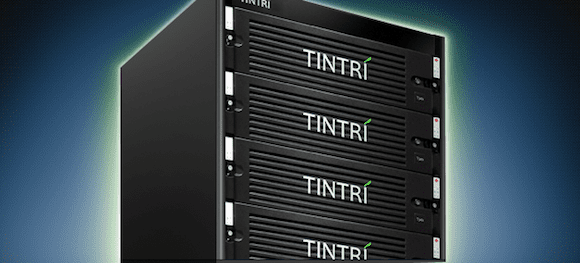 The Tintri VMstore was one of the highlights of VMworld 2013. (Photo: Tintri)
7. Veeam: Veeam Backup and Replication v7
Veeam has been a staple in the VMware backup and replication space with their appropriately named product, Veeam Backup and Replication. Veeam has grown by leaps and bounds over the last few years, and v7 adds a host of new features that should help VMware admins concerned about service continuity and data preservation. Scott Lowe told me that "…backup and recovery remains a hot space with players olds and new vying for customer dollars." Lowe pointed to Veeam Backup and Replication 7 as one of the highlighted products of the space, and said that the market should grow even larger in the years to come. For more information, visit the Veeam website.