VMware announces Horizon DaaS for vCloud Hybrid Service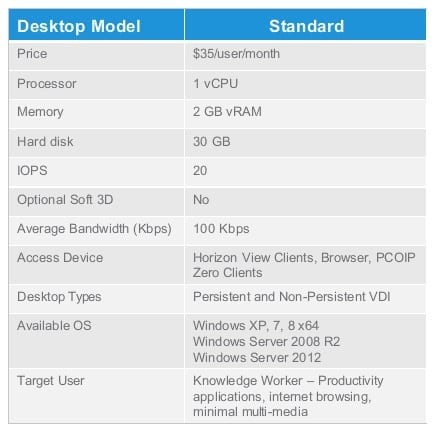 VMware has just announced the availability of Horizon Desktop as a Service (DaaS) on their vCloud Hybrid Service (vCHS), which is a lot to fit into one sentence. What all this means is that VMware is now offering the Desktone DaaS user experience which has been updated with more VMware View features on their vCHS public cloud offering. (Editor's Note: See related story about VMware working with Google to bring Horizon DaaS to Chromebooks.)
This will allow customers to purchase desktops and pay for them on a monthly basis. This does not mean that VMware will be offering single desktops to users that want to swipe a credit card and get a desktop in the cloud. This offering is focused on enterprise customers looking to commit to a minimum of 50 desktops and increment from there.
The following table represents the configuration of the standard DaaS desktop. This looks to be a very common Windows 7 configuration that will work for the majority of VDI users.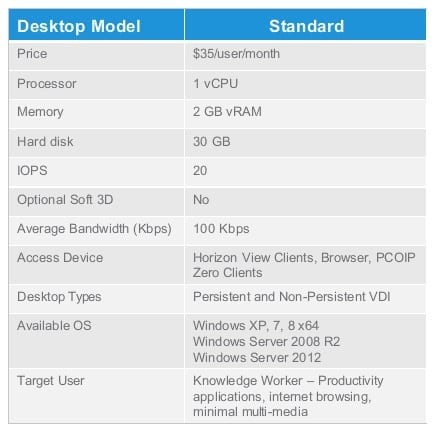 VMware Horizon DaaS pricing (Source: VMware)
Customers will have the choice of three different Windows operating systems for desktops (64 bit versions of Windows XP, 7, and 8), with Windows 7 being the likely choice for most customers. Providing Windows 7 desktops in DaaS at this price is going to put VMware in an attractive spot, since other providers usually charge this rate for a desktop using a server OS, due to licensing restrictions.
It's all about the options
With this latest news VMware continues to expand the options available for their customers around virtual desktops. In the initial offering VMware is providing the following three options to desktop customers.
Off-Premise Public Cloud Desktops – VMware Horizon DaaS is ideal for organizations that want to offload desktop virtualization completely to a third party service provider and move from a CAPEX to an OPEX model. It enables a new way for IT to deliver Windows desktops and applications that goes beyond the walls of the corporate datacenter. IT gains greater control, security and flexibility while embracing cloud economics. End-users are able to access cloud desktops from any device, anywhere.
On-Premise Private Cloud Desktops – Customers who prefer desktop services from an on-premise private cloud deployment to enable end-user freedom and IT management and control can use VMware Horizon View. By delivering secure access to applications and data to any device – when and where users need it – on-premise private cloud desktops give end-users maximum mobility and flexibility.
Hybrid Cloud Desktops – For many organizations, one size does not fit all so VMware Horizon DaaS is also ideal for organizations that want the flexibility of deploying on-premise and off-premise virtual desktops. It provides a seamless end-user experience across multiple clouds for end-users and quick deployment along with simple management for IT.
Initially in the Hybrid desktop offering model the end user experience is the same no matter where their desktop is. But for the current state the backend administration will still be separate. This means that DaaS desktops will be managed in a cloud portal and the on premises desktops will be managed in the traditional Horizon View form. Sometime in the future VMware will unify the management experience to allow a single layer for managing a Hybrid desktop environment.
How can I buy some DaaS?
The Horizon DaaS on vCHS can be purchased direct from VMware or also through any VMware partner that is already enabled to sell vCloud Hybrid Service (vCHS). The initial terms of this DaaS offering focus on a yearly commitment with short term periods sure to follow on later. This follows the history of how vCHS first launched also. The standard desktop will be priced at $35 per month, this is inline with what Amazon has mentioned for their workspace DaaS offering. Initially there are rules that desktops must be purchased in increments of 50, this is likely driven by the fact that they are providing dedicated compute resources for each customer to satisfy Microsoft licensing rules for Windows 7.
There will also be a higher performance level desktop that will be priced around the $50 monthly range. This desktop will have additional CPU and memory resources along with better performing disk. You can also take advantage of Soft 3D technology for applications that can utilize.
I'm not sure that this is anything to get really excited about yet. It is great to see VMware move quickly and offer the service on vCHS. But the real news will be when they are able to offer the full services of the entire Horizon Suite to customers as a DaaS or offering.